Yeah, took about 10 minutes…
Funny how Justin's Comics cancelled my order yesterday for Wolverine #6. Forgot I had ordered from them…but I was happier with the refund than getting the comic.
I'm still waiting on my Playsanity refund.
These are doing much now but just FYI, they're back in stock at TFAW, both covers while I was browsing some back stock and noticed: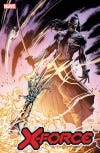 X-force #13 Xos

X-force #13 (Coello Variant) Xos
Cheap gambles at cover price if you feel this character ever re-emerges.
Guess they didn't have many in stock then.