Bang #1 has already sold out at mid town and its out next week. Looks a good read as well.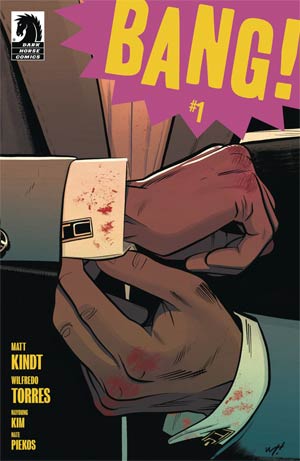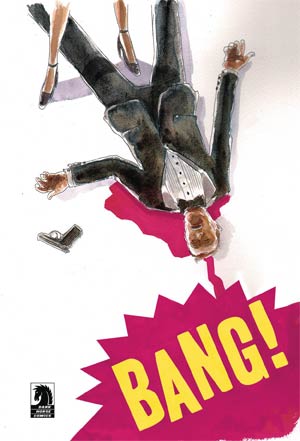 The ashcan has all but dried up on Ebay as well.
I think there is some spec associated with the ambiguous key collector alert this morning. A 2nd printing will be released on February 26th in case anyone can't read a copy come the 19th.
BANG! #1 from Dark Horse might be a good pickup if you haven't decided to yet. eBay listings are already throwing in the "Optioned" title in their listings. I haven't seen any news come out yet but we could be seeing another early "it's been optioned" type of play going on here before the books has been released. Sort of like what we saw with Kill Whitey Donovan earlier this year.
It has sold out pretty quickly at Midtown and the ashcans are now reaching the $30 range for their listings, so if you snagged an Ashcan, that could result in being a winner for flipping as well.
Grabbed both covers/tossed em into my preorders on TFAW just a bit ago.
I sure hope TFAW comes through with much of my recent preorders (these and all the Punchline issues).
I've never had TFAW deny me a pre-order.
It'll be more what condition they arrive in.
I've found that when ordering is to include a DC black series magazine size book as it forces them to ship in a more robust container (as opposed to a flat envelope)…the black label becomes sacrificial lamb at worst…
True. Mine have come in excellent condition lately. After I left the not so pleasant note on my mailboxes to tell the USPS man that cardboard mailers are good indicators they shouldn't be bent to be shoved into mailboxes… all my TFAW pre-orders have arrived perfectly. I even had the Bartel Variant for Star Wars show up with extra cardboard and bubble wrap in it to help protect it.
I merged my new BANG topic into this one. Totally forgot it was already brought up.
Yeah it didn't dawn on me until all this talk of being "optioned", but I did think it was weird the comic had been read and received a quote by Keanu Reeves.
"A great f-cked up blend of James Bond and Tintin."—Keanu Reeves.
At the time I was like, "why did he get an advanced read?".
Now it makes more sense if they were shopping the book around.