How are all these cases cracking?? inadequate shipping protection or are they cracking them before they package them?
Huh, I always thought a color break made it impossible to get 9.8, so that is interesting.
I have potential buyers now asking questions about my 9.8 CGC books.
"Can you see spine tics"?
"Is that a color rub"?
Never did I have that prior to the last 2 years.
People are privy to the incompetence in grading since early of last year. They want a 9.8 book that looks like a 9.8 book; not a book with defects
Not a good look Sarasota
My latest box that just came back. A few grades lower than expected and 1 CBCS book I got signature verified and graded.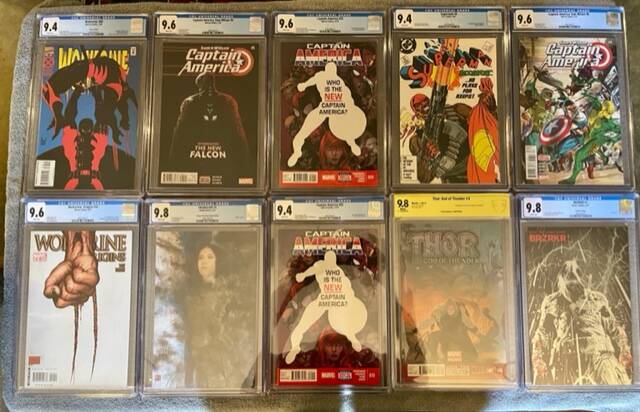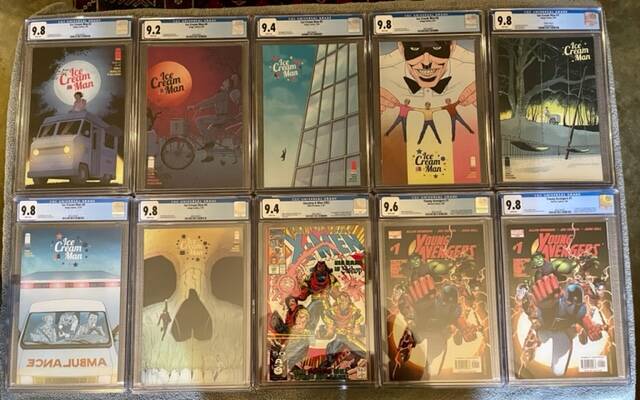 Grading is subjective and this was happening prior to two years ago, it's just being amplified now by loud people on social media and youtube. I've seen tons of books slabbed years ago that didn't "deserve the grade" they received. People are basically being trained to think every book has to be flawless to be a 9.8. No, that's a 10.0. A 10.0 is flawless. There wouldn't be a slash between NM and MT if 9.8 meant perfect.
The only narrative right now is that CGC can't grade a book any more and everything comes back cracked and broken, but that's a LOUD minority and frankly just not true. I have experienced no such issues all year.
Hey Zeropepp, what Wolverine issue is the top left book? I like that cover!
The Young Avengers book in the lower right is money. 9.8. Whoa!
I've submitted 281 books to CGC so far. I have yet to have a cracked case. I had 1 book that I mistakenly submitted as a second print that was actually a first print and they didn't catch it.
I had 1 book that didn't get sealed and I had to send it back. I've had probably 10 cases with scuffs on them or that weird inner case scuffing problem.
I've had nothing so far that I felt the grade was that far off on.
So all in all I'm pretty happy with the service.
A couple here and there but nothing major. I've had more scuffing issues than newton rings. The scuffing issues have all been recent too, within the last 6 months.
I have submitted about 200 books so far and overall I am happy with CGC service. The only significant issue I have had was with the X-men giant size #1 book. I have had 3 X-men giant size #1 reslabbed a total of 5 times. Each time the book was damaged and needed to be reslabbed. 2 of the books were permanently damaged with color breaking creases. That is one book you should definitely use CBCS. Throw in a handful of cracked cases and mislabels, CGC services have been acceptable.
When I can lose my familiarization with 1-877-NM-COMIC.
And when I can actually use this product on my car headlight assembly instead of every damn slab I've received; wasting my own valuable hours, then I will consider them to start turning the corner.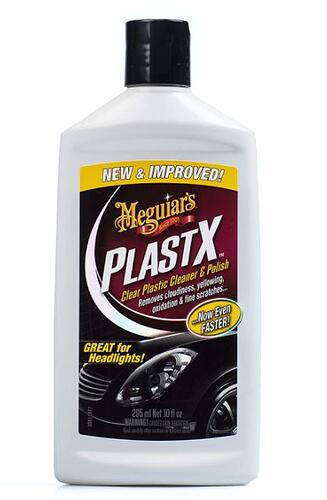 @Bill id like to know more about the Meguiars stuff. Will it fix this?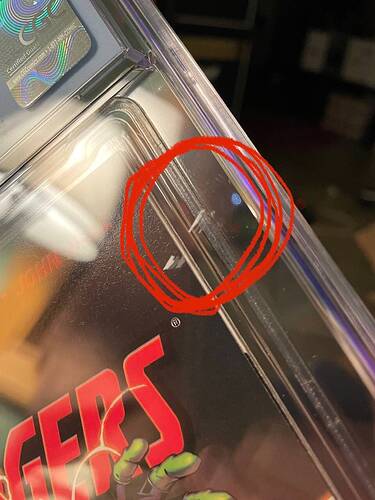 If that is on the outside of the slab… yes it will. That appears to be the scuffs I've been getting as well from the pic.
Yeah that one is on the outside, I'll order some of that tonight. Any special way to use it?
I just use a little dab on a microfiber towel; gently rub, and after a minute or 2 of light rubbing it does completely come off (I have found)
I think that the recent negative publicity has provoked many more people to 'buy the book, not the grade'. I know that statement has been ubiquitous for a long time, but all of the horror stories have driven previously relaxed buyers into paying much more attention to what they are getting. I estimate I have had issues with about 5% of the books I have submitted - which is not terrible, but not great either.
Most have been resolvable through reslabbing, with only one item permanently damaged.
That's… that's just not good, though. Like the warning about sending GSX #1s in. It shouldn't happen.
Ive almost forgotten about the newton rings with all the scuffs I've gotten the last few submissions…