Wilson was struggling in the beginning but came out nicely at the end.
Was a pretty crazy first week…
Most importantly my Detroit Lions won & are actually looking good.
Nobody knows misery like a lifelong Lions fan… nobody.
Browns fans beg the differ
You gotta love @dPcomics optimism. A true Jets fan there. "We still have a chance!"
I guess I'be just been made numb by seeing these scenarios play out for them year in and year out. Obviously every team still has to play the games. The jets are due for a miracle, right? Because eventually law of probability has to start leaning the other way…
In the past 20-25 years or so, in the age of the quarterback, I've pretty much lived by this rule. You have 1, maybe 2 games to show that you have what it takes to be star at the NFL level and franchise QB.
If it ain't obvious after 2 games, it ain't gonna happen. I did not see that from Sanchez, I did not see it from Sam Darnold, i did not see it from Geno Smith, i did not see it from Kellen Clemens. And I certainly don't see it from Zach Wilson.
It is conceivable he can be the "just don't loose the game" type QB. It's been done. But you can't go far with that type of player in todays game.
What's Tom Brady up to these days?

If we don't have hope how can we really suffer like true Jets fans?!
Slow-motion replay footage from Monday's season opener against the Bills captures the moment Jets quarterback Aaron Rodgers appeared to tear his Achilles, with a pop being shown in his calf.
Gross!
Technology is awesome.
No. He can't.
Add another 3 INTs to his career total.
I went outside to get work done around the house early in the 3rd…
In Madden 2015 we used to play as the Seahawks with Wilson as QB. My son would play as receivers and I would be QB. We threw that same Hail Mary play so many times and it would work. So to see him do it in real life was awesome.
We are talking about completely different Wilson's, apparently.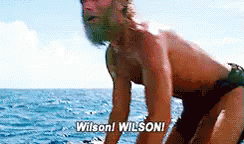 He got no protection today. At all. In the few plays where he had some time, he made some decent throws. And defense was sleeping, giving Dak all the time in the world. Can't pin this one on Zach…
My Packers snatched Defeat from the jaws of Victory