Hey guys, I wasn't sure where to put this so figured I'd create a specific topic for it – It's my first time doing this so I hope I won't mess it up. I don't think this has been discussed yet in the forums.
I recently stumbled on an article on CBSI stating that Die!Die!Die! #14 was Grogu's first appearance in a comic book. I had initially bought two copies of this book because, you know, Obama+aliens, so I took one of my copies to check it out and lo and behold, there is is! Well, kind of… in all is 1 cm tall glory. I'm learning the ropes of flipping comics and I wanted to tap CHU members wisdom on this one because I am wondering if this could really be considered a legit cameo given the weird circumstances of it.
First off, here's the link to the CBSI article: https://comicbookinvest.com/2021/11/13/grogu-yu-yu-hakusho-foreign-comics-and-more/
Here are also two pictures of the spread where we can find him: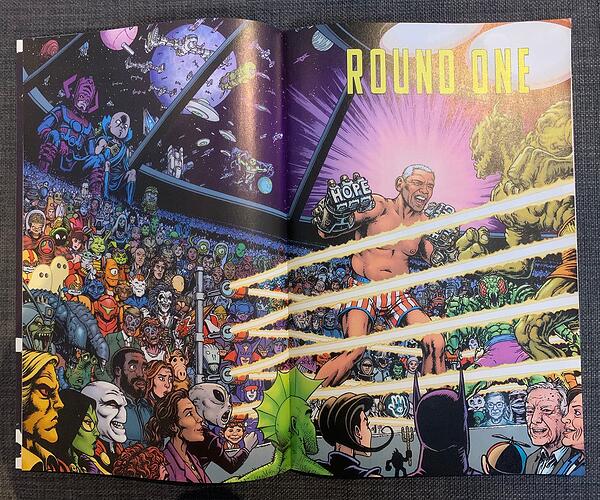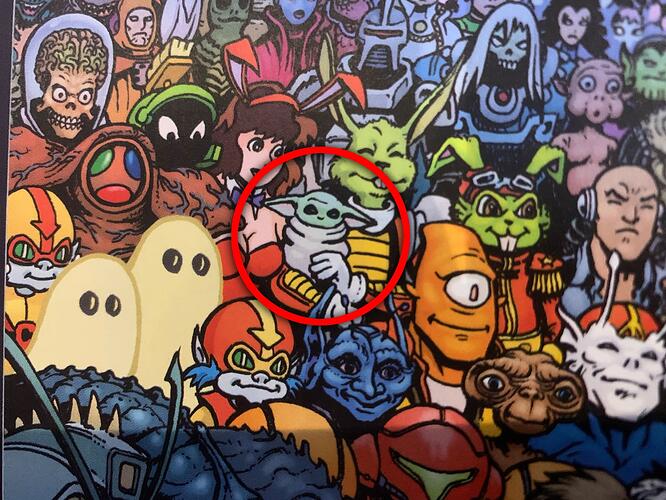 Now, here's where I wonder if this cameo has any weight to it:
First off, this is an image comic book, not a Marvel book, and it feels weird considering he was put there just for the fun of it and has nothing to do with the story.
Then his very small size – about 1 cm tall…
And finally, the release date was March 24, 2021. The exact same day, as per DrunkWooky.com, of the release date of the Star Wars Mandalorian Sceen Comix trade paperback (which may or may not be considered a comic book).
So, how do you feel about this so-called first appearance? Heresy? Or do you feel it has some weight to it and should be considered as such?