I hope it's true. I like Echo as a character, and as a hero that reaches multiple groups of people who traditionally don't have a lot of heroes that represent them.
And David is genuinely one of the nicest people in the industry, so more success for him is also great.
I've said he is the nicest creator I ever met at a con, and I've met some nice folk!
I just noticed prices had jumped on daredevil #9 & 10. This explains why. I guess a could pull out a few directs and newsstands and list them. Saving the other copies when Hawkeye drops.
I think this is a very strong hold. Bringing this character to the screen is a big deal. It will be heavily covered in the media when it hits. It's a fantastic thing for the Deaf community/Deaf children.
I can't imagine they won't do a fantastic job with it.
I love the casting as well.
You have time to grade them even.
Gonna find me a reasonable #9 and #10 and grad them while they can grade at the Modern level…
I knew that once I matched the silhouette to the Avengers #44 design variant.
I'm still waiting on someone to buy my daredevil 9 Newsstand Direct Editions along with a newsstand of New Avengers 11. They'll definitely go up closer to each shows premiers.
What was the price for the #9 newsstand and would you do a deal here off of eBay? We could PM about it!
The ship sailed obviously on #9, #10, but I feel like there are other really nice Echo books and covers that seem to always be left behind. Not saying pay big, but these are great covers.
Actually, #53 is pretty integral to her as a character. Tells the story of Echos dad (Crazy Horse) and his death via Kingpin.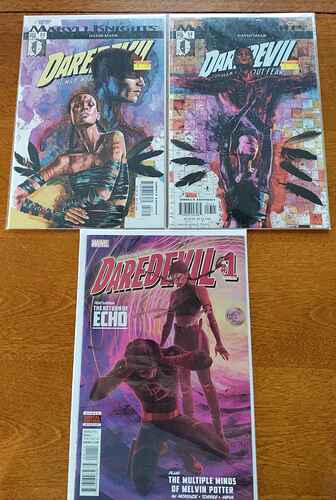 55 is my fav Echo cover. I sold all my raw Echo comics including 10 when the Disney+ show was announced.
I have a few #9 9.8s that I'm holding for when a trailer hits.
An article with some more Twitter links of set pics fwiw
I think it's be great if Daredevil played by Charlie Cox showed up at some point.
Pretty nice Daredevil #10 Newsstand available. I'm sure it won't last long.
They messed up using Flag Smasher now they can't put the handprint on Echo without causing a bunch of confusion to the non comic collecting masses.
What does the handprint even mean for the Flag smashers ?