Love it!
What I just can't understand is how Hasbro can do such cool/exciting/new things with their lines like Indy and GI.JOE, but can't seem to manage the same with Star Wars.
The new GI JOE classified figures they are putting out are absolutely perfect. Exactly the figures fans want and are asking for! I'm so excited by them. Amazing detail and accessories, etc. Same with this Indy line.
Yet with Star Wars…and all of the possibilities we get rehash after rehash and re-sculpts, variations of Boba Fetts, multi color Retro figures???
It's easy money. Use same models with slight variations cuts production costs, consumers continue to buy. It's like variants for comics, same damn comic, different cover yet consumers gotta have more than one or all of them… when they should just buy the one they like the most.
You can also visit the Drop Zone Page for more drops… Use Code FREESHIP59 for orders over $59 for free domestic shipping.
I'm wearing this to Hawaii, getting into a bunch of fights, and framing Ezra Miller. They won't see it coming…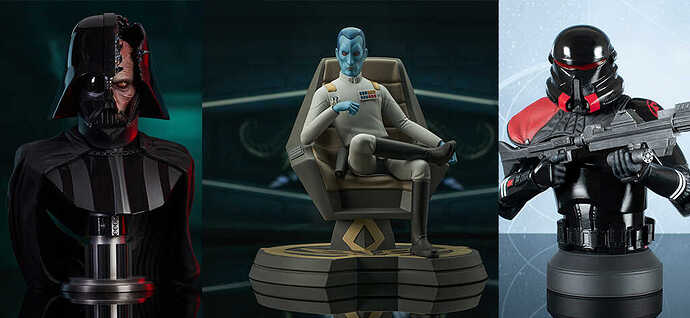 Gentle Giant and Diamond Select Toys have revealed this month's slate of Star Wars statues and busts and there are some real bangers! Entertainment Earth has all the pre-orders and you can check out the details below! We've got a 1/2 Scale Darth Vader Bust with Damaged Helmet from the Disney+ Series Obi-Wan Kenobi limited to 1,000 pieces. Next, an awesome Thrawn statue in 1/7 scale from his Star Wars Rebels animated appearances is on offer, limited to 1,000 pieces! Finally, we have a Jedi: Fallen Order Purge Trooper mini bust]!
Totally getting the titling head chopper.
Don't like packages that you can't see the figure.
I exist. My life priorities have just been shifted to some real life stuff.