The new Hulk series is coming out in November. The new series will be written by Donny Cates, you know how his stuff goes, with art by Ryan Ottley. Mycomicshop has a low priced NYCC Exclusive cover featuring art by Ryan Brown, best part, the low price includes shipping. Check out the details below.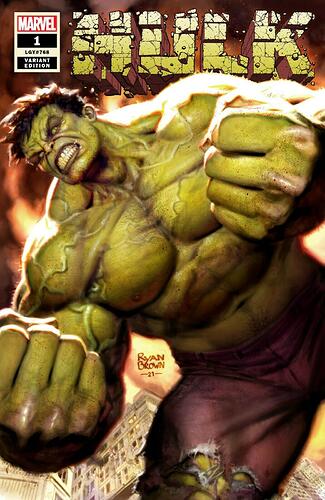 Hulk #1 Mycomicshop NYCC Exclusive
Limited to 3,000 copies.
This variant cover of Hulk #1 by star artist Ryan Brown is available only via eBay and will not be available at your local comic store. This comic is being offered for presale and will ship to you as soon as the comic is released by the publisher, November 3.
Hulk #1
Variant cover artist: Ryan Brown
Writer: Donny Cates
Artist: Ryan Ottley
IMMORTAL NO LONGER! CATES & OTTLEY DELIVER A NEW, COLOSSAL-SIZED ERA! MAD SCIENTIST Part 1 of 6 The uncontrollable rage of the Hulk has reached an all-new level, and nobody – including the Avengers – is prepared to handle it. But is it really the Hulk that people should be afraid of, or is there something missing to this puzzle? Join the superstar creative team of Donny Cates and Ryan Ottley as they look to the stars for the next era of HULK!