Previews gives us a glimpse of what's to come. Here's the spotlight new books (and some trade/hardcovers/omnibuses) coming out of June Previews for the independent publishers.
Action Tank #1 is a new Scoot Imprint book from Scout Comics. These have seen some success with some love on the secondary market and you can't beat their kid type cover prices either when they do heat up.
This one brings forth a sci-fi adventure of a boy who finds himself on the other side of the solar system and needs to get home for dinner.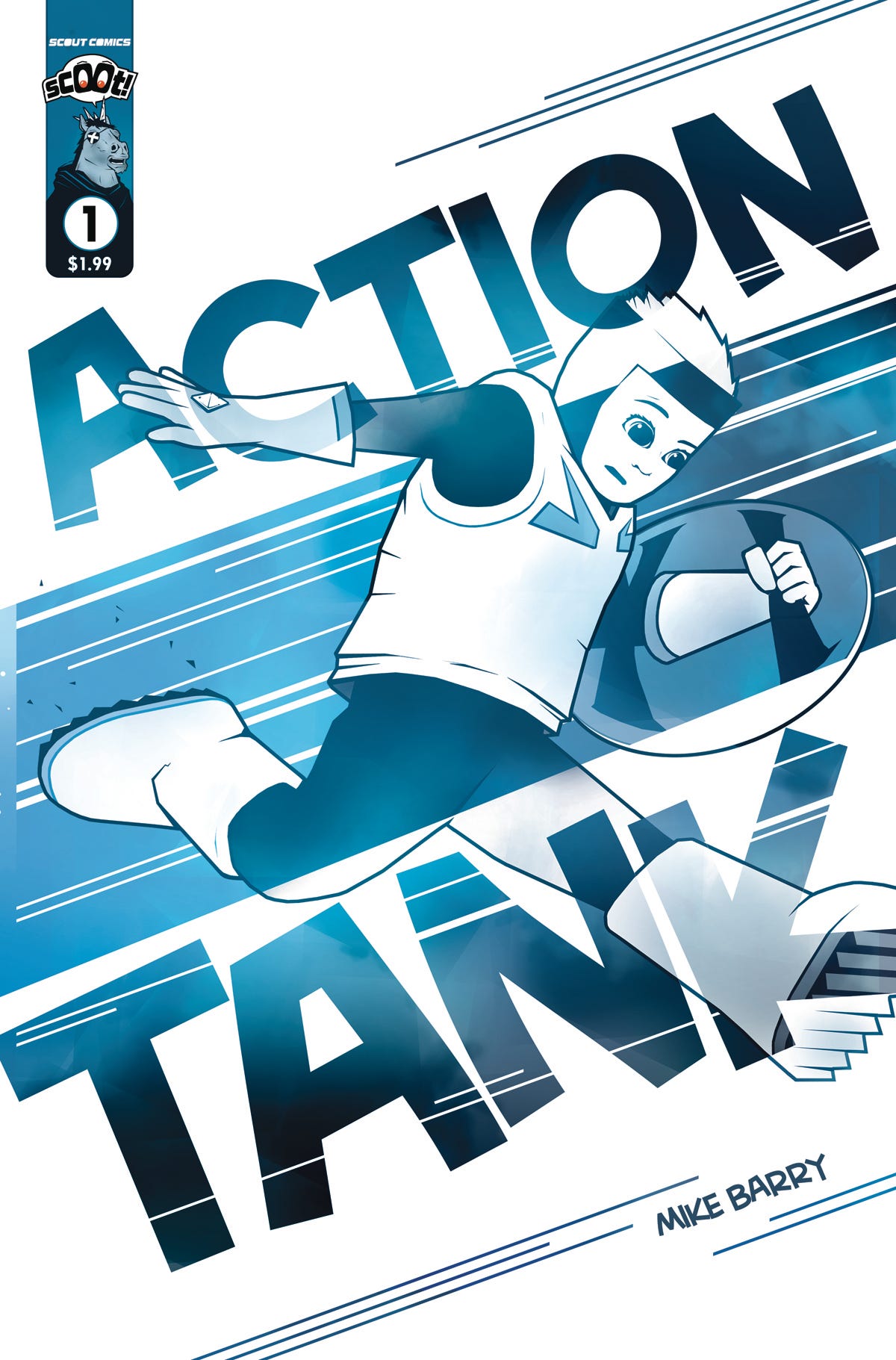 The search function and engine nightmare type of Comic Book title goes to Box #1. Yes, how generic but it still seems like it could be an entertaining read if done right. Imagine having a box that can provide you whatever you can think of?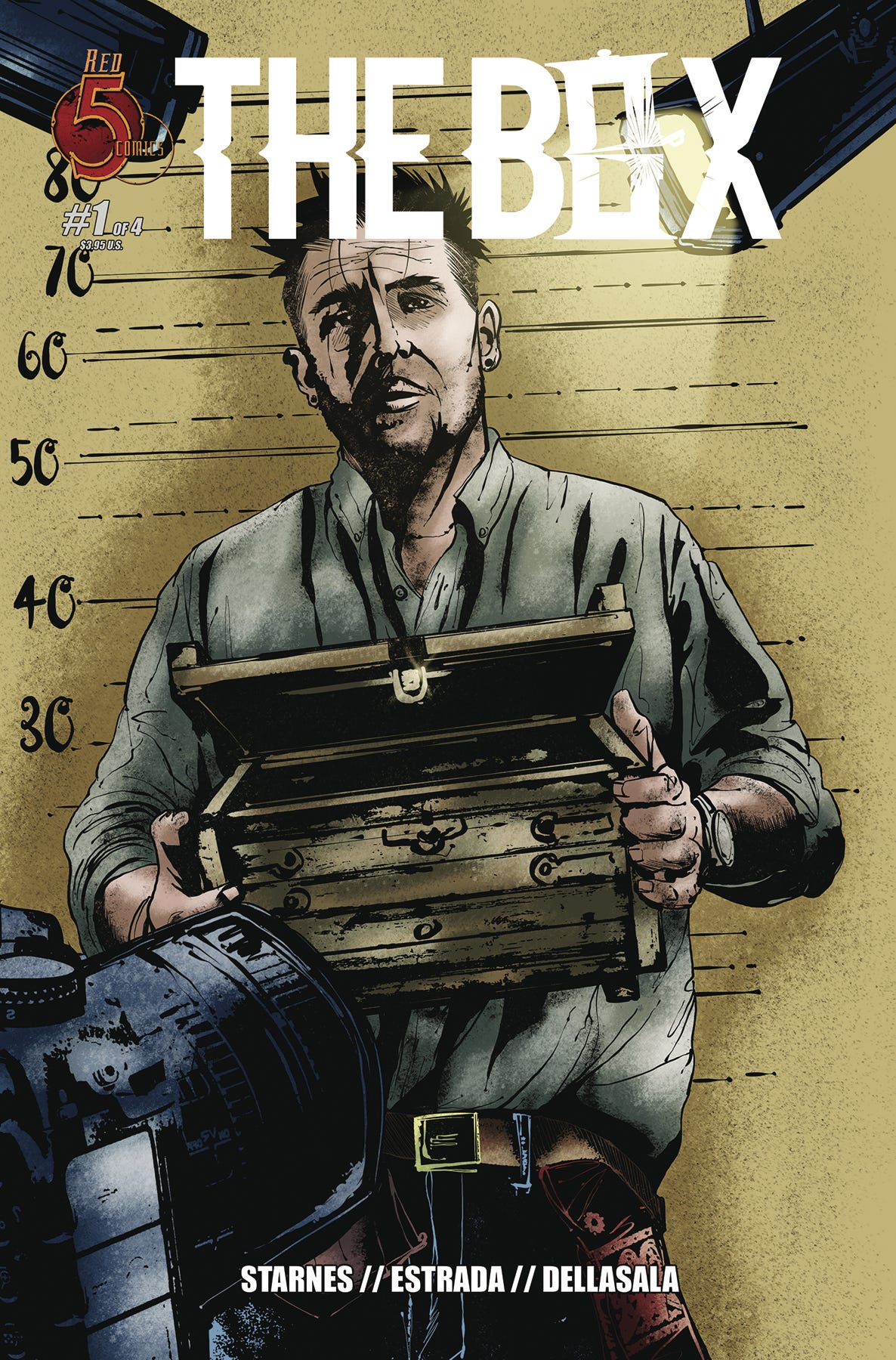 Campisi #1 (Cover A - Galan) sounds like an entertaining read. A small time fixer for the mob tasked in taking care of the dragon that flies into town has to be fun.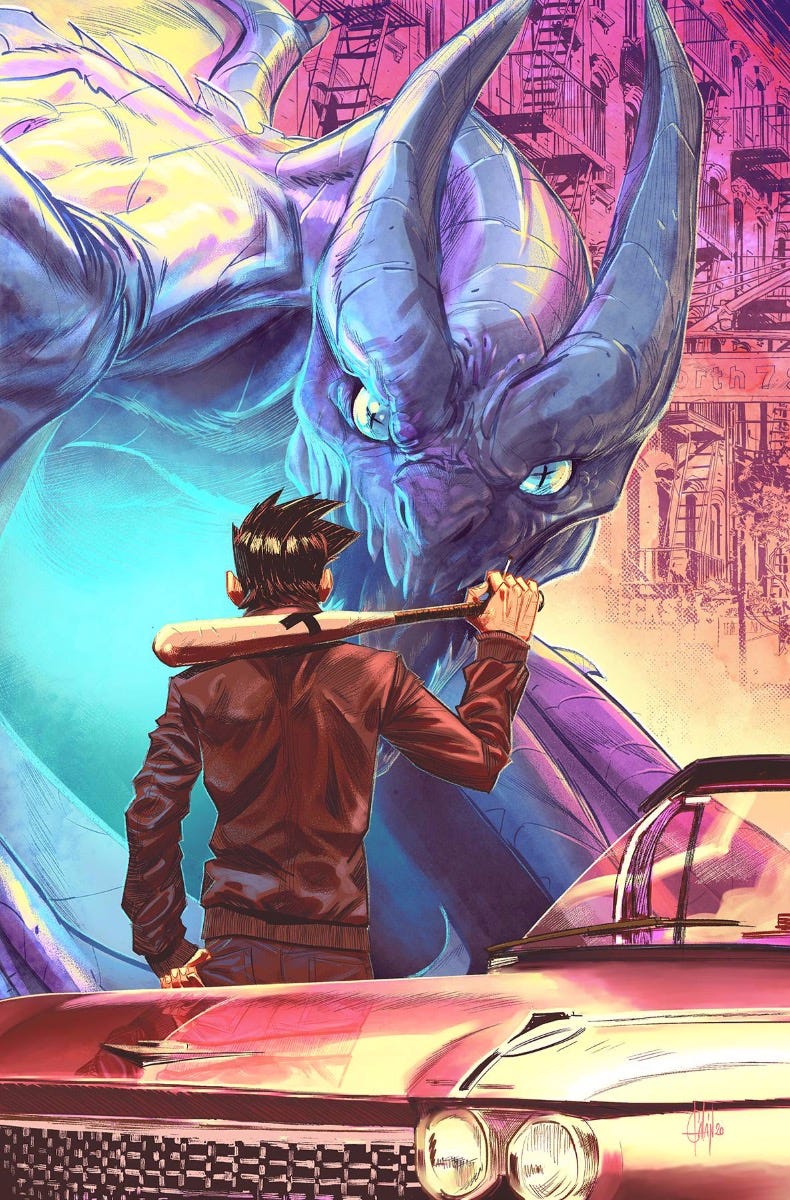 Cherry Blackbird #2 (of 5) had a pretty messed up first issue which has me now wanting to check out this next issue to see more for some odd reason.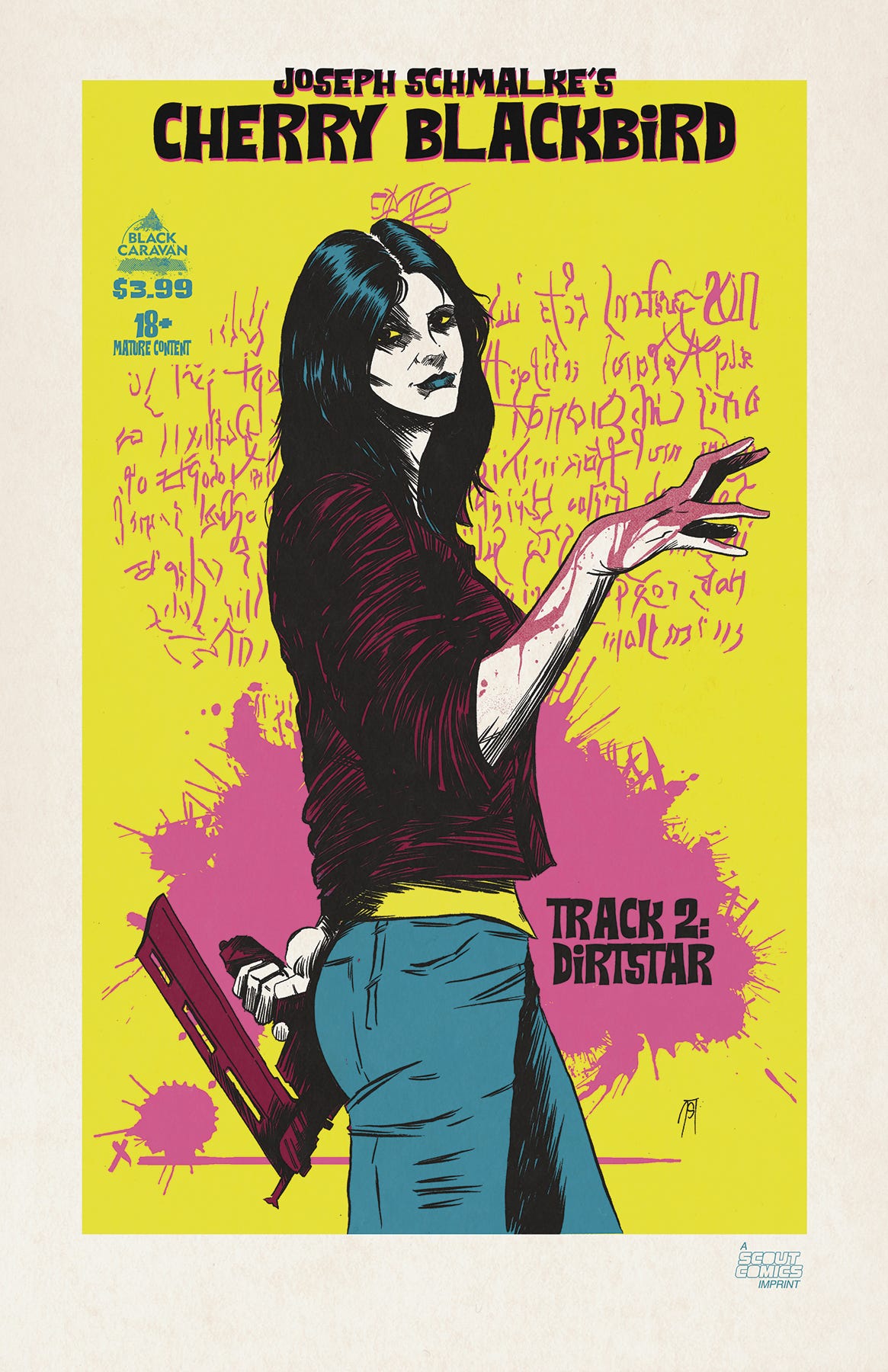 Citizen #1 looks like a great pickup if the writing is strong. The synopsis and the cover art has already won me over so far.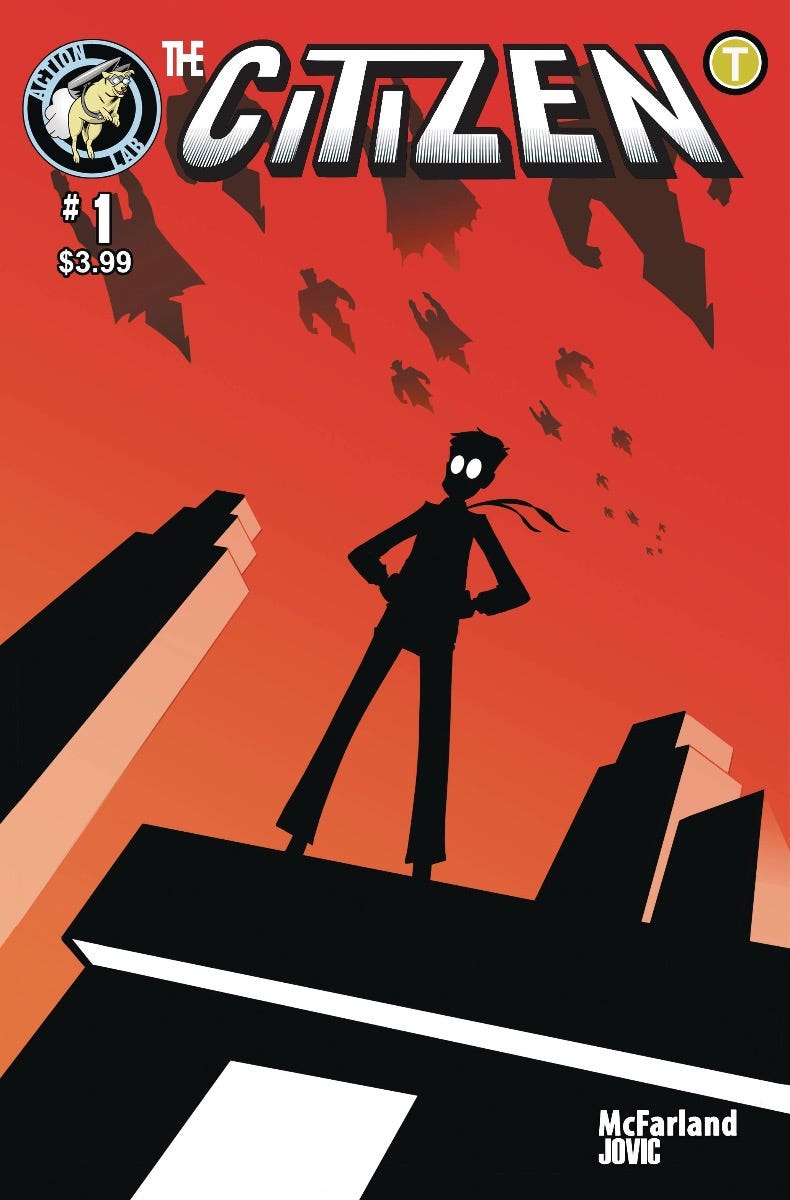 God of Tremors One Shot has my attention. From Peter Milligan who's the writer for Out of Body brings forth a horror book with exorcism, demonic worship and epilepsy.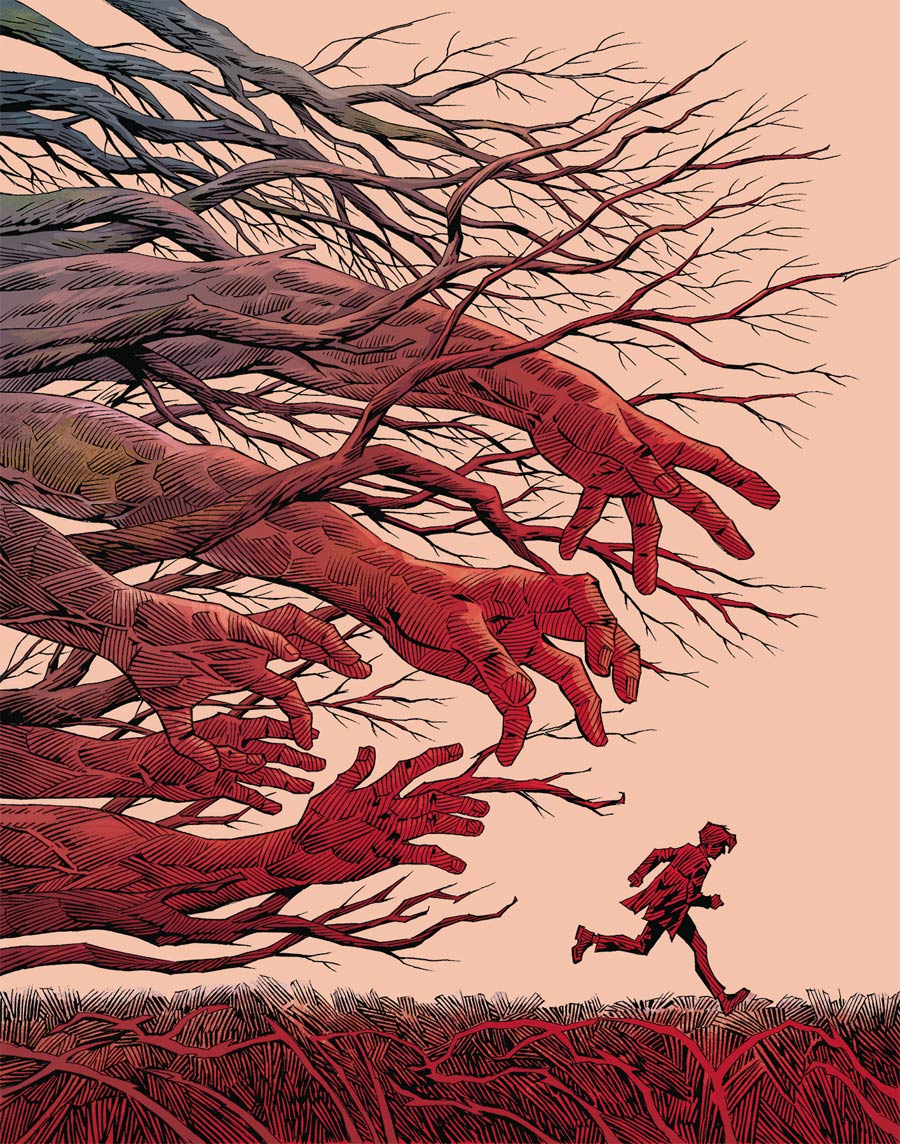 And speaking of Out of Body, Out of Body #3 continues what I hope is a great series. The cover art for the regular issues have been great.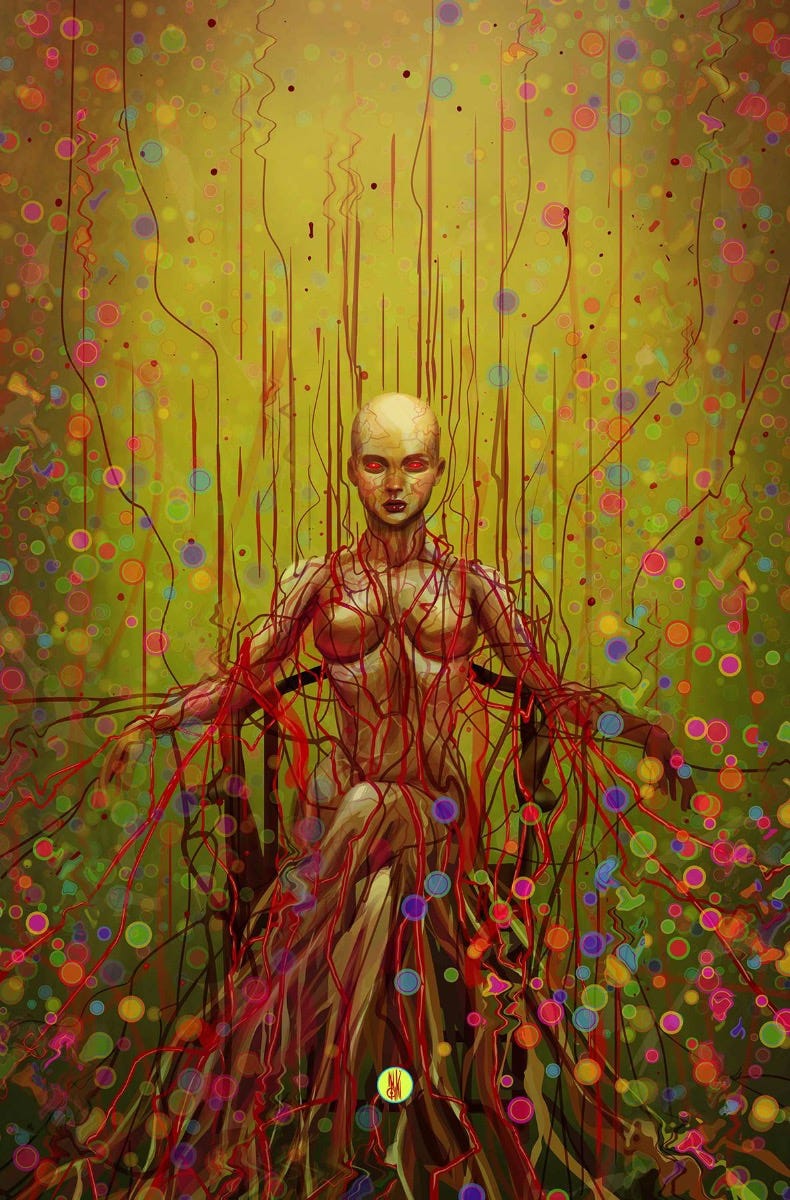 I love the super small unknown publishers. Sometimes they just put out quality story and art. This next one has my attention from Litterati Publishing called We Promised Utopia #1.
What if humanity saved the world today… only to destroy it tomorrow? Charismatic idealist Isabel Bari and her development of the Equivalent Carbon Credit (ECC) tied every element of the global economy to a carbon-based currency, and changed wealth accumulation principles. The comic focuses on three separate eras of humanity: the rise of the ECC in present day, the establishment of a utopian world that adopted the ECC to create harmony between human civilization and nature, and a dystopian future after the mysterious collapse of the ECC."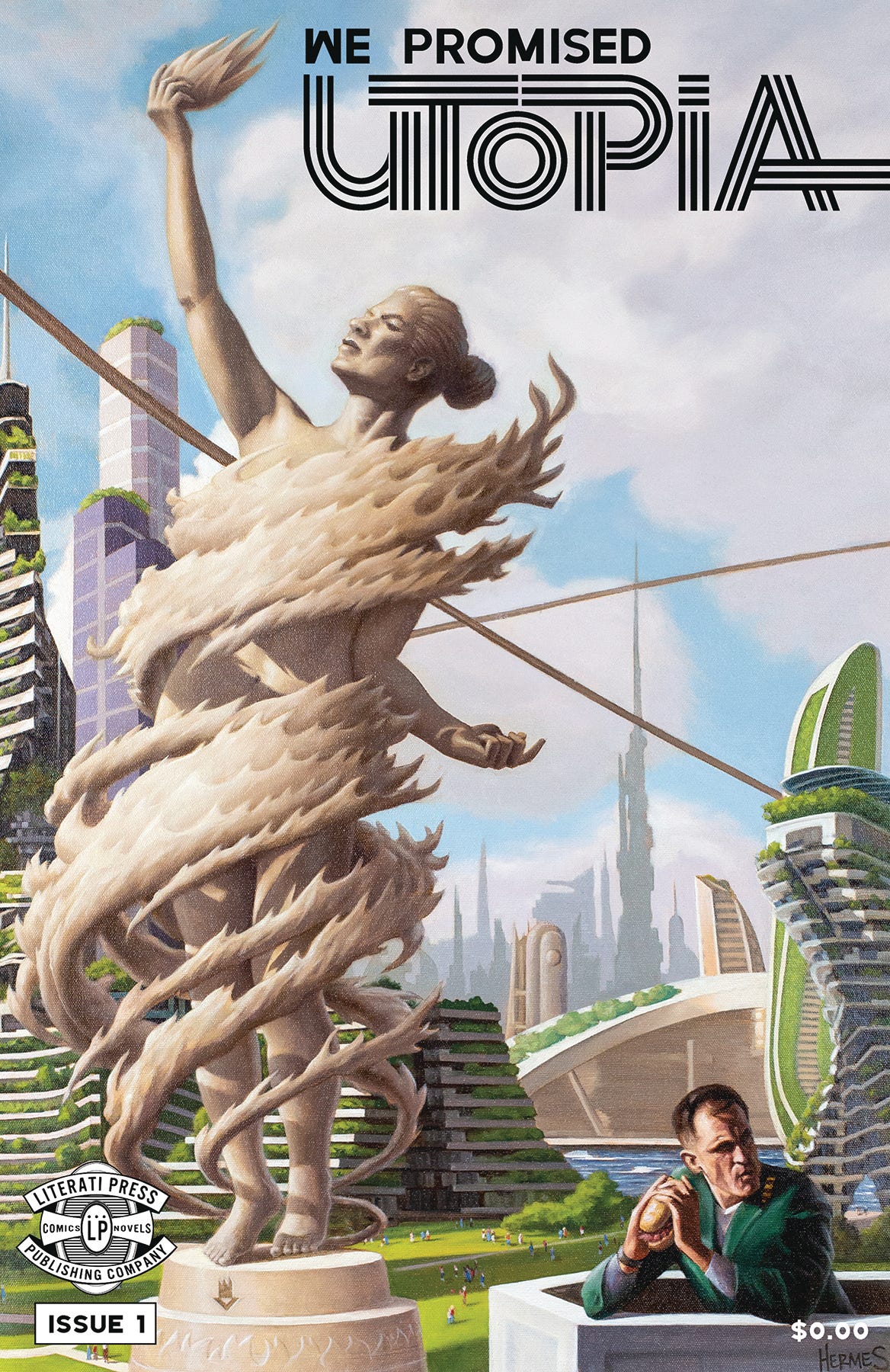 It's either gonna be good or a dud I think. But Deadbox #1 makes the list for just the potential of good but it's a skim before I buy type of book.
Welcome to the town of Lost Turkey, where the main source of entertainment is a cursed DVD machine that seems to know more about the fate of its citizens than they do.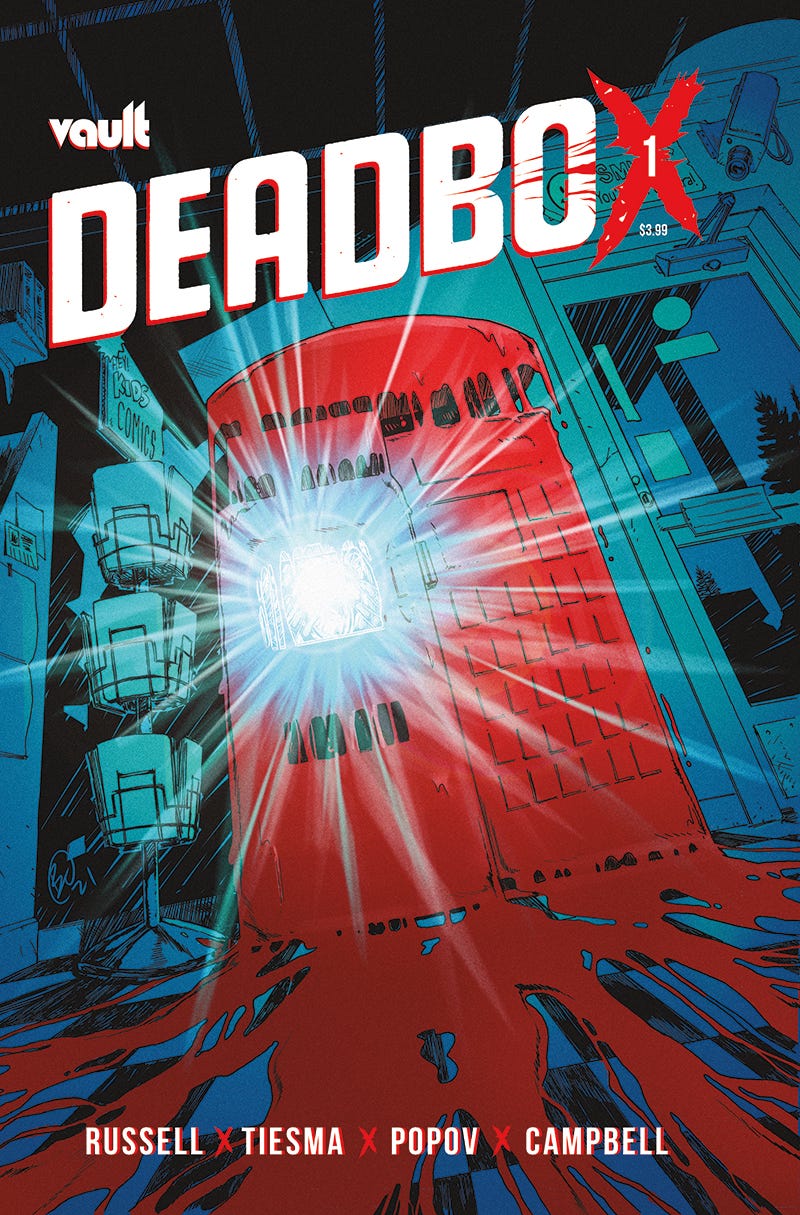 Her stuff is usually top notch (I'm behind but the titles I have read I've enjoyed) and I think underrated but Maria Llovets Porcelain #1 (Cover A - Llovet) is the next title under Ablaze.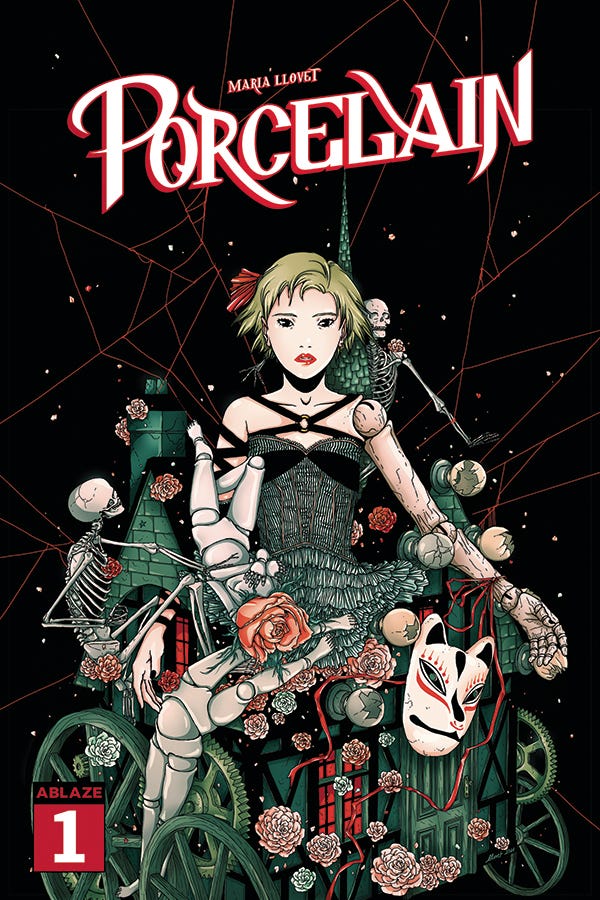 I just love a good GPK homage, that's the only reason I'm even mentioning this next book for M.F.K.Z. #3 (Cover C - Run).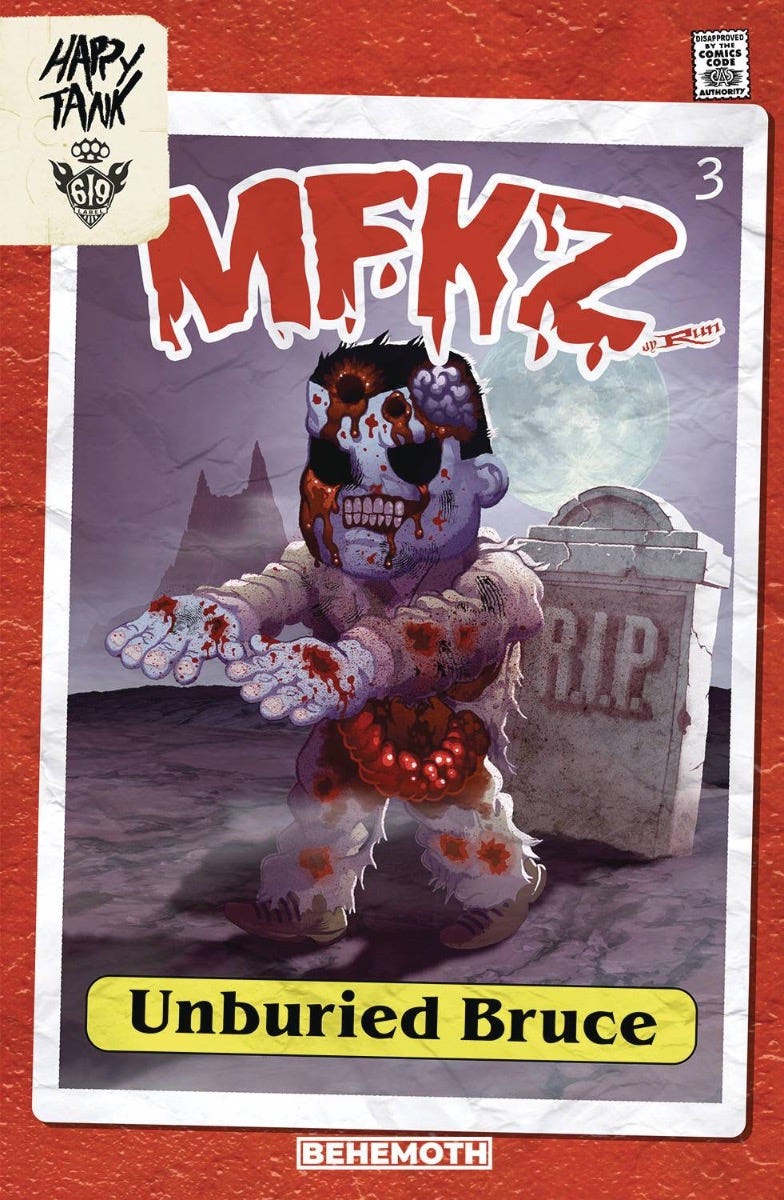 Not All Robots #1 (Cover A - Rahzzah). It's got robots in the title, of course I'm going to check it out. But seriously, sounds like a potential good read and hopefully cool artwork. The homage Not All Robots #1 (Cover B - Deodata Jr) is pretty slick as well.
In the year 2056, robots have replaced human beings in the workforce. An uneasy co-existence develops between the newly intelligent robots and the ten billion humans living on Earth. Every human family is assigned a robot upon whom they are completely reliant. What could possibly go wrong? Meet the Walters, a human family whose robot, Razorball, ominously spends his free time in the garage working on machines which they're pretty sure are designed to kill them in this sci-fi satire from Mark Russell (The Flintstones, Second Coming) and Mike Deodato Jr. (The Amazing Spider-Man,The Resistance)."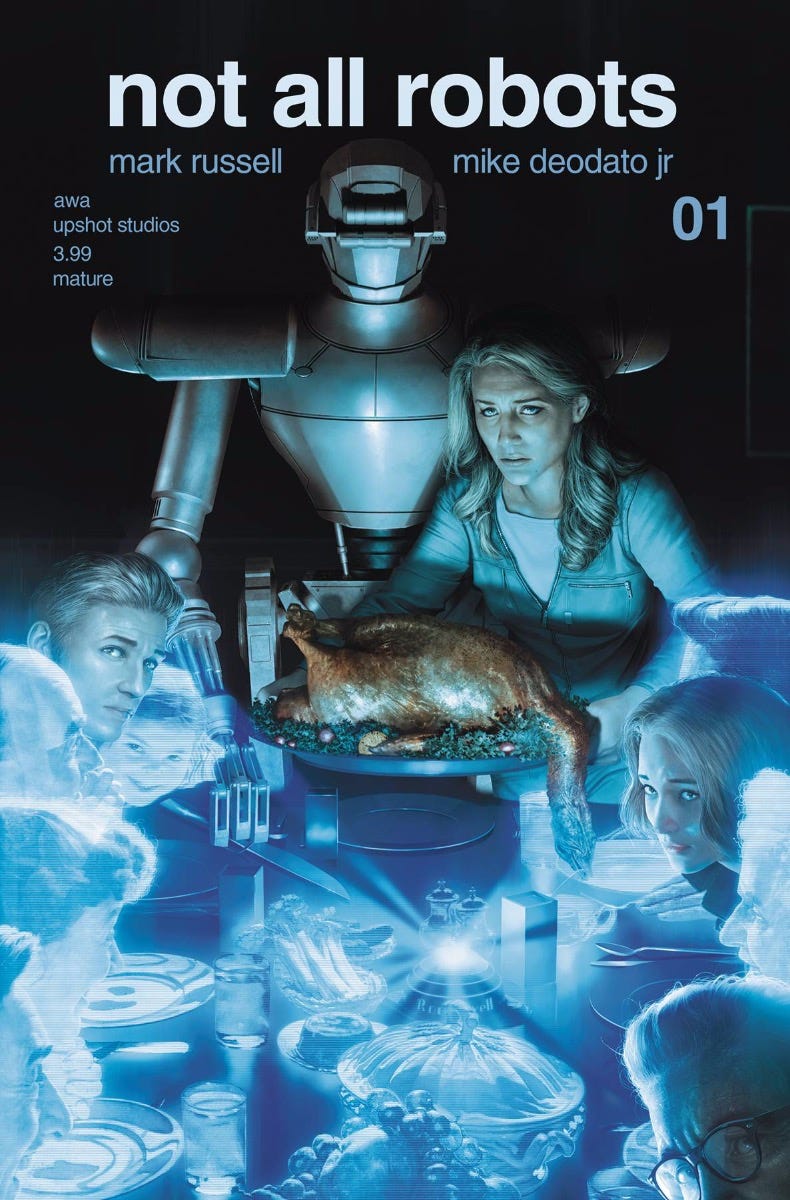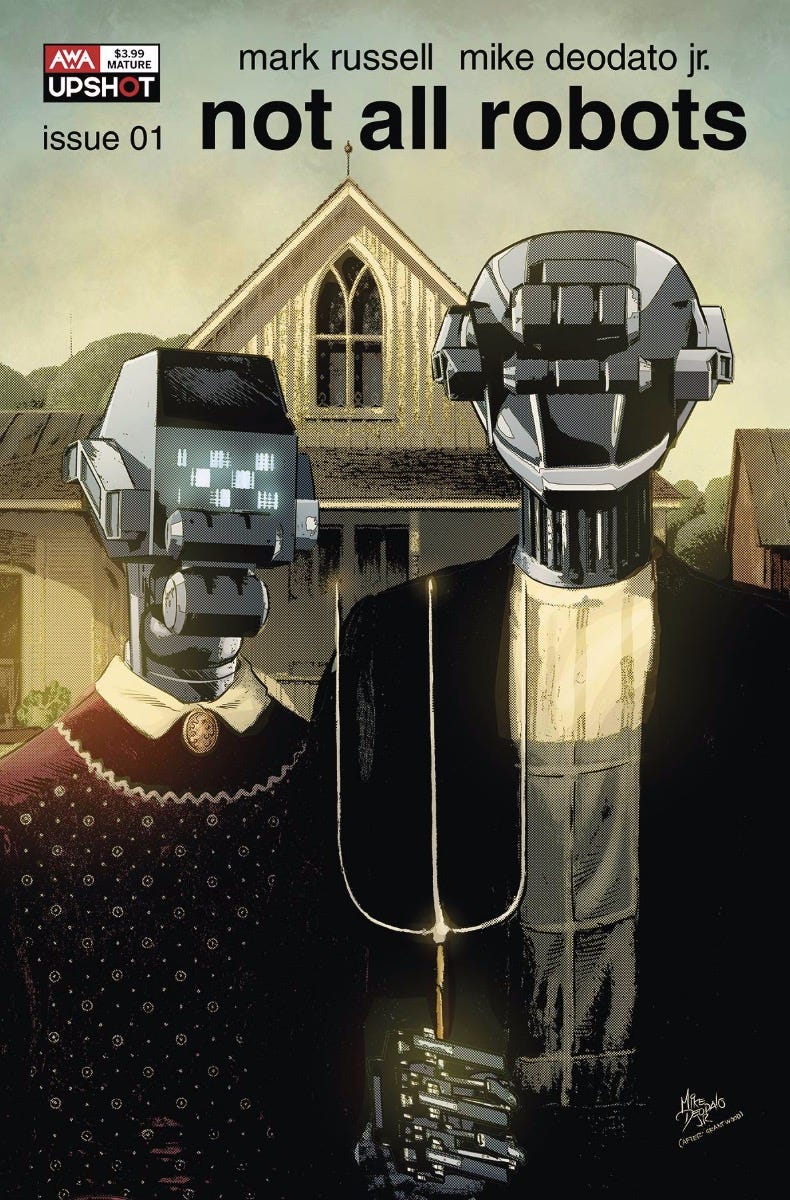 Elric Dreaming City #1 (Cover A - Mignola) has it's fans. We saw a previous title of Elric see some love on the secondary a few years back. So even if you don't read or enjoy this fantasy character from the mind of Moorcock, could be a book to keep a close watch on.
Elric Dreaming City #1 (Cover B - Secher)
Elric Dreaming City #1 (Cover C - Bourgier)
Elric Dreaming City #1 (Cover D - Telo)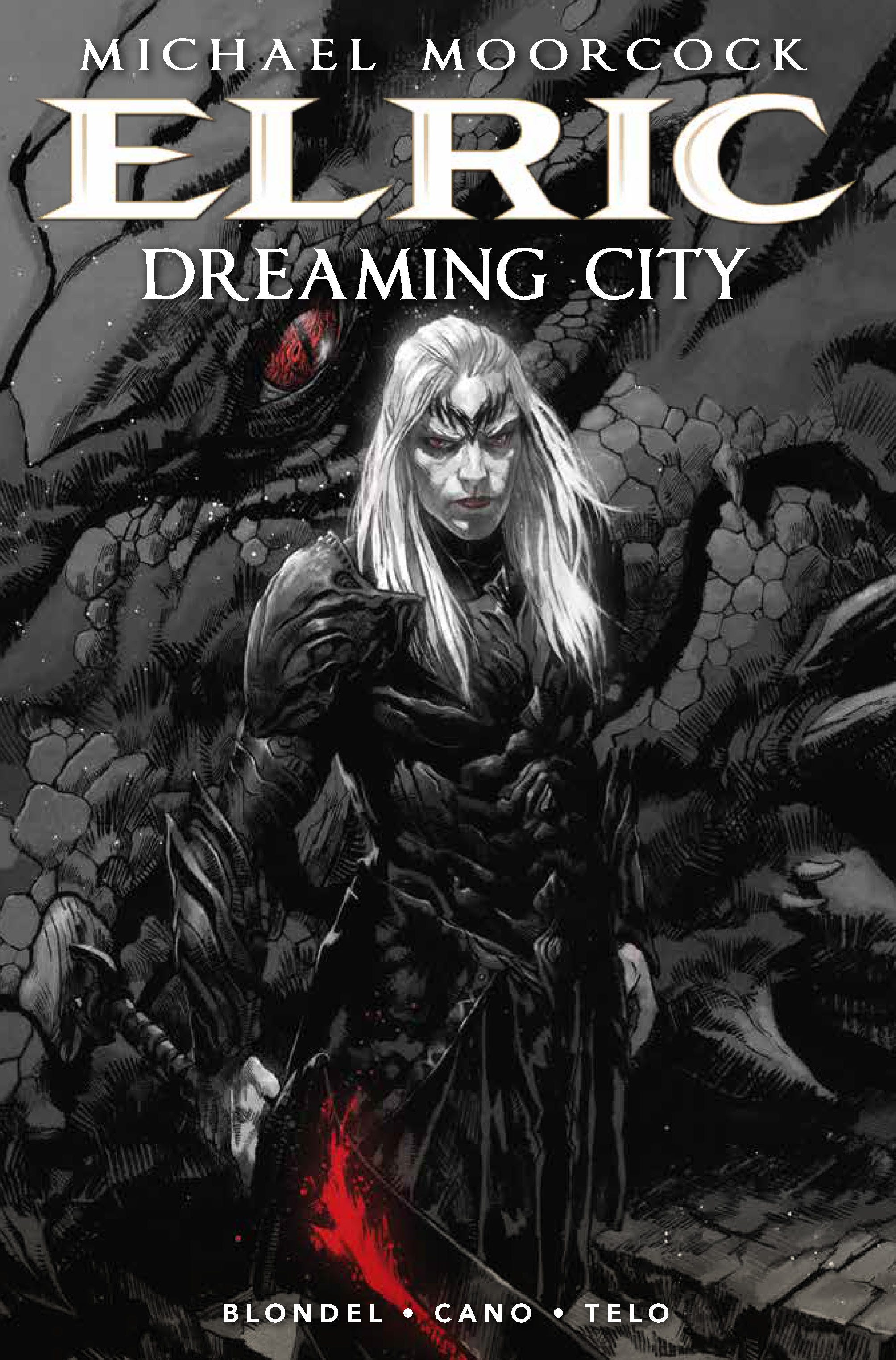 This next book I'm not fully on board with but I get the sense it could end up more popular than my gut feeling tells me.
Nine Stones #1 (Cover A - Spano) is solicited as:
"Disturbing dreams shake Alistair 'Allie' Jacobi's nights. But his daytime life is not much better. His father, the boss of a criminal organization, has decided that it's time for his son to gain experience in the underworld. So Allie, 19, finds himself doing an 'internship' in a convenience store run by the man who, under the cover of home deliveries, is selling drugs to the entire city. To teach him the 'job' is Christopher, an older guy. The bond created between the two of them will give life to dark presences and disturbing and enigmatic premonitions."
Lots of covers to kick this series off (all done by the writer and artist for the book):
Nine Stones #1 (Cover B - Spano)
Nine Stones #1 (Cover C - Spano)
Nine Stones #1 (Cover D - Spano)
Nine Stones #1 (Cover E - Sketch Cover)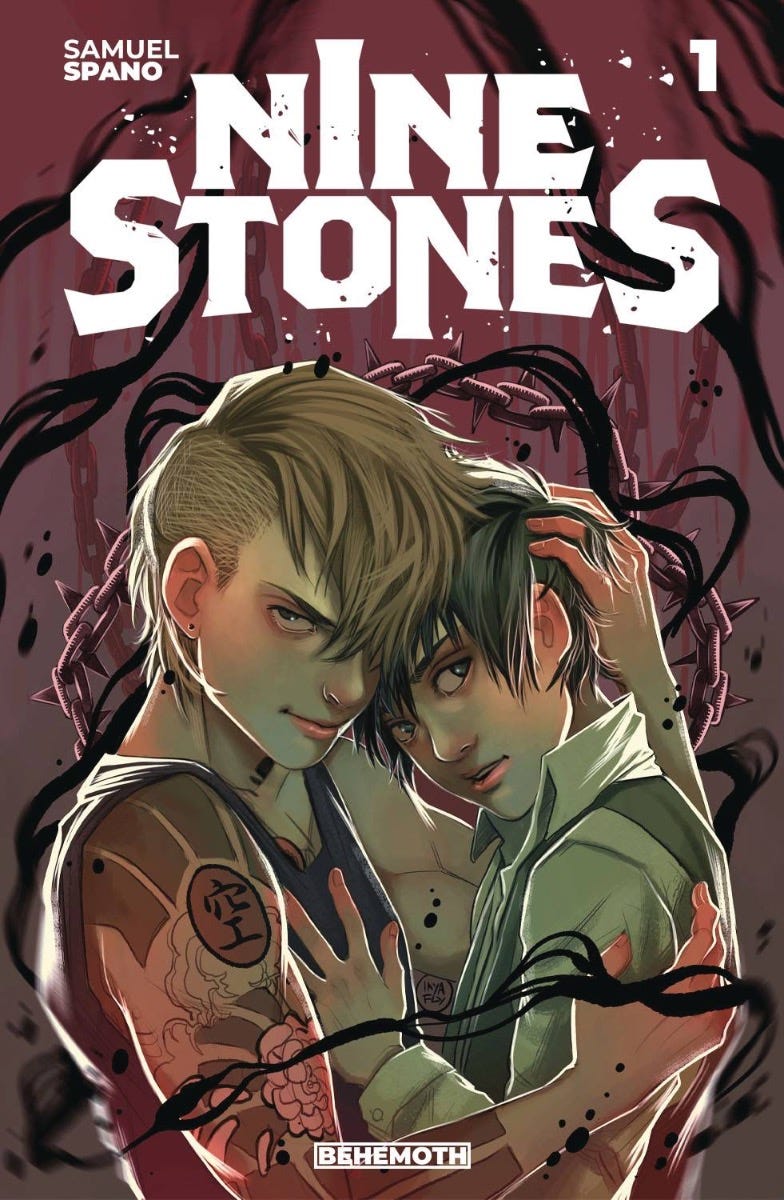 Snelson #1 satires and pokes fun at white male entitlement in comedic fashion? Sign me up…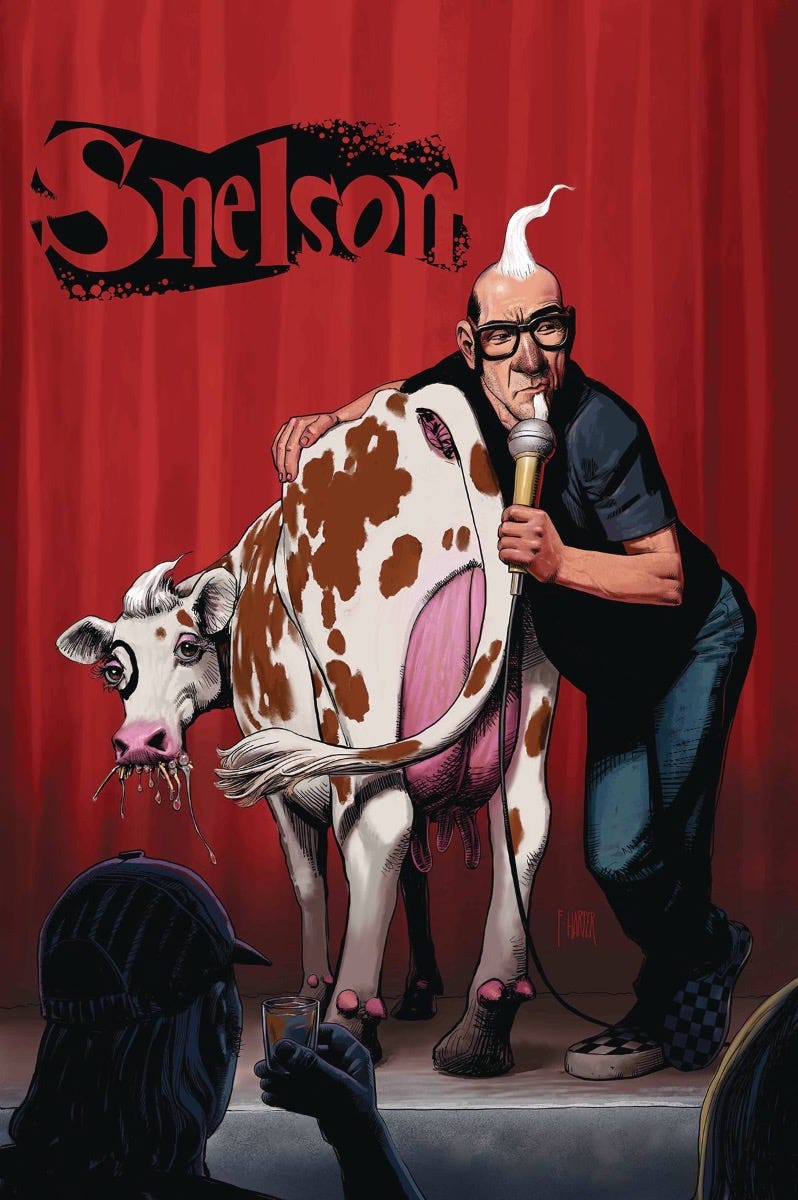 Eat the Rich #1 (of 5) (Cover A - Tong) just sounds great right? There's also a pretty cool Frison variant.
Eat the Rich #1 (of 5) (Cover A - Tong)
Eat the Rich #1 (of 5) (Cover B - Carey)
Eat the Rich #1 (of 5) (Cover C - Frison)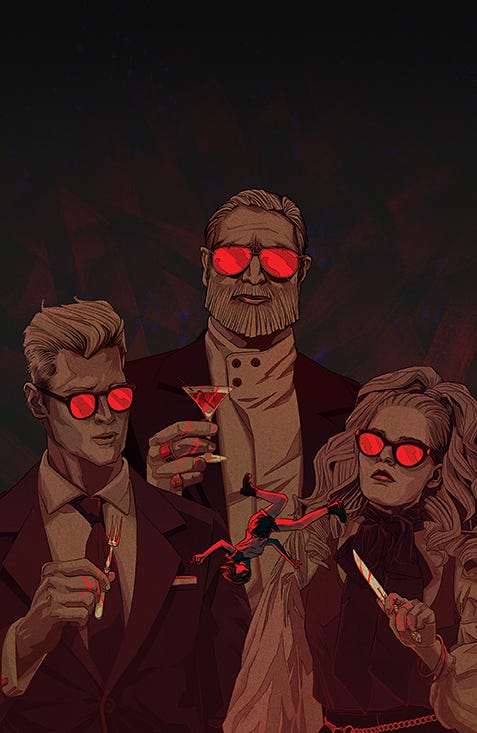 No cover art yet but love a good futuristic title called Technofreak #1 (of 3) from American Mythology.
Welcome to London 3026, the grimmest of futures. Cybernetic implants have altered Jon Sherlok's consciousness and gift him with the ability to hack into any electronic systems, but at a cost; he can feel the edges of his humanity collapsing. TechnoFreak is a combination of the best sci-fi and film noir. It's Blade Runner on acid, mixed with outrageous humor. A smash-hit indie in the UK, now in the USA. That's right, the country that brought you Mary Poppins, James Bond, and Harry Potter, now brings you TechnoFreak, along with his talking robot cat, Maurice. Things will never be the same again! Featuring a back-up story written by comics legend, Mike Carey. TechnoFreak: It ain't Marvel and it ain't P.C. "
I'm hoping the new Barbaric book is a fun read so until I read the first issue, this Barbaric #3 (Cover A - Gooden) is on just the to check out type of list.