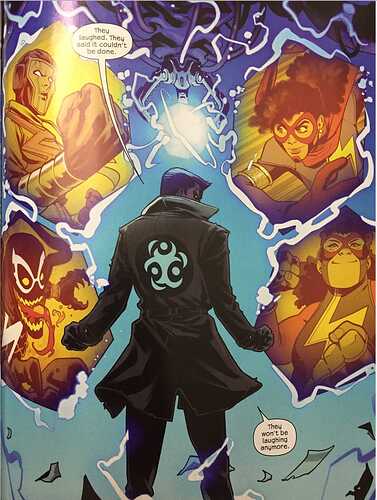 From Ms marvel 5
She was first in Infinity Warps a few years back
Literally, the only thing I remember from Infinity Warps is that Spidey-Moon Knight mash-up. That was cool.
I recall Spider-Man Dr. Strange.
Has the venom character been seen before?
I think just a few Venomized cover is all we have ever seen of Venom Kahn. But she kinda has her own Venom suit that became a character.
If you mean stormranger, I didn't think the suit ever looked like that.
I've been telling ppl to buy his first appearance. Such an awesome mashup character and already used in video games. Arachknight was featured on a variant of last months Moon Knight issue, which I also mentioned pre FOC on here.
So yeah, I'm obviously big on this character lol. Cameo in infinity wars 3, 1st full and cover in infinity wars 4. 1st solo in infinity warps: arachknight 1 (of 2).

I'm a big fan of Hex-23 such a powerful combination of abilities.