Ha ha. Once again no old grandma Madame Web movie. The KCC crowd continues to chase the wrong book.
You all can call me wrong in a few years (or now) but I can't see anyone caring about Madame Web, old version or young.
Then again, I really didn't see how a Venom movie was going to work without Spidey.
Or Rocket racoon. Or Groot. I guess it depends on the story and the movie/show itself. But I'm skeptical about her myself (unless they introduce some Spider-verse characters, and dont dumb the show down like the Agents of Shield w/ poor special effects). I guess as a comic book fan, I'm glad they are trying; just hope they dont burn out the comic book movie.
My guess on who could be appearing…
I have a feeling Silver Sable will be introduced in the movie…since it looks like there will be a Silver Sable movie filming at the same time…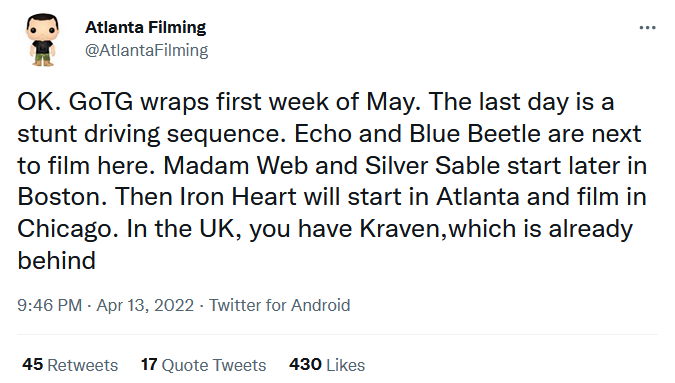 I'm "guessing" that's who Sydney Sweeney is playing…
So is this supposed to be Arana?
" Sony is coming off a hot streak with Venom: Let There Be Carnage making more than $500 million worldwide, while Spider-Man: No Way Home was the biggest film of 2021 with $1.85 billion in worldwide sales."
I love how they conveniently forgot Morbius.
And IMO both sucked, but the revenue will justify more of the same, till eventually they (studios) kill the golden goose. I still have to see Morbius.
The Venom movies didn't work.

I actually liked the Venom movies. Mostly thanks to Hardy being fun in the first one and how off-the-wall he and Woody are in the sequel.
I think this casting makes more sense for Araña. But now I have no clue who Celeste might play
This movie just went up a few notches…
What roles is she known for? Ive never heard of her.
I remembered her in "We're The Millers"… thought she was great in that movie. That's the only one I can recall myself.
You don't know Emma Roberts, star of 2020s hit Holidate ?