Yesterday's Miles Morales Spider-Man #6 features the 1st full appearance of Tiana Toomes, aka Starling. She is also featured on the cover of said issue.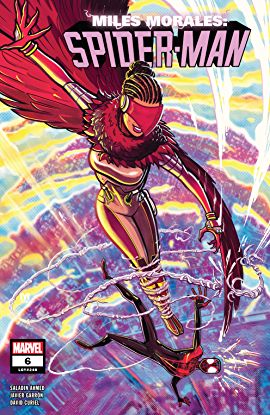 The book is seeing sales of 2x - 3x cover price.
https://www.ebay.com/sch/i.html?_from=R40&_nkw=miles+spider-man+%236&_sacat=17082&LH_Complete=1&LH_Sold=1&Publisher=Marvel
Tiana Toomes is the Grand Daughter of the classic Spidey villian the Vulture. She appears to be a hero and meets up w/ Miles as she pursues some sort of vendetta with Tombstone. Some are speculating that this new female character may be Miles' long term love interest, moving forward. Spidey and Starling has a nice ring to it, imo.
Issue #4 had a print run of 30,465, and I would expect this book to be around the same number. However, issue #6 has 2 covers, so the actual print run on Cover A may be much lower than the 30k copies of issue #4 (only 1 cover). Starling does have a 1 panel, named cameo in issue #5 (thanks to Alana for the cameo info). Good luck hunting this week, CHUniversal soldiers.