When the blank variant sits at cover price…it's a sign no one really believes in this spec, IMO.
Yes, sell'em if you hot'em. Flood seems to have hit and prices are down to about $15+shipping now.
Kudos to those who jumped on this early.
64k units floating around out there…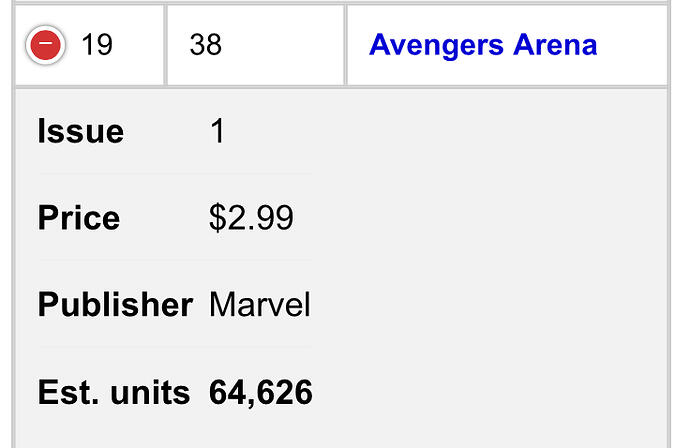 Curious what app/website you are using to find the units?
It's still lame to me…

Still got some for cover price…
Prophet getting a lot of sales lately.
Sold my Youngblood 2 copies (that I bought in 1992 off the shelf on NCBD) this week. I just have a hard time seeing this as a movie. It's nice to be able to sell ANY early 90s Image books, so I jumped at it.
Have you read the crazy relaunch series? it was cool
Yeah, The Brandon Graham take on Prophet was one of my favorite books every month.
Sold a set of pink/green youngblood 2. Have 2 sets left. Anyone know what the print breakdown was for green vs pink? I could never figure that out. Pink seems to fetch a bit more.
That was a really good book.
That's because the first print sold like shit!
Back on May 25, on Midtown, I ordered 8 Moon Knight #1s [JTC Action Figure Variant] at cover price. Today I checked and they are going $30 - 25% off brings it to $22 each…
Looks on ebay…
Yeah…
Price on them are creeping up… Score for me!
When I can't find regular covers at cover, I been using the Action Figure Variants or Skottie Young Variants as alternatives, which mainly go for cover, but you got to catch'm early on.
Yeah…
I'm going to start grabbing every Avengers #10 (Vol. 8) below cover when I can grab…
The Killadelphia #12 McFarlane cover has been getting all sorts of attention/chatter/and highlights in lists this week which as we know has an impact on FOMO and purchases.
Pretty sure we all were on board with that book from the get go and discussed it at the time. It was sort of a no brainer open order regular priced buy at the time.
Anyway…as always…smoke em if you got em as they are red hot.
Killadelphia #12 McFarlane variant was selling from cover price to $10 a few days ago? Now a copy sold for $50…WHY ???
WHAT NEWS BROKE ON OCTOBER 13TH ??? WHOSE PUMPING THIS ON OCTOBER 13TH ???