Covrprice sent out their newsletter and confirmed that Key Collector's notification regarding the comic Monstress coming to HBO was wrong: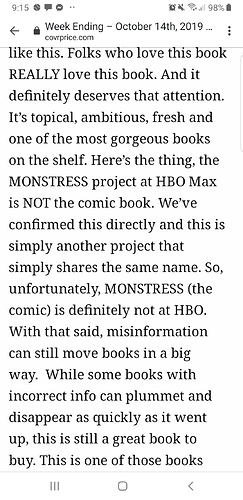 There is a show called Monstress that HBO is developing, but it has nothing to do with Takeda's and Liu's book. For the people that want to believe that Coveprice is wrong, consider this:
• The only source for this news was Key Collector Comics
• No reputable media outlet has reported/confirmed this
• Both creators have been silent on this (as far as my Googling can tell)
CHU reported only what Key Collector Comics reported, and only because the market started moving books like crazy. If you made money, awesome. If you bought at a premium, ouch.
Whenever the source is Key Collector, always take it with a huge grain of salt. Nick is the kind of guy that likes to fall back on the following excuses:
• You didn't have to buy it!
• 30 day returns, bro!
Is he right? In a way, yes. However, that doesn't excuse him from choosing to not take responsibility for the huge ripples he causes because of his bad spec.
Before ending this, I want to make it clear that I'm not faulting CHU. They reported what they saw and reported who the source was for the original announcement.
To quote Mr. Poyo, Buy low, Sell high. Follow that advice, and you'll never get burned.