Any complaints on all the paper used to make the bazillion Spider-Man variants? Just ridiculous.
I think all publishers should scale down to just one cover per book and no more ratios until the paper shortage issues are over.
Well that won't make them any money…
Watching Economics in Comics video…he says 55 of his
80 Gleason covers were "damaged."
All Cover abs were damaged.
At a certain point companies should care more about the world we live in rather than the money they make from it…
But consumers can send a message though, don't buy any variants. So I guess we're the actual problem because we fall into a trap in "wanting" not needing these additional covers of the comic we're now buying duplicates of.

Sad that publishers must sell variants in order to increase low sales. In the 1970s, Marvel would cancel any title with sales below 170,000 copies. Today, buying back issues is harder because collectors need to research photos online to avoid wrong comic.
Yup. Just goes to show the market has changed drastically for comics. They're selling the same product to the same people multiple times to boost overall revenue and profits. It's smart since the amount of readers have greatly decreased (at least for the paper editions). If they relied on just printing the number of copies cause everyone was just buying one copy to read, well, they'd probably just do away with it altogether.
Maybe if they spent a little more effort on the actual story telling, they could woo some more people to buy their titles…

Just read Amazing Spider-man #1.
Gotta say, it wasnt bad. I actually liked Romita's art. It's simple. Brought me back to when he did ASM 20 years ago.
The story was good too.
Flava of the week is to shit on Spider-Man books. But every week or so a Spider-Man book hits a list or characters associated with him.
My LCS had all damaged copies. Seems to be the trend with these cheap ass Marvel paper crap. Gonna try another LCS and hope for the best.
I think Romita is reinvigorated to some degree. His storytelling (angles, pacing, etc.) is his superpower IMO.
They probably collapse under their own weight once they are shelved.
Nope. Every week the Marvel crap is always dinged on the corners, spines faded, etc. Usually only Marvel. Sometimes DC. Rarely Independents.
Is Ms. Marvel Beyond the Limit worth buying ?
Ouch.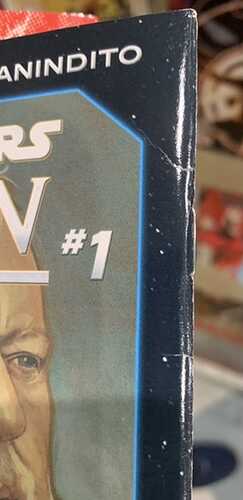 The card stock Spider-Man's took a beating…this is a Gleason cover.
I did manage to find a nice copy…not 9.8 but not crunches either.
Card stock is not very forgiving when they get bent… they're super nice if not damaged. It's a I like them and hate them at the same time.