I'm curious to see Ms. Marvel and Moon Knight hanging out.
AF15 facsimile sells from $25-$50 depending on the day, raw.
Wish I'd bought more. I may have only bought 1.
Star Wars 26A seems to be heading for FOMO territory.
Lowest priced BIN copy on eBay…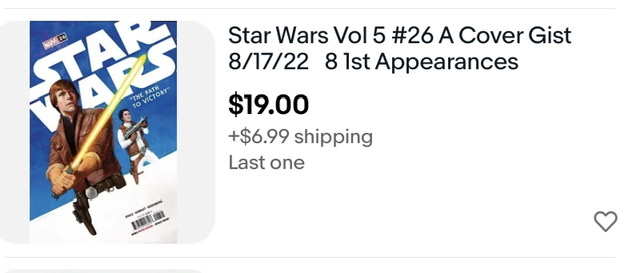 isnt sw26 just a bunch of random officers, why are people specing on imperial officers
I want a zombie Ditko doodle.
Batman 107 (2021) had six first appearances and it is selling at cover price. Maybe one of those characters in Star Wars 26 will take off. It is also possible that none of those characters will play a major role in comics or movies. Time will tell.
DC and Marvel facsimiles of recent years tend to increase in value but nothing spectacular. Their printing has superior quality and is closer to the originals than past reprints.
Sad Lemon is selling SW26 for £19.95. Most probably they have cleared other UK stores stock and are trying to sell it for a premium.
Batman is not Star Wars, for one.
And I believe for Super Hero comics once the writer who creates the new characters leaves the new writer rarely picks them up and continues to develop them. they usually just disappear for long stints.
Star Wars characters tend to have more of a chance to keep being used, it's such an expanded universe with so many possibilities to explore.
All true. Many of the high republic books have numerous 1st apps and are at cover price. Long term some of them will pan out and some will not. That is what I said in my last post.
Oh thanks Jim for finding those 1st appearances…
Not even mentioning the actual source…smh
A post was merged into an existing topic: Poyo's FOC Highlight Books for Last Call August 14/15th, 2022