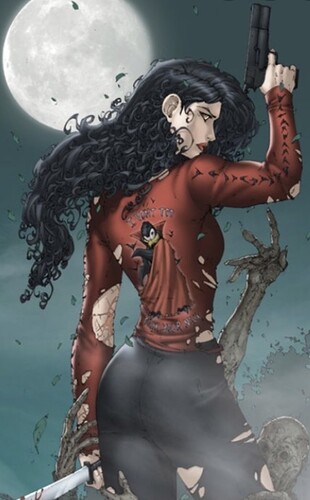 With Loki dropping the V word on Disney+ People have been flocking to not just Blade but Elsa Bloodstone and Dracula keys and variants. But there is another Vampire Hunter Anita Blake, 1st appearing in Anita Blake Vampire Hunter Guilty Pleasures #1 from 2006. There is also numerous novels written about the Vampire Hunter Anita. There's a 1st print, a 1:10 Greg Horn, 1:25 Sketch, a 2nd print, a 3rd print, and a convention exclusive that came out a year later. I have a link here with the 1:25s for cover price plus shipping with multiples available
There's a couple 1:10s on Amazon
and a 2nd print in fine condition for a $1.50 at midtown.
To whoever reads this first and is intrigued with the character. Dirt cheap highest ratio for a new characters 1st appearance that could have potential.