This one is for all you Something is Killing the Children fans out there. Okay, it's not a comic but I think it's a pretty cool giveaway for people who appreciate art.
Our own longtime CHU follower (who's been following the sites for years) @Gbess has been upping his artist skills and created a pretty awesome looking piece for Something is Killing the Children.
So he decided to make some prints of his original and wants to give 2 of them away here on CHU as a thank you.
The prints are 11" x 17" in size.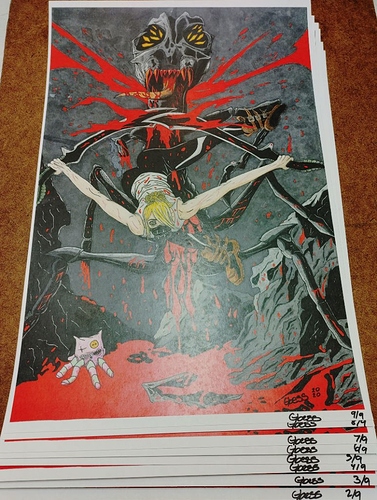 He's got 5 of the others listed on eBay as well, for those who are interested in just buying now and not taking a chance in the drawing. Or maybe you just want to support his art endeavors and efforts. Honestly I'd love to see more and who knows, maybe one day we'll see some Gbess variants out there on comics…
Rules are simple:
Comment here in the forums or in the article's comments but only once. Your comment needs to include a good email address as that's how we'll contact you. Don't post your email in your comment though.
One entry per person. (yes, we can verify)
Two winners will be randomly drawn on Wednesday January 20th, 2020 around 8:00 PM CST.
We ask that entrants are U.S. domestic only at this time.
Winners will have 24 hours to claim their prize after notification, if no response, we draw for another winner out of the remaining names thrown in the hat.
Good Luck and if you got any additional questions about the prints, you can PM @Gbess directly.