Cool.
I have a file copy of Thor 337. Kinda neat.
So, I actually just won his file copy of the Hyperspace Fan Club 2011 issue today: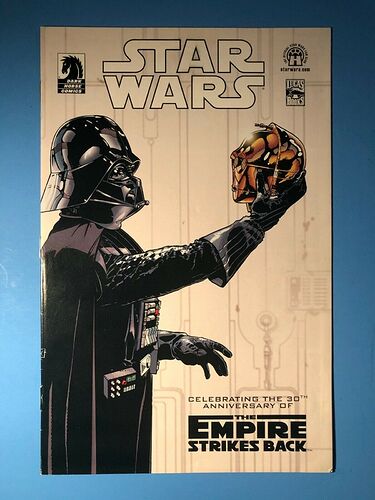 I've been communicating with Ryder via email and actually over the phone. He's a super nice guy and his stories about Dark Horse Star Wars publication are great. I'm hoping to put together an interview with him soon to get all this stuff on the record.
Ryder Windham is at it again selling more file copies. He's offering to personalize them with "inscriptions" and "autographs" for the winning bidders.
First, he has a set of Episode I Qui-Gon Jinn one shots, including the hard to find glow in the dark version.
He noted that the Dynamic Forces editions come without Dynamic Forces COAs as they were sent to him directly by Lucasfilm without the COAS originally. Not sure this has much affect as the books aren't signed editions really necessitating such authenticating documentation.
Next up, a fully packaged Mixed Up Droid mini comic with the audio book cassette.
In my discussions with him on the phone, he's discussed a willingness to send signed photo copies of his original layouts for this book to the winning bidder. Cool little piece of process work available there.
Finally, Jedi Quest 1-4:
As I said before, this is a nice opportunity to buy some pretty crisp copies of these Dark Horse comics owned by somebody involved in the editing, writing, and layout process.
I don't know how much more he has to sell off, but he hasn't sounded overly desperate to get rid of things, so this stuff may just keep coming out in fits and starts from his ebay account.
Is that Darth Vader's glove?
I can say with some verifiable authority that yes it is.
A few more file copy listings from Star Wars Dark Horse editor and writer, Ryder Windham.