Yesterday we mentioned the Star Wars High Republic #3 exclusive TFAW released. Today, they are releasing this awesome exclusive for the upcoming Proctor Valley Road #1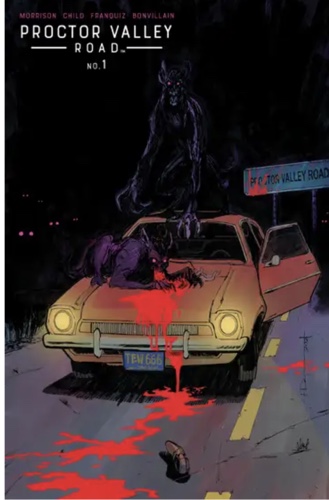 This TFAW exclusive cover for the new series Proctor Valley Road #1 was created by artist Eryk Donovan! It features a first look at one of the types of monsters featured in the new series. It's an edition of 1000, and includes bag and board.
The solicitation follows:
Perfect for fans of Paper Girls and Die, visionary writer Grant Morrison (Klaus), Alex Child (BBC's Holby City) and Naomi Franquiz (Tales from Harrow County) present a chilling new horror series about the mysterious monsters that haunt Proctor Valley Road - and the four misfit teenagers who must stop them. August, Rylee, Cora & Jennie have organized a 'Spook Tour' with theiro classmates on the most haunted, demon-infested stretch of road in America to fund attending the concert of their dreams. When their visit turns deadly, these four friends race to rescue the missing students… before the town tears them limb from limb. Now they must slay the evils roaming Proctor Valley Road… along with the monsters lurking in the hearts of 1970s America.
The following is from a Deadline story that came out sometime back. This book is worth taking note of:
Next year, Boom! Studios will unveil a new piece of real estate right in the heart of 1970s America — home to the most terrifying road in the U.S. Get ready to visit Proctor Valley Road .
The series, described by artist Naomi Franquiz ( Tales from Harrow County ) as "a big slice of Americana laced with uneasy cryptid horror, a side of rebel youth, and a killer soundtrack," follows four friends in 1970s America — August, Rylee, Cora, and Jennie — whose attempts to raise money by organizing a "spook tour" of the most haunted stretch of road in the country quickly goes awry, leaving the four in a race against time to stop the monstrous threat before things turn very deadly indeed.
Proctor Valley Road will be written by British screenwriter Alex Child ( Holby City , Temple ) and comic book legend Grant Morrison ( JLA , All-Star Superman , The Invisibles , Doom Patrol , and many more).
UCP Graphic is a new extension of television studio UCP, a division of Universal Studio Group, that has partnered with BOOM! Studios along with established and up-and-coming talent to create and publish original graphic novels and comic books. Proctor Valley Road is the first comic book from UCP Graphic. UCP, the studio behind Netflix's The Umbrella Academy and Happy! , will adapt the graphic novel for television.
Proctor Valley Road will debut digitally and in comic book stores March 3, 2021.