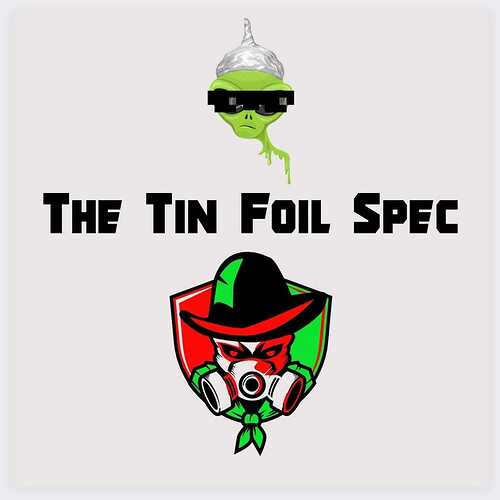 Greetings and jamutations, CHUsters! What is this, a crossover episode? You betcha! The Tin Hat is back, and this time, he's crossing over into the many multiverses of the speculation web-verse! Special thanks to the CHU admins for letting me post here. Starting right now, The Tin Foil Spec will be shared on the CHU forums! The Tin Foil Spec will also be posted on CBSI, and of course, in the Tin Hat's own website, banditocomics.com.
Some of ya'll know the drill, others will wonder what's going on. To all of you, I bid you welcome! The Tin Foil Spec is The Tin Hat's attempt at picking out books that will heat up base on Previews solicitations. There is no fancy algorithm here at work; it's comes from my tin foil-covered brain. So sit back, relax, and open a Lone Star (inflation has made IPAs too expensive), and let's delve into the June 2022 Previews!
MARVEL
Amazing Spider-Man #7 & #8 - Web-Heads breathed a sigh of relief this past week as Joe Quesada announced that he was leaving Marvel. While his initial influence provided a huge breath of fresh air for Marvel, his eventual long-term stay soured fans. Can Spider-Man finally grow up and have some sort of an adult life, or will Marvel continue keeping him unhappy? Either way, that Dell'Otto variant is sweet!
Avengers & Moon Girl #1 - Marvel and Disney are ready to unleash the behemoth that is Moon Girl! Sure, her books didn't crack giant sales numbers, but she is a constant fan favorite, especially at Scholastic Book Sales! The smartest character in the Marvel universe teams up with the mighty Avengers! As first appearances continue to go up, first team-ups are all the rage.
Carnage #5 - What Carnage has taught us is that he has new fans born every minute! His books eventually start petering out in print run over time but that only means his future fans will seek them out down the line! Plus, this is a great cover by Kunkka! This series can become like the Clayton Crain cover run from a few years ago.
Miles Morales Spider-Man #40 - Anything Miles should be an instant grab. Doesn't matter if it's his 1st volume or 4th one, everything eventually heats up. Selim is back, and this time, Miles looks to take him out for good!
Ms. Marvel & Wolverine #1 - Kamala's powers and origin will see a shift in the Disney Plus series. Will they try to tie her close to the X-Men instead of the Inhumans? Either way, pick up a few copies of this one.
Predator #1 - Pick your favorite cover (it's the Rahzzah one, isn't it?) and get ready for a bloody battle! Marvel's Predator comic is finally here! This is sure to be a fun read.
Gwen-Verse #5 - Hey, if Spider-Verse #6 can blow up to a crazy value, why not the last issue in this run? Grab a couple and stash away just in case.
Star Wars Mandalorian #2 - Issue one is guaranteed to have a bajillion print run, and there's a good chance every issue in this series will have store exclusives. However, this one has an awesome main cover by Kaare Andrews featuring Mando and Grogu. Grab a couple, and as always, get the later print runs.
Star Wars Obi-Wan Kenobi #3 - This one is for Clone Wars fans. Looks like we'll get some good story and promising art for one of Kenobi's memorable battles on the front lines.
X-Men #13 - Pointing this out for the awesome Art Adams variant.
DC
Batman #125 - This one is for the readers. Zdarsky is sure to always be a hit. Only pick one up. Those ratios are insane.
Batman: White Knight Presents: Red Hood #1 - I'll always highlight Mr. Murphy's work. But what's up with DC's ratios all of a sudden? I step away for a few months, and DC goes berserk!
Catwoman #45 - Frison never disappoints and that might just be Sozomaika's best cover so far. Order 25 Frison's to get 1 of Sozomaika.
Superman: Son of Kal-El #13 - The debut of Dreamer! Her comic first appearance was in last year's DC Pride issue, and it looks like she's ready to make her full debut in the DC proper universe. Make sure to have a few of these on hold.
IMAGE
Rogues' Gallery - This one is a no-brainer. Hannah Rose is an actress who has appeared on shows like Shooter and Altered Carbon. You all remember the motto, right? Buy now, flip for $20 when the option gets announced.