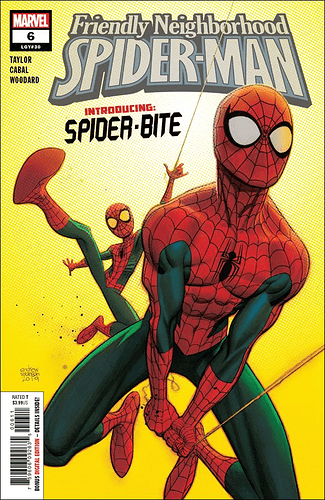 https://www.ebay.com/sch/i.html?_from=R40&_nkw=Friendly+Neighborhood+Spider-Man+6&_sacat=0&LH_TitleDesc=0&rt=nc&LH_Sold=1&LH_Complete=1
Based solely on the cover, it appears to be a new marketable addition to the spider universe that could turn up all over all types of future productions.
UPS comes between 12:30 and 2PM. Until then I'm guessing with only the cover as a guide.
FRIENDLY NEIGHBORHOOD SPIDER-MAN #6

MARVEL COMICS

(W) Tom Taylor (A) Juan Cabal (CA) Andrew Robinson

• The neighborhood, and the planet, is doomed. Spider-Man is powerless to stop the end of the world. Only Earth's Newest and Mightiest Hero, Spider-Bite, can save the day.
• Wait, WHAT?!
Rated T
Savage Carnage McNugget? Prom date for Spiderling? Savage Venom's son's new best bud?
I'm just waiting for Spider-Guy-Person to become a thing. That's right, French Canadian Guy Person gets bit by a spider…A spider that was bit by a smaller radioactive spider from something non-related, right before the first spider was exposed to radiation in a radiation accident at the nuclear power plant where Guy Person works and is also exposed to even more radiation…but not from the Power plant, from a UFO carrying toxic space radiation that crashes into the power plant, which also releases radiation…guess what happens after that?!?.. Remember when there was only one Spider-man? I think I'm going to have a beer with lunch today.
That's the spirit, E pluribus Unum cervisiam
I really miss the days when there was only one Spider-Man. It really did make him seem a whole lot more special.
Spider-bite's 9 years old. May be a little young for dating Spiderling. Reading it right now!!!
OKAY!!! That was a really sweet story!!! Instant feel good classic.
That is what I heard. Like the old Bou who would be Spider-Man story.
Item Status - B/O Not Stocked at Diamond already, sure to trigger a 2nd Printing. I'm glad I reordered yesterday. Now if the price will just stay down so it's more attainable for younger readers.
Just noticed Batman Who Laughs is getting a 7th issue advertised on the cover of #5.
I think the issue is probably too heavy for many younger readers.
I'm used to having to tell kids to go back out to the car and tell mom she has to come in if you're planning to buy "Mature" titles like Walking Dead, Deadpool etc.
That's usually followed by either mom driving them away or mom coming in "Give them whatever they want, they see worse on the tv and video games"!!!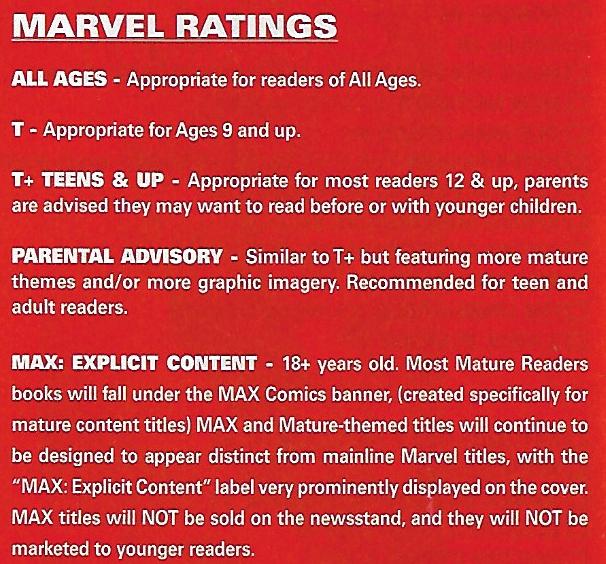 Marvel gave it a T rating which they say is good for Ages 9 and UP, no mommy drama needed.
On a personnel note, even the comics code authority couldn't stop me from having bad dreams and thinking about a Batman story that messed with my head back in the 70's. Still haven't identified the issue to chase down another copy to read with older eyes.
Kid drops his ice cream come or something like that, gets taken by the evil gangster scientist and had some kind of armor stuff placed under his skin so he couldn't feel pain. Batman had a hard fought battle with the guy and I don't think he ever got his ice cream cone replaced.
Times are changing. Remember when all the Playboys were in brown bags at the 7-Eleven, kids could buy cigarettes for their parents at the store, 18 year old's could drink and no beer or alcohol could be sold on Sundays?
If I understand it right, now, Playboys no longer have naked girls but some video games I heard do, no one even in a comic can smoke now that Disney's at the reins and the State itself is heavily advertising for a SALE on liquor for Mother's Day right now.

Remember kids, do not let mommy drive you drunk to the comic store Sunday!!!