Seeing Poyo's post on the main sight got me thinking what book(s) I've got my eye on to possibly pre-order this week.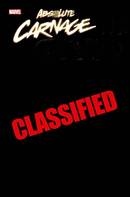 My highlight book is the JSC Action Figure variant for Absolute carnage #5. It's he only "classified" cover of all the variants…even the 200:1. Variant has already been revealed.
It's the final book in the limited series…we still have yet to see the Dylan/Symbiote creature…could this issue be his first appearance? Could that be him behind the classified curtain on the cover,…?
Being an open order cover price variant, why not take a chance on this cover? The others aren't so great, or are a high buy-in.
If anyone else would like to dive deeper on any of the Books up for FOC this coming Monday.
EDIT: I'm not able to find the Mark Bailey "cult of carnage" 1:25 variant online. It's not a
Classed" cover, and is likely a swipe or homage of a cover from the Cult of Carnage issue. It'll likely be released prior to that week. TFAW has it for $20 currently… best price I've seen out there.