Just a thread for seeing what others would do when presented with a situation where they could buy or sell a comic…but had to pick between two.
First up…Transformers #21 9.6 Newsstand vs. 9.8 Direct. Keeping one for the PC. selling the other.
Which one would you keep for the PC which would you sell. I don't want both.
The 9.6 cannot be pressed to a 9.8. It has a couple minor flaws, but Still a solid 9.6 IMO.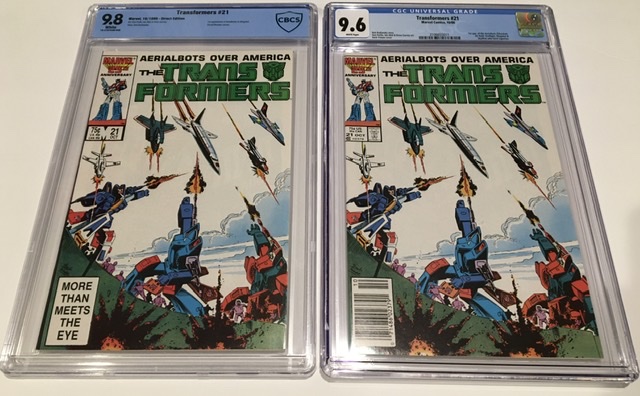 OKay, Here's some back story:
Back in December I sent in my Transformers #21 (Marvel) Direct copy for grading. It's come back today a 9.8.
I was expecting no better than a 9.6, so when a 9.6 Newsstand appeared on EBay Recently I grabbed it thinking I'd just sell my copy when it came.
Well, here it is! A 9.8 and I have a decision to make.
A couple stats In case it helps:
Between CGC and CBCS there are 35 9.8s and 19 9.6s (74 total graded).
CBCS doesn't note any Newsstands in their census. CGC doesn't differentiate.
CGC census (9.8/9.6): 27 / 19 (66 total graded)
CBCS census: 9.8/9.6: 8/0.
Ebay Sales and Listings:
There is one 9.6 Direct currently listed for $80 + shipping.
The last two sales were $33 (Direct) and $45 (Newsstand).
There are currently two 9.8s listed on eBay, Both direct asking $105 (CBCS, free shipping) and $175 (CGC + shipping).
No recent sales for 9.8s, but issues between 10 and 30 seem to average between $60-$100.
So…what would YOU do…? And please share why if you don't mind.

I already know what I'm doing…but figured it would be fun to see what others think.
Is a 9.6 Newsstand better than a 9.8 Direct from this era…?