Unread, untouched, and gem mint worthy—is that asking too much?
Cgc it?
(We're all jerks)
I think I got this copy from half price books so I can't say it's "unread" unfortunately…
But can you say "not read in the bathroom"?
I can assure I didn't read it in the bathroom… but you never know…

Haha, reminds me of that scene from Seinfeld:
"Sorry that books been flagged"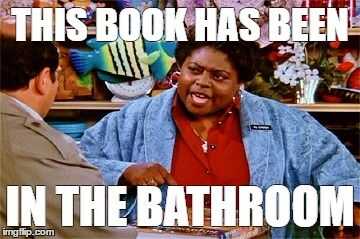 @No_one thats exactly where it is from.
We joked years ago I was going to offer a grading service where I would slab comics in three grades; new and unread, read, read in the bathroom.
The funniest thing was that her name was Rebecca de Mornay.
Correct. The dreaded brown label.
TMNT #1 IDW RI A Variant which none are currently listed on eBay and the last sold listings were between $109.99 and $189.99, all with more severe issues from what I could tell.
Asking $175 from CHU members or throw me an offer.
I'm listing on eBay immediately to get the ball rolling a little higher than I'm asking here, so if you're interested, hit me up directly via PM/DM here and I'll cancel the listing on eBay. If you're on eBay, throw me an offer there with your confirmed username here and we can do the purchase through there for simplicity.
Only issues with this book that I can tell are minuscule spine issues on the back cover, which were pretty common with IDW covers. Could probably press it out, doesn't look like color breaks anywhere. Small tick on front, so small, camera wouldn't even pick it up.