This isn't much of a speculation (as we all know about Punchline's debut by now), but I wanted to just get this off my chest and out there.
Austin Books and Comics, the biggest comic shop in Austin (that's based out of Fort Worth and has Bankston's as their sister store) made a post that they only ordered enough books for Batman #88 subscribers: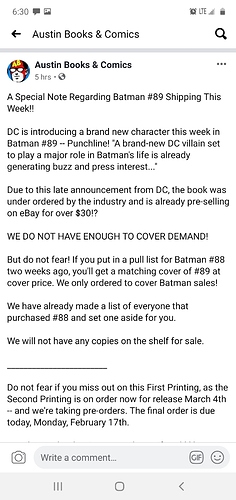 This is a giant pile of lies, and if your (big) shop does something similar, call them out. This is not a mom and pop shop that has 10 subscribers. This is a mega shop that is known for over-ordering (they'll have 1:500 and 1:1000 variants). Since both stores are under the same account, they're able to order big and split it between the two. Yes, that is smart, but with this hot book coming out, they magically don't have enough for the shelves.
About 2 months from now, they'll have copies of this book on their wall, with their Recently Acquired sticker all over it.
/Rant over