Last week the court of owls Batman comics got some heat, in particular issues 4 & 6. They appeared on some top 10/20 lists, two of which had the captions below trying to explain why.
From Covrprice runners up this week:
"The debate lies in whether #4 or #6 is the first appearance. Since CGC hasn't noted one over the other, this debate is a hot one right one. Read both issues and see what you think."
From CBSI "HOT 10 List" last week:
"…issue #3 is the cameo and #4 is the 1st [full]. #6 has the better cover and is being hailed as the 1st by some, but if you actually read the story, there is no question that the 1st full appearance is #4."
found both at my LCS and decided to see for myself what the fuss was about between the two. I don't have issues 1-3 and 5…so if anyone knows anything that could contribute to the debate, please let me know. I'm going to keep an eye out for cheap copies.
Anyways, here are the cliff notes. Issue 3 Seems to be nearly entirely about Batman giving background on the mysterious Court of Owls and how he, as a child, suspected them of being behind a conspiracy to murder his parents. So after their deaths, he does some investigation and comes up short of any evidence. So the name "Court of Owls" is mentioned through the book, but no actual Visuals of what or who they are until the very end when he's in the sewers chasing down a lead:
So that's it. The previous page has Talon, but I don't think that's considered a "court" appearance. And it's somewhat of a vision or flashback…I can't tell. See here:
So I see the cameo argument and definitely an appearance, but I don't see any "Full" argument with this issue.
On to issue 6. Clearly a full appearance of nearly the entire court. Multiple pages and dialogue.
Don't have issue 3, but That is said to be a cameo as well. Would like to see the interior.
But if I was a "First Full" kind of guy, well it's 6 seems to be the one I want. And just to add coolness to it, the cover of 6 beats out 4, although I do like them both.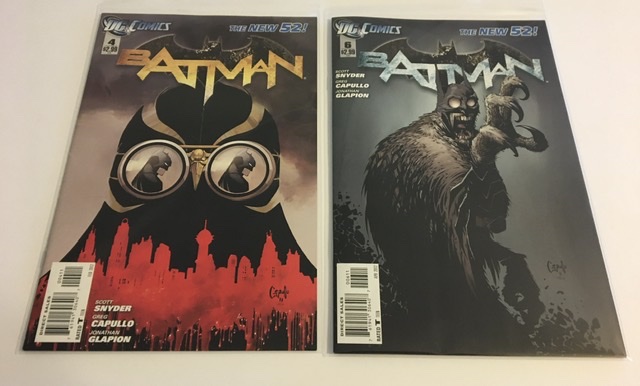 Any thoughts? Is it even debatable issue 4 has a full appearance?