Thats super cool. I really dig it.
A few of announcements…
If anyone was still looking for a copy of Savage Spider-Man #4, we have some in stock:
We've also added a few more items to our ODD Raws collection. For those with an ODD Coupon Key, remember to use it at checkout to take your 50% off.
Lastly, we are giving away a FREE copy of Star Wars #26 with qualifying orders–if anyone still needed to pick up books from last week or this week.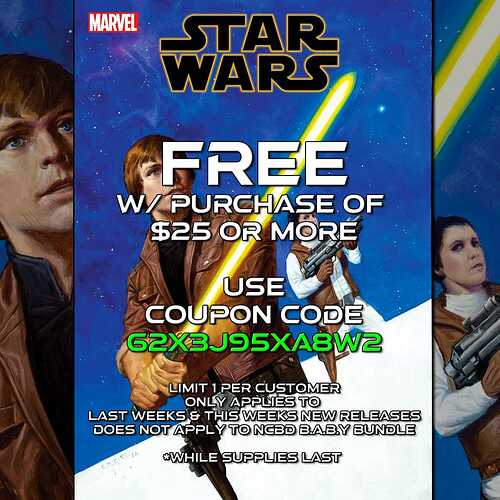 FOC is live:
IMHO there are some bangers this week.
Cool Covers:
These are my favorite Beyond Amazing Variant Covers (they've been discussed in the FOC thread already, but look at this beauts…):

Romero continues to present clean covers with these Community variants:

Artist Highlists:
Middleton kills it with his newest Zatanna cover.
And I will ALWAYS highlight an open order Arthur Adams cover.
Guillem March has a couple covers on FOC this week, but his WW 791 is what I'm favoring.
For Ron Lim fans, he puts out an Homage for Zero War.
Meanwhile, Helen Chen comes out of nowhere (at least for me) with her EoSV #4 Spinstress variant–I am a softy for blurred foregrounds and the depth of field it produces.
And I'd be remiss if I didn't highlight another of Sprouse's Star War's variants.
Of Interest:
Lemire and Sorrentino team up again for Ten Thousand Black Feathers… how can I not check it out?
I'm still waiting for that moment of impact on Carnage. It better happen soon or I'm dropping it from my reading list. //fingers crossed something cool happens. And what's up with that detective?
Anything Lovecraft gets at least a peek from me.
For Kevin Smith fans, Maskerade #1 is on FOC. I haven't read the preview yet, but when I get time I'm diggin' in.
IDW's artist editions have been neat. This is the one I've been waiting for. It's hefty but I've been into his art since I was a kid so…
And finally…
In my opinion, SUS cover of the week goes to the X-Men Legends variant. I mean… it's not horrible, it's just I dunno… maybe I'm being too critical. What do y'all think?

Is there every any spec potential on books like that McFarlane Artist's Edition? I know sometimes omnibuses increase in value. What do you all think?
IDW Artist's Editions typically do well as collectibles if you keep them sealed and in the original IDW shipping box. They are fantastic.
If you really want to enjoy the art, there's no better way. If you want to enjoy the art and not worry so much about the collectability by leaving them sealed, the Artisan Edition softcovers are a lot more affordable alternative.
Man thats one hella of a deal for the Todd Spider-Man Artist Edition. I might put in my first order just for that one book.
FOC is Live:
Marvel seems to be king of the reprints this week (with a few exceptions).
Edge of Spider-Verse #2, Mandalorian #2, Star Wars #26, and Predator #1 all get an additional printing.
I really like Sprouse's Lord Momin cover–not sure if this is the first cover app with the 1:25 cover cameo, but I like it nonetheless.
And I'm highlighting Thor simply because I miss Cate's Venom run and I wouldn't mind another taste (I doubt there is anything spec worthy, but you never know).
Almost forgot to mention the Marvel Voices Community Design Variant (which features a new character?).

DC has a number of really cool stuff on FOC this week (here is just a few of the highlights):
I'm liking the Natali Sanders Harley cover–not sure how ofter she does open order covers.
And you know I have to mention Action Comics #1 facsimile.
As mentioned before, World's Finest introduces us to Boy Thunder.
Born in Blood has an FOC reveal cover that made me think I was looking at Mai Shiranui for a second.
And of course I'm going to grab the Doombreaker cover for the Death of Superman 1-shot. Just look at that cover–soooo nice.

On the Indie front, a few cover buys but maybe also a few good reads.
Morazzo brings us an homage to Escher's Relativity. This is a nice homage.
Speaking of nice homages, Elvira kills it with the Nightmare on Elm Street cover.
I'm also excited for Creepshow.
And I know mentioning Cates 2 times in a post will probably get a grumble or two, but Vanish is on FOC this week. I'll snag a copy–I haven't read it yet, so hopefully it's entertaining.
But I KNOW TMNT will be entertaining. I'm loving the cartoon aesthetic.
And last but not least, Andrade brings us the Grim FOC reveal cover. I loved Andrade on The Many Deaths of Laila Starr, so this is a no brainer for me.

Cheers CHU! Have a great weekend.
Check out this week's FOC:
DC is sitting out this week but there are still a lot of books FOC-ing and a number of covers I need to highlight.
On the Marvel front:
We have two facsimiles on FOC this week, and I like both. Anyone ever read Tomb of Dracula? Is Marvel Horror really horror?
We finally get another Cates comic that hopefully moves the Hulk storyline forward–at the very least we get a first app of a new Villain (Monolith) as well as a whole planet of hulks, so… maybe a fun read?
Also, this is the EoSV cover that's speaking to me. I'm digging the catwalk/runway vibe. Also, who is that little spidey character clapping at the end of the right row?
Ant-Man wraps up with this final issue and solicitations CLAIM we'll find out who the Ant-Man of 2549 actually is. Hopefully it's not a WOMP WOMP.
These next three comics are straight cover-buys for me. I think the Mando concept art covers have been great, and this one is too cute.
Again, I will always highlight an Art Adams cover and this storm is phenomenal. Mohawk Storm is my favorite storm and Art has her serving up punk fire on this cover.
And I never got into Miracleman (just never had the chance), but this Dodson cover is so sweet I def have to pick it up and give it a read.
Lastly on Marvel, I just want to highlight three covers for Spider-Man 1.
I know some folk don't dig Spider-Gwen here, but I absolutely love anything Art Adams draws and this cover is no exception. The Connecting cover is a spec buy for me–I soooo want to know what's behind that damned "Spoiler" graphic.
And finally, that Scottie Young homage cover is dope–plain and simple.
On the Indie Front:
We have a few #1s, of which I'll highlight three.
Killchella seems like a cool story. I'm into horror, so I'm going to give #1 a read.
No idea what Night of the Ghoul is about, but its got a 1:1000 so it MUST be good amirite?
And lastly, Briar. This just looks so sick. I don't care about Sleeping Beauty naysayers. I'm here for brutal Fantasy!

These next highlights are straight cover-buys.
Firstly, that Man goat & Bunnyman cover with Anubis is crazy. And who would have thought a Zenescope comic could be a cover-buy sans T&A?!!!
I'm just highlighting the next issue of Eight Billion Genies because I love Tradd Moore's art.
Speaking of art, Ben Oliver is so smooooooth with his portraits and this Magic Order cover is no exception.
I haven't read Scorched so I have no idea who or what is happening with the cover, but Bjorn Barends kills it again so I'm calling it out. His art looks a lot like photos of toy figures sometimes and I like it!
Lastly, I mean… Gun Honey… so… yeah… What a crazy cover.
And finally, speaking of crazy covers…
Like, WTH is going on in Florida Man?..

Anyway, thanks for checking out FOC. And as always, have a wonderful weekend CHU!
I didn't even get a chance to buy anything marvel tonight, jeebus. Checked an hour ago, nothing posted, check back, sold out. Glad things are going well for you though Ivan!
It is Tuesday foc was yesterday.
I was talking about the NCBD stuff.
Check out this week's FOC:
There are just a few things on DC's FOC I wanted to highlight.
First up is Black Adam

#1

SPECIAL EDITION (Cover Price says $3.99 but I don't think that's right…). In any case, they're available for preorder for $1.25 (and will come bagged/boarded).
Next up is Jim Lee's cover for Batman One Bad Day: Penguin

#1

. Leave it to Jim to make The Penguin look mean as hell. I like it!
Lastly, I thought Daniel Warren Johnson's cover for JURASSIC LEAGUE

#6

was pretty cool and then it struck me how closely it looks like another cool cover…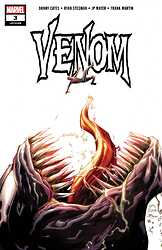 First up for Marvel is a Question: Does anyone know who the six-armed heroine is on this cover???

And speaking of spiders…
Donny Cates wraps up his 2-issue interlude on Thor with issue

#28

. The solicitation says, "How will events from the current VENOM series impact the future of Asgard?" and all I can say is I hope Cates uses his Retcon powers to undo all the convolution going on in Ewing's Venom (Can you tell I'm not a fan??? ;p ).
To be frank, I'm more excited about what's been going on in RamV's Carnage than the current Venom run (and I feel like Ram V has essentially been marking time on the title, so what's that say about Venom…). But I have high hopes for Carnage going forward.
As far as good reads go:
I'm looking at this issue of Miracle Man to be my jumping-on point. I know nothing of the character, but I love Gaiman so…
Also, the solicitation for Avengers looks like we might be getting some untold tales of forgotten Avengers. Maybe there'll be something of interest there.
And Crypt of Shadows gets a

#1

and I'm liking Ryan Brown's cover. But I'm also digging Stegman's Morbin' Time variant. This will probably be as spooky as Marvel can get.
These next covers are just cool. Netease keeps killing it. I mean look at Blade and Deadpool… come on! I mean, COME ON! Sick.
Speaking of cool covers…
I have no idea what's going on in that Moon Knight cover, but how does Cassara make a battered MK look so damn good?
All-Out Avengers

#1

gets a second printing with a Greg Land "Crazy Carol" variant.
And finally, look at that Predator cover. It has ~similar-ish composition to one of the Predator 2 posters. You know, I rewatched Predator 2 recently based on an article which said the movie actually holds up and might be one of the top movies in the franchise.

Negative on both accounts
As far as Indies go:
If you don't know Suspiria's art by now, you need to get on it. She absolutely crushes her Hack/Slash cover which isn't surprising given Horror is her wheelhouse.
Eight Billion Genies gets another

#1

printing. I'm just out here wishing for an 8th printing that they number 8 Billion. Yeah I know, I'm the only one.
I don't know how many Trekkies we have here but David Aja did a dope thing. I love that fold-crease!
And last up is Alpha Betas with their faux Nintendo game cover. I don't think I'm all that into any of the Whanot titles, but I like the 8-bit goodness going on with this cover so I'mma grab one.
That's all for now. Have a great weekend CHU and remember to FOC wisely.
You hush, "Predator 2," is fantastic.

Nah, Danny Glover and Bill Paxton are two big reasons that movie rocks.
I dig that retro Star Trek cover!
This week's FOC:
A few covers worth highlighting from Marvel for FOC:
We get another great Netease cover for Avengers Forever.
Stegman gives us a Venom Variant which MAY feature Codex? Could also have nothing to do with the guts. ALTHOUGH… who is this 7th Venom that's been mentioned?
Nic Klein gives us an absolutely luminescent Moon Knight on this cover. Very cool!
And finally Strange Academy comes back! What shenanigans will the Academy crew get up to in this volume?
We also get some cool covers from DC.
If you aren't into Dan Hipp you need to get your eyes checked He is so skilled at creating texture… I mean check out any sweater he's ever illustrated.
Speaking of stellar artists, Jeff Dekal continues his run on Catwoman. Catwoman is looking sick on this cover AND we get his take on Batman as well. Another worthy addition to his cover run IMHO.
Last up for DC is the Marvel Family Comics facsimile; very cool in my opinion.
From the INDIE front we get the double feature, Nightfall

#1

. This looks like it will be a great read if you're into horror.
Rick And Morty reach a milestone with

#100

. I'm going to grab one for a read since I'm a fan of the show.
Caldwell gives us a great Halloween cover for Vampirella Strikes

#6

.
Finally, we get two second prints as well with Stuff of Nightmares and Ten Thousand Black Feathers. I think I'm going to grab a copy of each since I liked these two issues.
Thanks again and have a great weekend CHU!