What was the error?
I can say people are getting sloppy. My copy of the approach #2 was jacked up.
The Disney variants I got in have the JRJR homage cover inside. It also has several double pages (ex: Rek Rap's last page reveal) and, as a result, is missing a few interior pages.
Our copies are wonky.

"Blank" cover inside the cover… turn the pages…
JRJR Homage cover… along with missing some pages from the other variants
And these last two pics don't really show much other than the same page printed twice (though it's more than just the pictured redundancy)
I'll take the error copies in my order… probably never amount to anything, but you never know
That's kind of like a double cover, in a way. But if parts I'd the story are missing not sure how it'd be graded (green label?).
True, you never know. And any way, it is kinda interesting.
I'll take one too if you have any left.

This Week's FOC is up.
There are some fire covers on FOC this week (ref: my IG account)
January's Mystery Bundles are going out this weekend and I'd like some feedback.
If you won the top pull prize, would you want to know before the package arrived (or just be surprised)?
Im not that lucky…but i prefer the surprise. Either way…looking forward to opening it!!
Im ultra excited and honestly torn. On one hand I don't want to kill the suspense but on the other hand its a suprise as you still don't know what you're getting…
… I'll leave it up to you IF I was lucky enough to win a grail book.
Ouch… FOC hit hard this week, not so much on regular issues, but some great Omnibus choices. Immortal Hulk and Marvel Zombies are no-brainers. I was on the fence on the Loeb/Sale Spiderman Gallery edition, but ultimately passed.
I agree on the omnis (the bug has actually bit me recently). The Hulk and Marvel Zombies omnis slay. I can't say either way about the Loeb/Sale Gallery edition… I've yet to read their Spiderman collab (but if Hulk Gray was any indication, it's probably quality).
Its funny that Marvel called the Zombies

omni a "Zombnibus" but didn't call the Cates/Stegman Venom Omnibus a "Venomnibus".
I feel like I did see that term somewhere - was it here? Missed opportunity by Marvel for sure!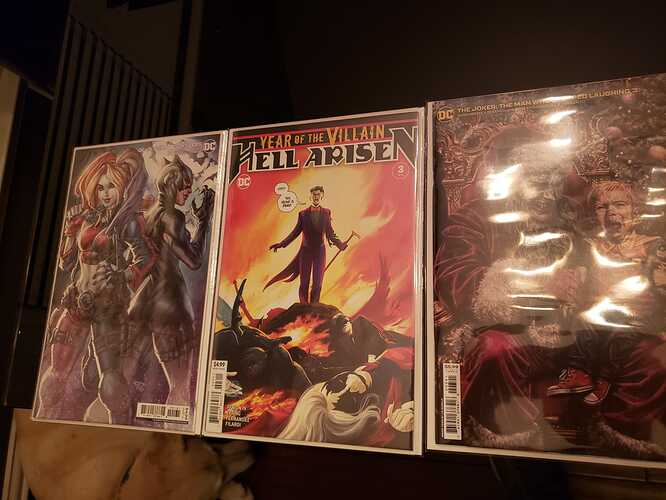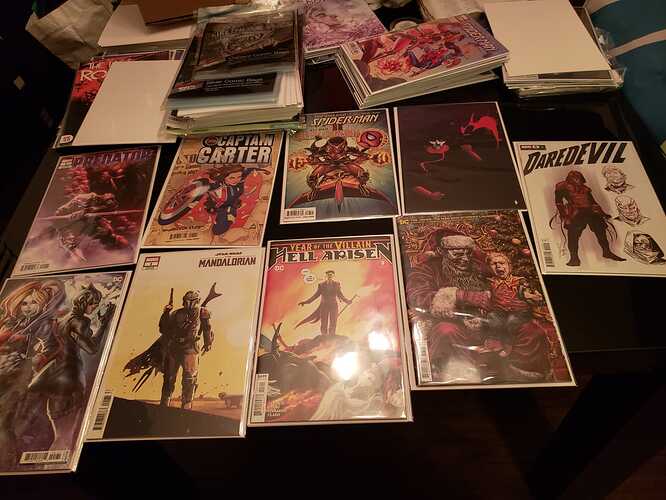 Top books from the January's Mystery Bundles, the othet 10 books are not shown. Hell Arisen 3 was the best of the group.
So yesterday I decided to go into work early and get a head start. Good thing I did, because when I arrived the UPS guy was pulling in as well.
When I opened it, I noticed thay this was the Cool Pool mystery lot I purchased from @DarkDominionComics. Needless to say, I was very happily delighted!
Inside one box was:
ASM 88 1st and 2nd prints - I'm glad to have these because I pull ASM for my friend who lost his uncle and his dad has cancer, and I ship ASM to him. Now I have a couple copies.
Captain Carter 1A - Also glad to have this as my copy got bent when the contents of a short box shifted.
Poison Ivy 1 1:25 - I'll admitt that I'm not reading this series but it has had some amazimg covers.
Black Adam 2 1:25 - First appearance of Malik Adam as White Adam / Bolt. Now I have covers A, E, and the 1:25.
Joker 80th Anniv 1940s Art Adams - Origin of Punchline, 'nuff said.
Box 2:
Predator 1 1:25 - Cool cover, good story, and first appearance of Theta and Broken Fang.
Mandalorian 1 1:25 - Also a cool cover and the first appearances of a whole host of important characters. This goes along nicely with my Cover A.
ASM 14C - This is my second copy of this, but Hallow's Eve is a cool looking character and Marvel may have big plans for her.
Daredevil 5 1:10 - I love this design for DD. Not actively reading the title, but I hear amazing things. Zdarsky's Batman is stellar, so I imagine his DD is also.
Batman 125E Acetate - Speaking of Batman, I can't get enough of Failsafe! It's too early to tell, but Failsafe my become a classic story like Hush.
Alien 1 (2022) PX Exclusive - A really cool cover!
Other notables are Carnagage 1A, Grim 3 1:10, DC vs Vamps Killers Booth McFarlane homage, Venom 5A, Moon Knight 9A, Hit Me 1A, Green Lantern 80th/100pg Spectacular.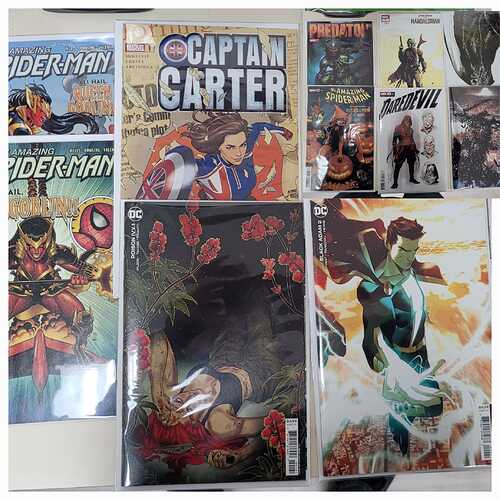 Oh, and my cool pool pull…
.
.
.
.
.
.
.
.
.
.
.
.
.
.
.
.
.
.
.
.
.
.
.
.
.
.
.
.
.
.
.
.
.
.
.
.
.
.
.
.
.
.
.
.
.
.
.
.
.
.
.
.
.
.
.
.
.
.
.
.
.
.
.
.
.
.
.
.
.
.
.
.
.
.
.
.
.
.
.
.
.
.
.
.
.
.
.
.
.
.
.
.
.
.
.
.
.
.
.
.
.
.
.
.
.
.
.
.
.
.
.
.
.
.
.
.
.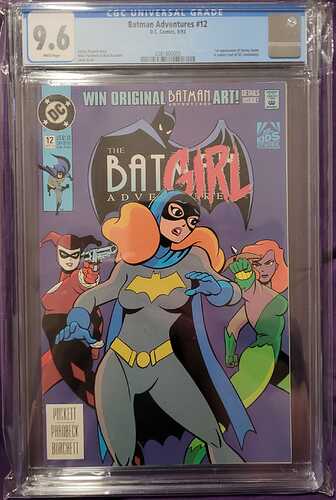 Needless to say I had a mild cardiac event, my knees are STILL weak, and I'm pinching myself every so often.
I seriously can't believe that I own one of my grail books and can't thank Ivan enough for the opportunity to win it. Very generous of him to put that up as a top prize!
Thank you! I literally NEVER win stuff like this, EVER. I feel like the old guy in the bingo hall at the end of National Lampoons Vegas Vacation