More like Worldsworstcomics am I right? I'm sorry, I had to.
Yes, lol. I don't sell pre-orders because of the unknown. I hate when there is no communication and you have to try to get your money back. Not cool.
Once I get my money back officially, I'll be dropping a eBay seller here to avoid.
This is a brick-and-mortar shop here in the Columbus, Ohio metro area. The shop is really clean and nice, but they do shady stuff for sure. I've heard all kinds of horror stories about pulls missing hot books, the store taking all of the nice copies and leaving damaged stuff for customers, and a multitude of other things. This place is definitely on my "do not buy from" list.
Thanks for the information. I was looking for something the other day on ebay and was about to purchase something and then I noticed it was the "not so greatest comics". I will be in Columbus tomorrow and will skip that store.
Laughing Ogre is central, and Comic Town is far North. Both are great places with friendly staff and a great mix of products. Even Packrat Comics (an Eisner award winner) is great, over on the west side where I live. Have fun!
Thanks. If I have time I will try to check them out. I am attending a toy soldier show as a vendor this Sunday in Westerville.
The Columbus Show
October 18, 2020
The Point at Otterbein University
60 Collegeview Road
Westerville, Ohio 43081
Show times: 10am to 3pm
Admission $5
Don't buy or sell to this person tried to scam me out of some shitty GI Joe comics of all things what a loser.

This was not for a comic book it was for a Friday the 13th Crystal Lake Memories Blu Ray but his User ID is spider-man1031 so yea. It was also odd because the guy had plenty of good positive feedback and he had already left me positive feedback before he tried to return the item. Essentially it seems he tried to do a buy and switch. You have a broken item, you buy a new one on ebay and then return your broken one. I denied it because he changed his story and even though he threatened to file a dispute(which I encouraged) he never did. This all happened on October 10th.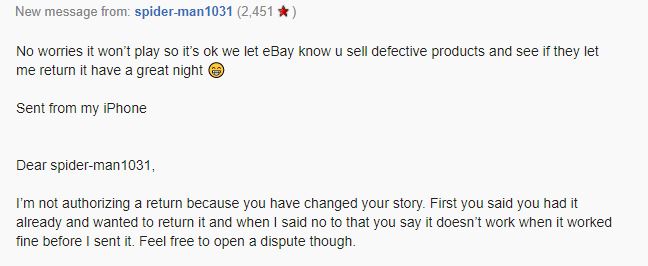 Man this really infuriates me. You're lucky he changed his story because if he simply said it was broken from the start, eBay would have sided with him. There has to be more protection for sellers. We're not big box stores that budget for theft/scams, and we account for the bulk of eBay transactions.
I try to avoid selling generic stuff like CDs and DVDs, etc on eBay. I've sold hard drives where people would try to claim the drive did not work, they send back and it was a completely different serial number. They quickly change their story… "Oh, I bought more than one drive from multiple sellers, must of swapped them"… so then when they ask for me to send it back, I'd always reply with… "send me a pre-paid label"…

The story of this was in the ebay headaches thread. He bought a comic and then he cancelled his order and then left me negative feedback lol whatever dude!
When the tracking finally shows its been delivered, reach out to the buyer, if he claims otherwise, open case with eBay and or Paypal as they have seller protection.
Yeah once you can prove it delivered you will be reimbursed by eBay.
If he lives 45 minutes way and doesn't want to return the book, I'd be knocking on his door. I'm petty tho.

Sounds like one of those people wanting something for nothing. These are the types who think they're special and the rules dont apply to them more than likely.
We are really putting people on avoid lists because the post office didn't deliver packages?? Come on man. lol
Nope, putting them on the avoid list cause they opened a case to get a refund while the package is still in transit and they're acting like big 'ol whiny babies… Just the type of buyer I wouldn't want to deal with myself. But then again, my auctions are all cleared. All my listings I had are complete… so long eBay… I don't have to worry about lame buyers and lame sellers anymore…

I hate when I get blamed by unreasonable buyers. I shipped right away, I can't help the post office is having trouble!