This don juan is no lover
Thank you for officially joining to share!
ictme_49
I bought a book on 10/26. Marked as shipped but after 2 weeks no movement.
Contacted him and said USPS didn't scan it, but would send a replacement (not an expensive book, but I was leery because it was an incentive variant).
Two weeks later still hasn't arrived. Reached out again to make sure he shipped it, and he said he forgot and it would go out the next day.
Today (another 2 week) I noticed the tracking number was "removed". At this time I considered sending negative feedback but decided to ask what was up.
Got fully refunded nearly immediately, with no response. Now I can't leave negative feedback. So I'll just leave his information here.
If you can't fulfill the order, just apologize and move on. Happens to everyone. Happened to me the other day (couldn't find a book I sold). It's the lying and stringing me along that deserves negative feedback.
Another name for the buyer avoid list: thebatman1993
This person offered me $200 for a $300 CGC, I counter offered $250 and they took it. About 6 hours later they inbox me and thank me for the comic but they tell me they can't pay me until the 23rd which is 8 days from now. I also noticed multipe comments in their feedback that said they never paid or asked to pay much later.
Needless to say, I canceled the sale, relisted the comic, and blocked "thebatman1993" who most certainly is not the batman.
He is theTrickster1993; that's for sure
If an items price is adjusted before the customer commits to buying it is just fine. Adjusting your price as the customer goes to pay for the book is, and always will be, a d!ck move. As stated above, if Anthonys book had sold for the listed price of $20, then he would of honoured the marked price. LCSs that refuse to price their inventory accordingly, and mark up the book at the counter (making the customer wait while you check the prices of your inventory) are still frowned upon. Its not the same deal, as you have insinuated.

Follow up that stever1976 guy leaves neutral feedback cause I cancelled his order , even though HE messaged me to cancel it. Even still have the message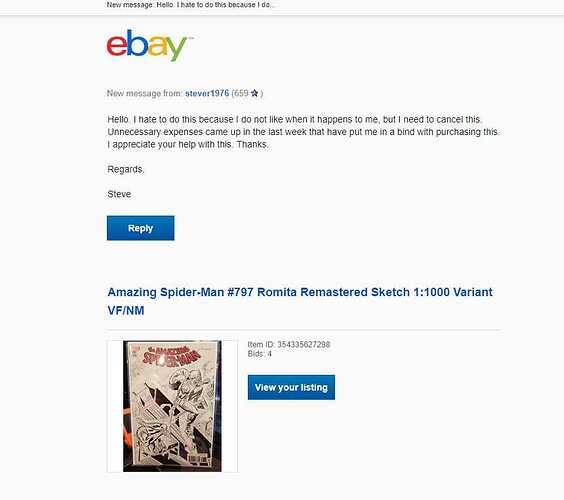 That you can get removed by eBay. Call them and they'll be able to see the buyers message asking to cancel. That should warrant a positive if you ask me, you did what they asked.
Some people just aren't right in the head. Do what Poyo suggested. Contact Ebay and have them read the email. I did put this guy on my blocked list.
Wow, That guy really did that…
A big thank you and positive feedback was the right response from Steve!
How long do you typically give unresponsive buyers before you cancel their order? I'm on day 6 for one, and I've sent 3 messages/reminders.
I bought from a seller on Poshmark selling Amazing Spider-Man comics (I actually find cool stuff there sometimes) who was taking forever to ship. Claimed a printer issue, then a death in the family, then just quit responding. After 10 total days, I got Poshmark support involved. They canceled the order claiming it was, "Damaged," after reassuring me that everything was in great condition. Long story short, never buy from lekarle80 on Poshmark.
Marvel is advertising comics for sale on another app too. Just can't remember what it is. Another hi end clothing app.
You all might want to block Nexusofni32
I had the, "Batman/Superman: World's Finest," 11 with the Jack White variant for sale on eBay. Accepted a best offer of $55. They didn't pay or respond to my usual, "Thanks for buying from me," message. The next day they just asked to cancel and did say they were sorry for the inconvenience but I was still annoyed. I canceled for them, of course. I relisted and actually got a different best offer for $60 so I made more money in the end. I figured folks might want to avoid them although it wasn't the worst experience ever.
Alright so i'm not going to blast this seller yet because I'm not sure what to make of the situation and not sure if im overracting or justified in being salty, also this was through atomic avenue and not ebay so might be irrelevant,
I bought some books off a seller and 2 of the books were not the right covers, this is what the invoice looked like, note dirty pair future #2 and start of violence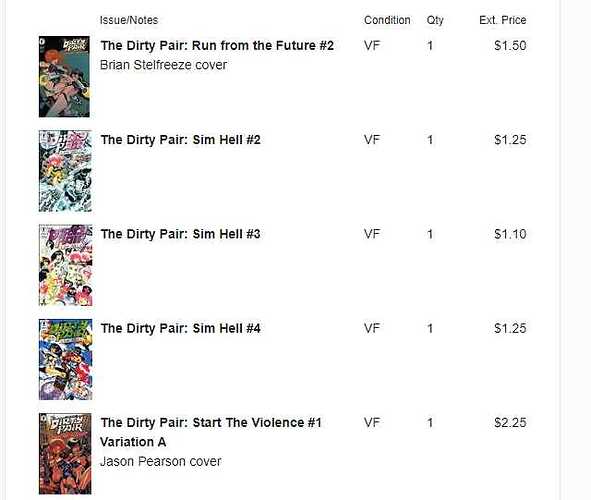 and then the books came in and everything was good except for them as these were the covers I got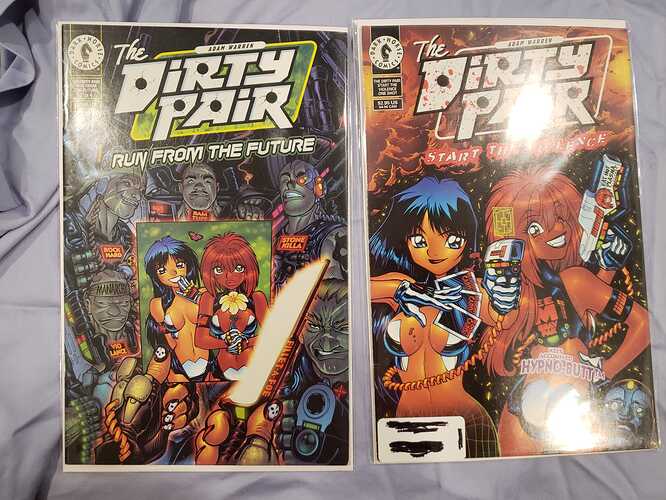 Now im not really sure to do as those aren't the covers I ordered and sure they were really cheap but im pretty annoyed I got bait and switched like that, wondering what I should do next
Contact him and send him the same info posted here.
My experience with Atomic has been mixed, but sellers have always been accommodating with any issues that have come up. That said, Atomic is always a bit of a crapshoot. Some sellers will (and should) be writing any issues with their books in the description. It's just that most sellers do not and just rely on the vague "VF/F/VG/G" labeling which can be misleading. Definitely contact the seller and at least get a partial refund.