Any books to keep an eye out for tomorrow that you are pumped about?
Lots of good ones this year:
-We Live
-Stray dogs
-House of slaughter
-Star wars (couple of them)
-Spiderman/venom
Quite a lot to get tomorrow. Slaughter, We Live, stray Dogs, Star Wars, Spidey, Batman, Red Room, Avengers….
Plus a bigger local shop has 1/2 off back issues. Gonna spend some $$$ tomorrow.

I'll see what the shops near me have for free and check the sales too.
Same list here. I got three shops to hit. One of them has stamped books in the past, so that will be last on my list.
But I need to find the list as I usually pick some up for my daughter and son and shops limit me to the number I can grab,…I don't think they will want to come with me…they hate coming into the comic shop with me unless I promise Pokémon cards…
Just a little reminder, first appearances in Star Wars:
FYI, Westfield sent out an email saying/requesting that people limit the total number of FCBD titles to 5. The item notes for all the titles also say "Limit of 5 FCBD 2021 titles per order". No indication if they would actually enforce it or reduce orders if you did order more than 5.
Graham's has them 3 per order was 5 earlier.
Grabbed a bunch of FCBD books. Here are the ones I was most interested in. Grabbed probably 25 others for the kids and some lesser titles.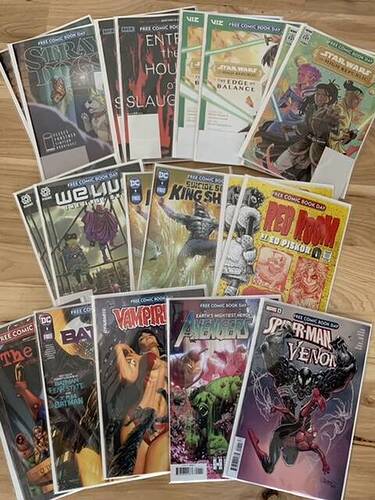 Nothing comes up. They sell out?
My wife and I Worked today. She was supposed to be off early but they got undermanned and had to stay and work O.T. So I busted ass to get off early and take my boys to get their free books. We went to a total of 4 LCS.
1st LCS: they where limited to 6 per person. But the cool thing was your could get in line again and get another 6. So got the books I wanted and my boys got theirs. They also had local Artist and vendors. My youngest got himself about 12 3.75" loose Star Wars Action Figures. Then we got some Funko Pops and some stickers. I was going to get some prints from a local artist but his prints where Whaaaaaaaay to expensive. So I passed.
2nd LCS: Which is my LCS was limited to 3 per person. I got 3 copies of Solo Leveling which is one of the best Manga stories out there. At least in my opinion lol. My boys got there star wars books.
3rd LCS: Limited to 1 per customer. So I got Zom 100 which has the first comic apperance of Demon Slayer. Another good Manga and Anime.
4th LCS: First time going to this comic shop. Was a bust. Such a waste of time and $. They are located by the Beach and Pier so parking is a B@$#& so I paid for parking. Then in order to enter the shop you had to buy a drink or else there was no entry. So I bought 3 drinks $10 total. He said it would be about 20 mins before he set up the books out on a rack. So I browsed around. Was only able to get a copy of Star Wars (was on NM) and a Spiderman book (was in FN). The Spiderman book had a cover with Miles on it so my youngest wanted it. I asked my boys if they got the books and said yes. I went to check and all he had was Batman and Batman and Robin. So I put the 2 books to pay and he says "these raw books I meed to check how much they are going for. Since the Star Wars already has a price but since the Spiderman doesn't I need to check." I said "ok." But in my head I was thinking "Wow! He's one of those shop owners

." So he checks and tells me the Spiderman book is going for $10 but he can do $5. I told him yeah I'll pass. So paid $9 for the SW book and left. So I'll put that LCS in my never to buy from or visit again lol.
Over all my boys had fun except for the last stop lol. And yes we had our masks on and did social distancing

They must have and took what they had up off the site.
Wait, did you say you needed to buy a drink for entry to this comic shop? Like soda or alcohol? What kind of shop is this?
I was thinking The same…it's like a cover charge to enter! Haven't come across that since my early 20's (20+ Yrs ago)!
That last shop would have lost me at entry… and then I would have got my money back for parking.

Lol. I know that should of been the sign but my boys where having a blast.
Just read We Live and Stray Dogs fcbd. We live is a very sweet story of course, and introduces some new kids we might see in vol 2. Stray Dogs is an interesting one as it is a prologue for the original 5 issues along with reprinting the entire first issue. It's like a reprint with the extra prologue story.