That's a really nice piece of history you own.
I inherited it from my friend, master magician Gary Darwin. Ali was an amateur magician and Gary got him to sign it. When Gary passed, his whole estate, except comics, was passed on to Lance Burton ( famous Las Vegas magician). We knew Gary had the book somewhere in his eight room magic museum but where to look within a 10,000 book library and 300,000 piece collection. Eventually Lance found it in an exterior room that was infested with pigeons. Needless to say, pigeon droplets were all over the book. I sent the book to Joe at CFP comics in Florida and he worked a miracle. After some time, I sent it off to Neal Adams for a signature with COA. The final step was to get the Ali signature verified by James Spence. I only wish Gary was alive to see it… he would be so proud of it.
This story is almost more impressive than the book. Quite the provenance.
Some of my various Star Wars autographs from over the years. A bit sad as so many have passed. Back when I got many of these times were different and I spent a ton of time talking and getting to know the people. Good memories.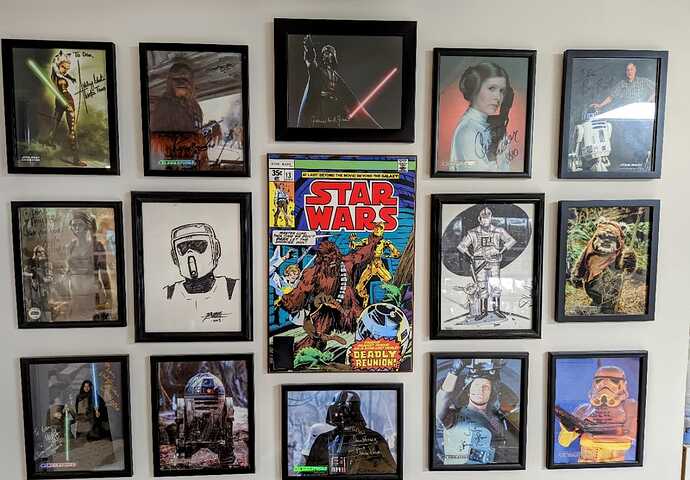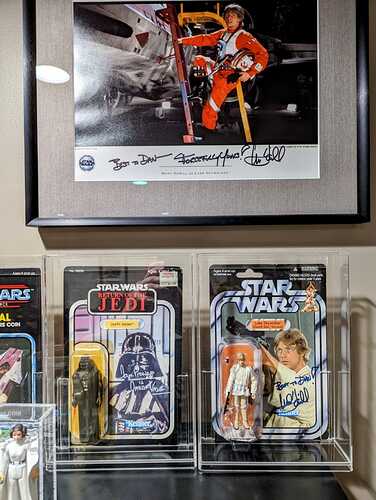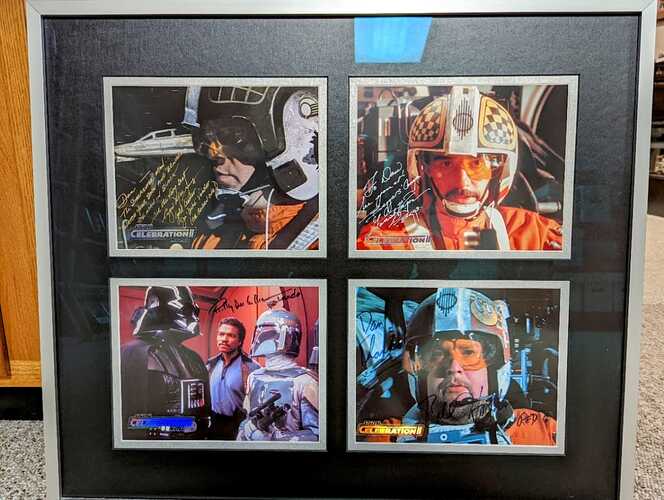 I've wanted a McQuarrie autograph forever. His art has probably always been my favorite thing about Star Wars actually. I finally found this lithograph for a steal ($150). Some go for $500+
Seeing as he has sadly passed away, opportunities to get these signatures are finite now.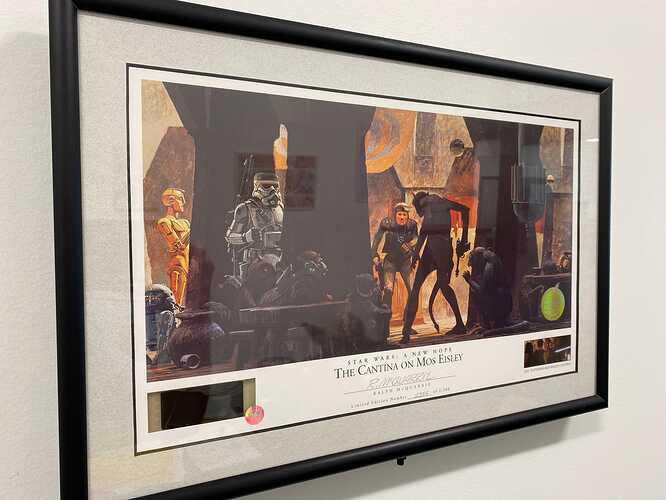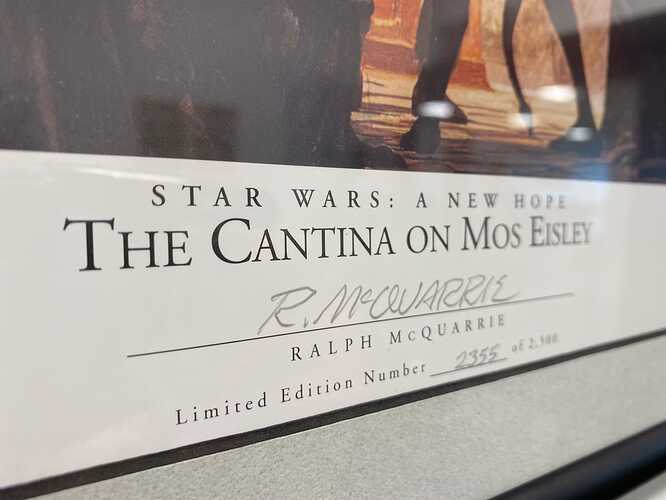 Trying to figure out the best way to safely display the certificates while allowing access to the back cover. Any ideas would be appreciated. Thanks!
Would laminating the certificates be a good idea?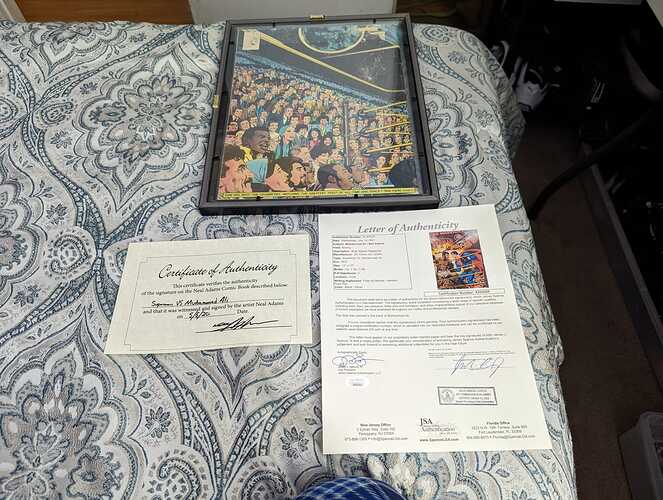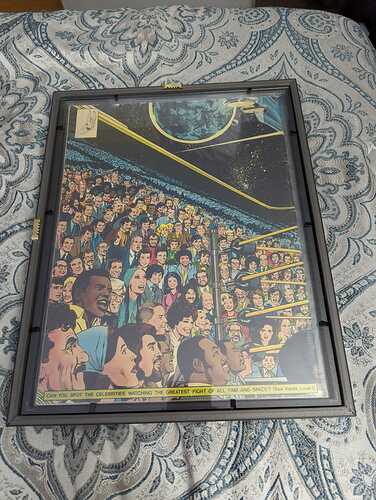 Not sure what you mean. Do you want the COA stick to the back without blocking the back? Or are you taking about a separate frame for it from the frames book?
Well, I'd like to protect them and also have them attached but with an option to view the back cover
I think you're gonna have to get a shadowbox of some kind and have the book open so you can view the whole wrap around.
I think the right answer, but probably the most expensive answer, is to take it to a professional framing shop and have them presented together in a frame.
You could probably have them lay the comic flat by opening it to the center staples, but that of course runs the risk of damage. You're flattening that spine, after all, and a comic is not really meant to be in a flat state for a prolonged period.
A framer can offer UV glass and other acid-free materials to preserve all three items.
Apart from that, I'd probably just keep the COAs separate in a safe, secure in the knowledge that I have back up to show the item is what I claim it is.
Alissa White-Gluz from Arch Enemy on the left. Halestorm on the right. These are METALlic photos, but I got them in my Itoya and I suck at taking pictures. They were from the recent Outburn Magazines. I love Alissa.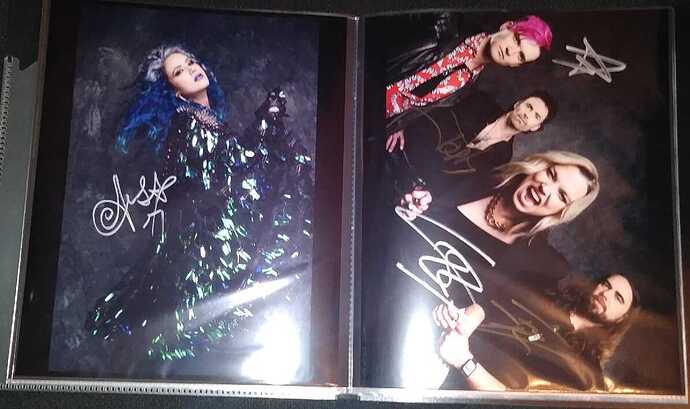 I got 2 Disturbed Vinyls with signed inserts and picked up a sketch cover done by Frank Forte at a local shop. I couldn't pass it up.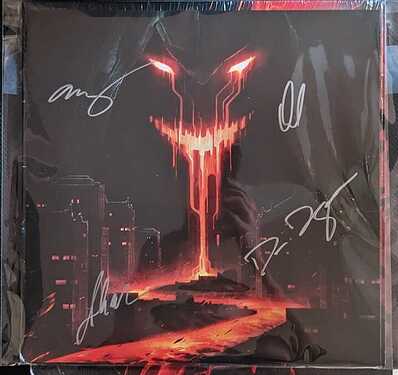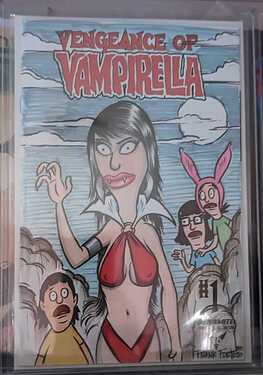 got a handful of fun things signed at fanexpo san francisco…
first published arthur adams art was a drawing of "Fara Foxette" in the letters page of capt carrot #12 in 1983. adams said he got paid $10 and was happy to get it. i think his first cover was marvel fanfare #13.

thanks to @DarkDominionComics for the great deal on this issue. signed by Alvaro Martinez Bueno and i hoped to have Tynion sign it too but he cancelled his appearance.

got my futurama #1 signed by the legendary billy west. i also went to his panel and he was as hilarious as you'd expect.

and a couple others by art adams…