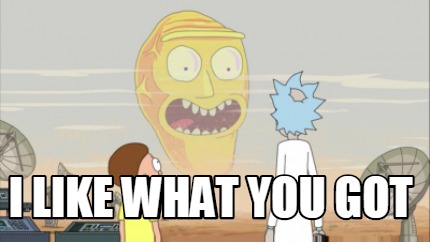 Just a running thread…post what you picked up this week!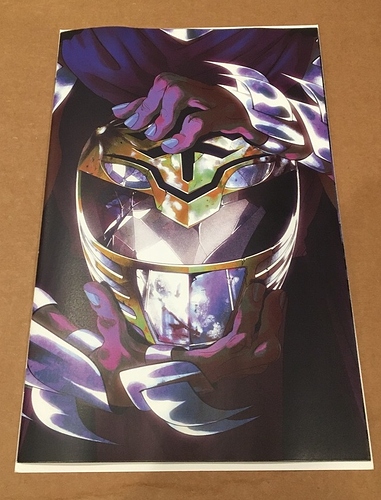 I'll kick it off…my score today…Power Rangers/Ninja Turtles
#1
Thank You Variant.
I want even looking for this…saw an interesting ninja turtles cover passing by a rack…realized it was the cross over comic and remembered there was a one per store variant…and there it was in the stack a few issues back.
Got it for cover price.
Same thing happened to me. Went in looking for Ms.marvel 10, couldn't find it so I found the thank you variant for cvr price. Nice consolation prize.
Not sure how I found this post seeing that it is almost half a year old now, but man, that purchase is going to pay off!
That book is literally at CGC right now. I can't remember what I paid, but I think it was approx $50 CND ($35 USD). I think its a 9.6 contender w/ an outside shot at 9.8.
Heh… and always feel free to revive old topics. I always disliked when other online forums call out people for reviving old topics or threads… I welcome it here.
I much prefer reviving an old topic over starting another duplicate.
I'm all for everything old is new again!
Stopped by an LCS today and found they had 8 new long boxes from a collection. Collection was priced using Overstreet. Here's some of what I grabbed. All the books look to be 9.4+ except the Planet Comics #1. It may hit 9.0 after a clean and press. All the books will be flipped, when the time is right, except for the ASM289 and possibly the Planet Comics. The latter are fir the PC. I paid $240 CND ($170 US) for the lot. The shop was happy with the sale, and I was happy with my purchases.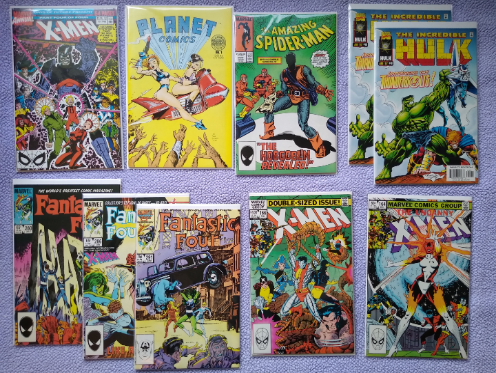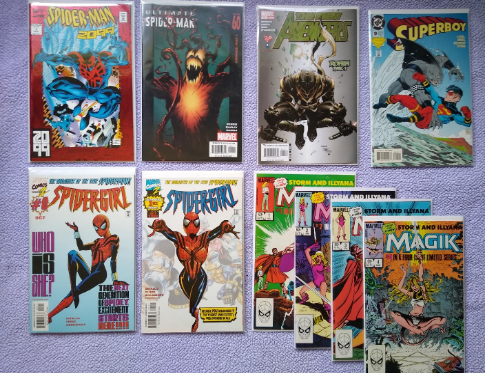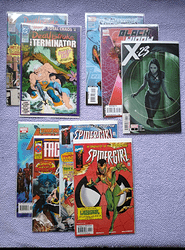 Great pick ups! That had to have been a blast hunting through them!
I'm really looking forward to doing the same here. I have a very large "want" & "look for" list that has grown over the last few months.
Oddly, the comic shops around me just don't seem to be all that keen on getting themselves back open to customers around here. They were given the go ahead, but I've seen posts about "still getting set up", "organizing", etc, or in a couple shop cases…zero communication/posts whatsoever. I know things have been crazy…but sure seems like getting anyone in the door and spending cash would be an immediate urgency?
I see no reason they couldn't of done all that while closed for months. People are chomping at the bit to visit their LCS's and they decide nows the time to organize?! Great planning on their part.
Sounds like the comic shop owner from the Simpsons…
Thanks, DD. I was truly stoked when the shop keep directed me to 8 long boxes with a sticky note on the front of each box reading 'new'. I think I may have been the first speculator to go through them.

The shop keep also said he has 8 more boxes from the same collection that were not out, and had yet to be priced. He mentioned there was a NM98 in it, and some SA stuff. Those boxes should be there when I go to the shop this coming Wednesday. I'm sure I'll find some more books to share, if the new boxes are out.
I grabbed this yesterday from a different shop.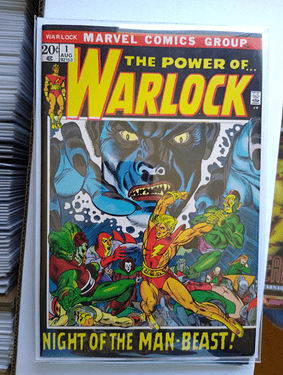 It is in fairly decent shape and I'd say it's an 8.5 before press n clean.
I'm also eyeing a really clean ASM37, 1st Norman Osborne, and a really nice SS3, 1st Mephisto, at that same shop, that I may pick up this coming Wednesday. The SS3 is really clean, but, there is a 1.5" corner missing from the back cover.

I'm doing some research now to see how that missing back corner will affect grading. I'll post here any books I pick up this coming Wednesday.
All the shops around me are eager to open. Some are more prepared than others, it would seem. The one shop in my area that I thought wasnt going to be able to survive (really small store with not much more than new books for sale), managed to survive. I drove by there after work on Friday and his store was still there and appeared to still be operating.
If the price is good… even if it is good and if you can negotiate the price down more, that SS3 could be a very nice pick up. A 1.5" piece missing out of the pack isn't the end of the world especially if the book is going into the personal collection to be a "at least I have one" kind of pick up. Even if the book is a fine 6.0 before the missing piece that would knock it down a could of grades. If it displays nice, all the better.
@rob92807…We have already agreed on a price, and I'm kinda doing this to help him out with some bigger sales coming out of lockdown, so I'm not going to haggle with him. I'm just going to do my research and see if it's a decent investment.
The ASM37 is, at a minimum, a 6.0…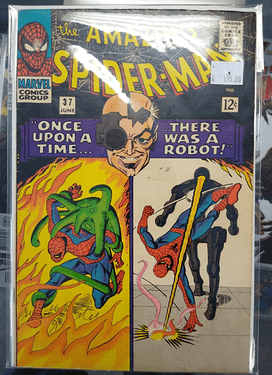 The SS3 is probably an 8.5/8.0, before the missing corner is considered…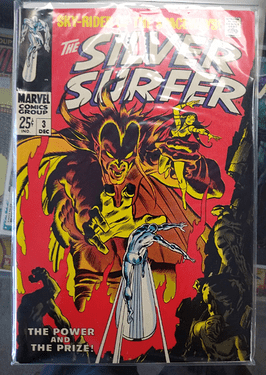 Keep in mind that I'm newer to collecting SA comics, and I'm really green at grading older books by eye.
The shop keep is asking $350 CND (approx. $235 USD). I would then need to invest another $100 CND for grading and pressing for the two books.
My other reason for picking up these books is; I have an IH180 and a few other SA books that I want to send for grading. In order to justify the expensive international shipping fees from CGC (I'm in Canada), I like to maximize my subs to help offset the fees.
I spent $300 on a 5.5 CGC SS#3 about a month ago if that helps your determiner. With a press and a missing chunk without looking at the back cover youre looking 7.5 tops maybe allthe way down to a 5.0 low end grade.
It definitely has alot of eye appeal and gloss still so who knows definitely press it.
Im always weary about good looking raw SA books. Not the best at spotting color touch but pretty good at the grades. I have graded SA books from 1.0 through every possible grade in between a 9.8 stuff with missing back covers missing corners water damage all that.
You're right, it does have lots of eye appeal, Alana. There is not a single color break on the spine and all the colours on the cover are vibrant still. After all is said and done, I am most likely bringing those books home on Wednesday.