Im a Harley fan too. I would love to see her collection display.
"I like what you got!" Was supposed to be about showing off your comic books…not showing off your wives!

Alright, new thread! "I like your wife!"
I like your wife sounds like a swingers dating site.
Lol. Showing off the wives are ok if they are hot.
I'm sure there's another forum for such things…

I'd complain this is becoming off topic…but given the lack of excitement In new comics this week this distraction is more interesting.
Well in that case… Anyone want my wife? Only exception is I dont accept refunds…

You guys are crazy lol. I do love that I was able to find a person who shares the save love for comics and comic related stuff. She is more of a nerd then I am. I just found out that they are making a Cowboy Bebop live action movie and she knew this a month ago lol.
Let me figure out how to downsize the pixel size cuz it says it's to big of an image. Do note these images are just the front, and sides of the showcase. It doesn't include what she has in the room or around the tv in the living room lol
You can always use https://resizeimage.net/ as well. Usually images resized to 600px to 800px width and change the image quality % to 70% gets decent pics at under 100kb in size.
I'll try that next time. For now, I created an Imgur account. Here is the link
What I've been doing is taking a screenshot of eBay photos. Mine are either coming or going there so it's convenient.
I picked this up today, just cause I like it. Nothing special, but Babs kicks ass and Prince is a guitar God.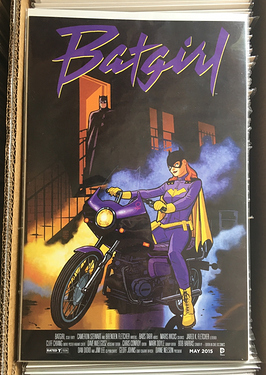 These comics weren't acquired at an LCS or necessarily online so I resurrected this old thread of cool stuff we got and changed the name to fit any date (it originally had a date). In two different deals I traded some hot stuff and cash in one deal to get all this:


I maybe put forth a bit too much for Batgirl as I really wanted it. I traded an Ultimate Fallout 4 in maybe 9.0 shape along with She-Hulk 1 in midgrade shape and a minty detective comics 880 with the joker cover plus a 9.2 or so All New Marvel Now Point One. That deal was done at a store that deals in coins and vintage money but I know the guy and how he personally dabbles in comics and sells some at the shop. He threw in a first Emma Frost in Uncanny X-Men that isn't pictured.
The other deal was a gentleman I found on Facebook. That deal was very fair I think. I had an avengers annual 10 and Darth Vader 3 plus some minor silver age Spider-Man and $260 in cash. Oh, and a low grade Incredible Hulk silver age issue, the one where he's coming out of the ground.
Well to quote the great Dr. Algernop Krieger, Stop. Stop. Stop. My penis can only become so erect." followed by another of his gems, " And I love that I have an erection , that didn't involve homeless people." Seriously nice score!!
That Dr. Aphra 24A is going to be a challenge To find in 9.8.
I did find a nice copy this morning. But the slightest bends likely will lead to color breaking crease.
It's not Spider Punk #1 bad, though. But temper expectations.
The Community Voices is a thick book. The one copy I saw had split ends (binding tears). Also had a lot of damage to the back (color rubbed off). So beware.
Economics in Comics also sent an email there would be delays due to damages of these two books as well…so makes me think it's not isolated.
I got one copy of the aphra 24 a cover. Shop has been scaling back a lot, so even to have a copy is a win for me. Been seeing a lot of the other covers online also, but hardly none of the a cover