Ok, so I had this drafted for a while, and I feel like I took too long to post it because I could have given the CHU community way more of a heads up on this, but I wanted to post it with screenshots and such and I just haven't found the time to write it up the way I wanted. I was thinking about just giving this list to @agentpoyo to write up because I tend to ramble when I write long stuff, but I think time's up so I'm posting it now because but I noticed almost every copy on eBay sell overnight (I always have these copies on my watchlist). So I wanted to give the CHU community a heads up now so that maybe you can find copies of this book (which will be at the end of this list) at your local shops. Hard to find online for some reason. I've been hunting and gathering copies for the past year or so and I've only found copies online at sites that only have 1 or 2 copies, or limit to 1 copy per person. I prefer to buy 3+ copies to justify the shipping charges. Anyway, here's my Kid Kaiju list, the book I'm speccing hard on is at the bottom.
Kid Kaiju spec list with notes:
So with Moon Girl coming to Disney+, I think we'll see Kid Kaiju joining the MCU sooner than later. In Vol 3 (the 12 issue run, not the miniseries), Moon Girl joins the action and meshes really well with Kid Kaiju and his monsters. It also allows for Devin to develop as a character through his interaction with said monsters.
First thing I want to note is, if you use key collector, the app has the wrong image up for Monsters Unleashed #1, featuring the 1st full appearance of Kid Kaiju. For the purposes of this list, I'm considering there to be 3 volumes of Monsters Unleashed. Vol 1 is from the 70s and isn't relevant to this character. Vol 2 is the 5 issue mini series from March 2017, and Vol 3 is the 12 issue series that followed later in June 2017.
This is the correct cover for issue 1 featuring the 1st full appearance of Kid Kaiju: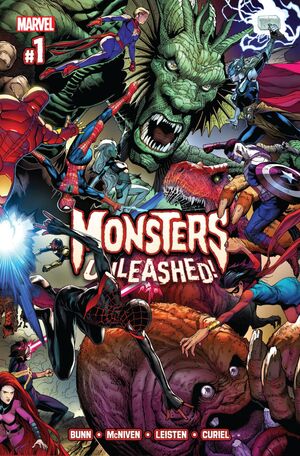 1st Appearance of Kid Kaiju (cameo)
Totally Awesome Hulk #3
I like Cover A and this 1:25 Perkins variant
1st Full Appearance of Kid Kaiju: Monsters Unleashed Vol 2 #1
He isn't featured on any covers, so I like the cover A shown above and this monster variant because it's the 1st cover appearance of Slizzik
1st Appearance of Slizzik and the other monsters: Monsters Unleashed Vol 2 #5
The future fights variant is the one to get as it's scarce and I believe it's also the 1st cover appearance of Kid Kaiju. Not cheap.
1st Appearance of McTavish: Vol 3, #10
This guy seems to be the first real villain for Kid Kaiju. Not sure if there's a future but he did successfully summon a bad guy monster but ultimately lost and was captured.
THE BIG SPEC BOOK!
Aside from Kid Kaiju, the big spec book to go after is Miss Mech, who first appears in the final issue, Vol 3, #12
This is a book I've been hunting for over a year. It's hard to find as it's the last issue of the series and Comichron lists the print run at just 5,466.
Miss Mech checks off a lot of boxes as a disabled girl in a wheelchair who has big dreams of being a superhero. Her storyline includes both Kid Kaiju and Moon Girl, which is why I think we'll see her on the screen. She can animate and control any mechanical components nearby. So she's essentially a living energon cube and creates freakin' transformers that fight on her behalf. Personally, I love it and I want to see this on screen sooner than later!