Scout is on the move again:
I just posted something about this and the titles it mentioned.
That can be seen Here
I've got a bunch of Mall #1s I'd love to move. Another series with great TV potential is The Source. That was Scout right?
I'm a fan of the Electric Black series. I figure the Black Caravan imprint is next up for options, so I ordered these during the sale today at Midtown: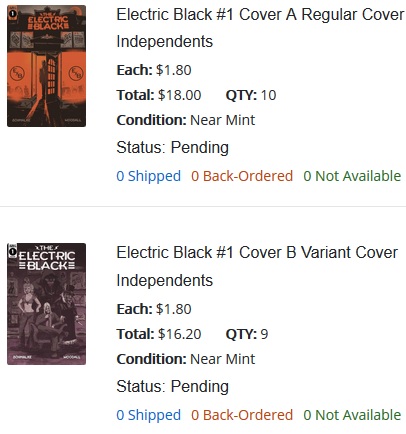 Too bad The Source isn't mention.
Didn't The Mall first appear in a FCBD issue?
When I saw this I immediately thought of uncanny inhumans 11…
Midnight Western Theatre' Series In Works From Scout Comics & MPE; Kevin Carroll To Adapt Louis Southard's Comics
People starting to list the Gallagher virgin variant ltd 300 for $40+ and the webstore variant for #1 $15-20
time to dump
aint nobody gonna watch a show that will never get made, from a book nobody bought or read
still waiting for henchgirl
The thing is, that would actually make a great show!
Henchgirl is a good book.
thing is it was probably the 1st scout title to be optioned like 6 years ago give or take
Options are usually only a year on average before they expire.