A thread to discuss KCC information, whether it be fact, fiction, misleading or anything interesting worth sharing.
I will start things off…
Really? Are we ready to enter a phase of "cameo cover" versus "full cover" appearance??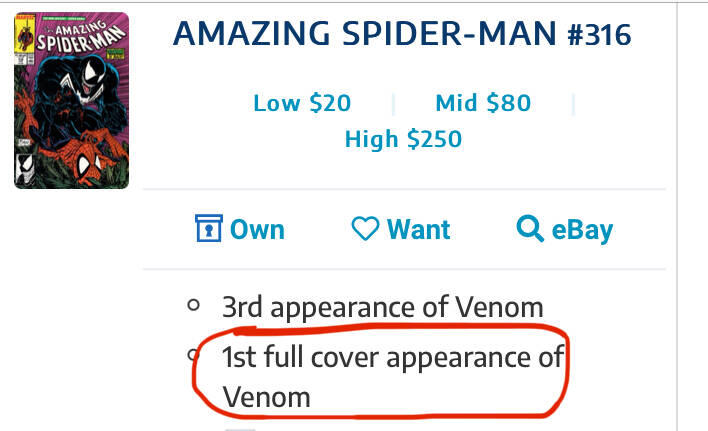 Are we really going to go there?
I will kinda defend KCC on this. I specifically sought out this issue not that many years ago because of it being Venom's first full cover, and it's appreciated quite a lot since then. I didn't learn this from KCC but I don't think they're out of line here.
Also, Venom clearly makes appearances in 299, 300 and 315. Some even debate 298, but I think technically Venom is Brock and Symbiote bonded, so doesn't count.
In other words…316 is the 4th appearance.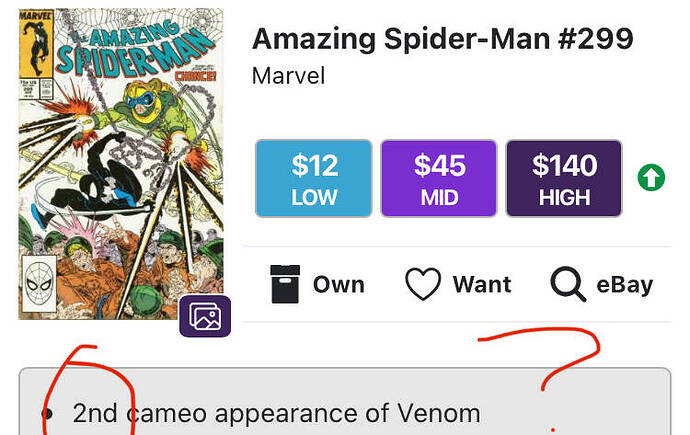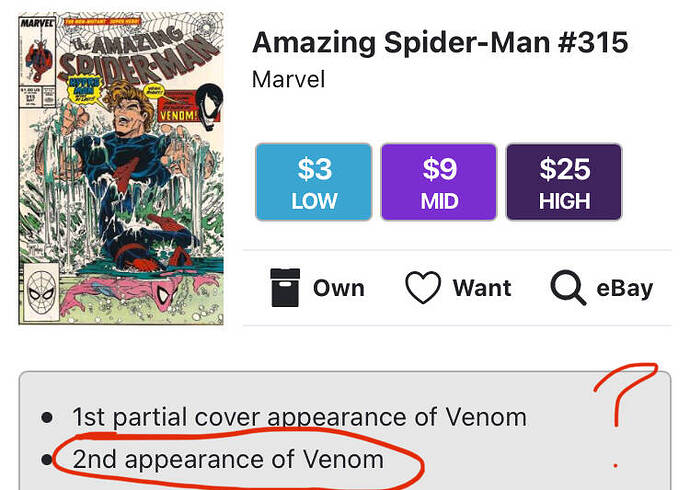 Quick…difference between 2nd cameo and 2nd appearance…?
It's just a way to describe the type of appearance. Nothing more and nothing less.
One could also just say:
Venom appeared in 299, 300, 315 and 316. On 316, Venom was the main focus of the cover as he also appeared on the cover of 315 but it was just a head icon next to the tabloid bubble text window.
Oh, it's definitely more or less. In fact, that's the very definition of "partial" and "full"!
Turd blossom.
That's right, but you're the king of turd blossoms.

First cover is 315. Just like first app is 299.
Also You can't have a cameo…then a full…followed by a 2nd appearance.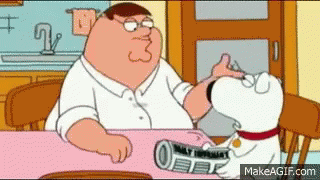 King of you, then.

I had a screenshot but can't find it and its clearly been changed but before falcon and winter soldier even aired it said Echo was confirmed to appear in it on key collector lol
I just said "appeared"… no where did I mention "firsts"…

That's because Flagsmasher had a handprint on her mask lol they thought it was Echo.
I do like that they change their hot comics before and after I post spoilers on the main site. For example:
Before spoilers:

After spoilers:

Before spoilers

After spoilers:

I don't mind they added or changed the posts, it just bothers me that no credit is given for the info when the photos were taken not very far apart (the before right before I posted the spoilers and the after the same night less than an hour is so apart)
In the first case they had first appearance of Scion being the key part, and after I showed Scion was Reed Richards, and the showed his sister, that changed completely. In the second, Spider-Woman was not considered a key of the week until I put up the spoilers about her niece being in costume.
Lost Boys #1 (DC/Vertigo, 2016) over Lost Boys: Reign of Frogs #1 from Wildstorm (2008)???
Ummm… yea… ok
Key Collector is not perfect, sometimes debatable, and sometimes just incorrect. But in my opinion, they are by far the best app for comics information available for collectors and I happily pay for their service.
The "Future Keys" section alone provides valuable information on upcoming first appearances that most places won't even share until after FOC (if at all, unless you belong to a secret society or Facebook group). I am very pleased with their service overall.
Just realize it is another tool in the toolbox and isn't the authority of all that is true. In comics, as in life, reasonable people will disagree.
Note: I said best app, not best website.

Are you saying CHU needs to build a competitor app? Muhahahahhaha…
Probably be one time purchase and then free, with ads built in. We like free info…
Hey - these days it's simple enough to do both! Free version with ads. Pay version to go ad free. Like HULU - the customer chooses their own adventure.
Wait… why am I giving you free advice? LOL
Oh I know we could do both. Actually if you use an Android Phone, if you click "add to home screen", it pretty much installs the forums like an app and it should prompt if you would like to recieve notifications, so the forums themselves are already pretty much 80% there being an app with "notifications"…