Alright, I've got a lot of orders out with Manu different shops, and they're starting to get delivered.
And with so many hot books and many of us scrambling to find an online shop that's not sold out, well it's good to hear some feedback on some of these more obscure ones.
So this isn't a place to gripe about Midtown's shipping delays, or TFAW's flimsy mailers, MCS's shipping charges, Mile High'a archaic web design or unknown Comic Books lack of customer service. It's for grading the little ankle biters out there, trying to compete with the big boys.
So without further ado, let's start with one I received A shipment from today:
Playsanity Comics
So let's first set the stage. I ordered two comics, both Spawn 308 cover As, because of a tip here it was going to be hot like 306 cover C, and just about everyone was sold out (except Midtown and MCS which hadn't gone in sale yet).
Cost for the books was $5.20 (13% off) and first class $4.57. No online sales tax. So ~$10 to my door.
Item was in USPS possession by Friday (2 days after release).
Being first class, it was at my door today (Monday).
A little about their shop; Located in NY State, they offer pre-orders a few months out. Looks like most new comics are 10-30% discounted. They seem To only offer new releases and recent back issues (going back only a few months). They don't seem to play the spec game, but I do see they are charging $30 for Legends of the Dark a knights #1. But I think most shops are doing this (MCS tomorrow night will be the litmus test).
That's all pretty good to ok. Buy now the bad:
Shipment was first class, so to obviously keep the weight down they sandwiched the comics inbetween some medium weight cardboard then had a few extra narrower pieces Along the length. The cut outs barely covered the comics, as was also true of the bubble
Wrap envelope. I provided pics below.
So let's stop right there for a Moment. This is NOT a recommended approach to shipping comics as an alternative to Gemini (or similar) shipping containers designed for comics.
What's wrong? Well, you can ship comics generally safe sandwiched between cardboard…BUT…you need two FULL PIECES on both sides, and it should be OVERSIZED as to prevent damage at the corners.
Case in point, let's zoom in on that circled area in the second pic…
Aaaarrrgghhhh!!! Four pieces and a little extra edge distance would have saved these…but now I don't think even a press will do much.
Not to mention the spine ticks. Hard to say if they were caused by the impact or shipped that way.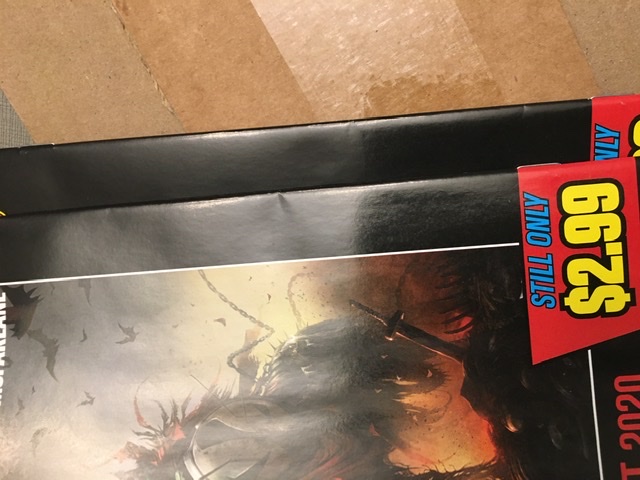 This is one of my biggest pet peeves with places that ship first class…cheating out on robustness for the sake of saving a few ounces. Use a freakin Gemini mailer and charge the extra 50 cents to $1…it won't hurt sales and you'll have less complaints of damage.
So "B" on the selection (and pre-sales option) and total price. Could offer more back-issues and charge a little more for shipping.
And "D" on their shipping practices. If it didn't ship promptly I'd have given them an F.
So total grade is a C. As in don't order from them unless you upgrade shipping or are desperate need…for single books at least.