So, maybe I figured out the key to speeding up your TFAW woes.
I normally have enough books to warrant a box and for the past year, my orders from TFAW have been flawless with packing peanuts, etc.
Anyways, my most recent order of 10 books got put in a Gemini. Of course, they weren't fully secure so they could slide around. All of them suffered a nasty corner blow.
So I took the pics, submitted all the info via email and then started a chat. I was told if the email was put in, that should be sufficient for them to get to it when they can (backlogged with tickets), which makes sense, first come, first serve.
Anywho, I stayed positive (cause come on, these are comics, not a huge deal right? not the end of the world type scenario here)… and told the rep to have a awesome day and not let any grumpy customers ruin it.
I got my first email response today, less than 24 hours later.
So like I've preached before, be nice to customer service reps. They didn't pack up your box nor did they damage it by being the delivery person either. They're here to help us when things go wrong. Kindness goes a long way I think to get things squared away… they get shit on enough for things they weren't directly at fault over. They take the heat for others…
Anyways, just thought I'd share my own latest TFAW woe which has been the first in many moons.
I ordered some short boxes from a Matt's and they arrived the following day. Packaged securely and super fast shipping. I'm not a fan of the quality but I'm switching everything over to plastic bins anyways. It's a long process and their back ordered for months.
My most recent TFAW order arrived quickly and securely. I'm getting less to no damages cutting out the bags and boards. They must be caught up because it only processed a few days before shipping.
Did an order with midtown for a few new spec books (older issues from the last few years that I haven't stocked up on) and some bags and boards. They were about the only place that wasn't back ordered. Arrived very well packaged and 2 days after my order was placed. Very satisfied.
Taking requests?
A tutorial on packaging Geminis for your staff please.
its a fake allocation, only difference between deluxe and regular is the slip case. with a 2 month foc there is no excuse for it. the allocated on purpose to drive up hype for the soon to be announce 2nd print
I thought we knew this would happen. I pretty certain they said from the get go it was going to be limited to X amount.
From what I remember it was the deluxe version would only be limited to the 1st prints, and not subsequent printings. Not that they promised there would only be a certain amount of them
Was just reading that email too. I went and checked my preorder was 5/22 so hopefully I'm safe. Sucks for a lot of people
I was kind and considerate to Spencer with my recent shipment that had a bunch of damaged books. They definitely do get crapped on and they have nothing to do with the shipment.
In the end he helped me, but could not replace a bunch of the books that got damaged. So whereas Spencer did all he could, ultimately TFAW is not seemingly improving and that is really concerning and aggravating. I read the posts on here and it is not just me and in some cases folks on here have just cut TFAW out altogether.
If a company is willing to accept the multiple damages because it makes financial sense for them, and have a great customer service rep - bravo. But the "unable to replace" thing is really not a good look. It really isn't.
TPB and Graphic novels are getting hit hard due to the paper shortage. No one wants to work any more.
Logging is considered the most dangerous job in America. You're more likely to die as a logger than any other job I think.
I can't lay the total blame on them (or any retailer) for replacements. If they can't order more, then that's out of their hands more than likely if the distributor is out.
Yup - agreed.
I just wish they'd pay more attention to packaging and the entire root cause / blame thing goes away.
They do have a bit of control here over their quality of delivered product and although it may cost them more - it is their choice to employ or not employ it.
I see why tfaw shipping costs are so high. They are adding in the cost to insure everyone's package. This way, any refunds for damages are actually coming out of our pockets.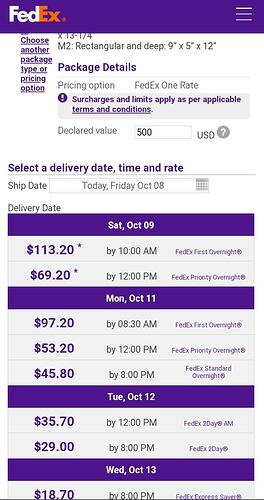 At least they are putting the brown paper bag on them again. Loose issues shoved in packing peanuts has gotten me damages every time
Let's keep the TFAW New Variants to just Variant talk they have available. Anything else about a retailer should go here, in the online comic store report topic.

I applaud this. As long as they replace or refund, it's just adding protection to those heavy orders. I insure all comics over $100 myself when I sell them. I don't want to get stuck with the loss if something happens. I also make the buyer pay for such insurance most of the time.