Punk heroes!!! I love the anarchy shield.
That's Captain Anarcy. We also get a new Kraven from earth-138.
I love the 138 Misfits reference. I am way too excited about this character. Risk of dead spec be damned!
This is not a spoiler…you know this…smh
Was already revealed back in March … was already posted here on the forums
Hopefully, the characters stick around, but it's definitely risky.
I totally missed this the 1st time around. I don't always look around to make sure there's not already a thread.
Same ! Missed the previous post. Thanks for sharing.
Glad people are hype for this book.
All of the covers are awesome. Issue 2, etc. Granted, I am a long time punk fan so I appreciate the homages. Issue 2 has a Crimson Ghost misfit type character. Also a cover with a punk show flyer. I seldom buy for a covers. But these appeal to me!
That flyer variant is sick.
The Okazaki variant reminds me of the Circle Jerks logo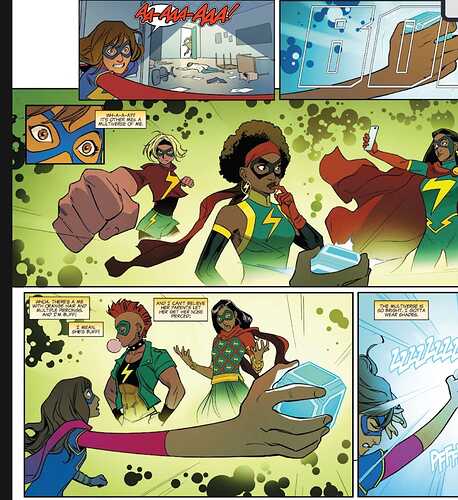 If you all remember this page from Ms Marvel Beyond Limit
#1
with the alternate Ms Marvels you can see one is from this Spider Punk verse and fits in with these new characters.
Door open. Good catch. I believe I have that book. Gotta check when I get off work n the am