I picked up Hiss back in December. And I've seen the striker sitting like you said.
While it doesn't change my thoughts about Hasbro/Walmart, the entire current Toy distribution issue, I am willing to eat a bit of crow and say that my Mandalorian figure has shipped and is on the way.
So thank you @monopolyjackson as I do believe it was your link I used as well versus the original order I placed that was cancelled.
I got a message today that they are shipping out an order of 5 for me. Any luck?
I ordered 2 more as it's the same price with the pin As it was before. So my cancel orders if they had them in stock and were going to include the pin anyway for the same price?
Ugh…Walmart…
Thanks MonoJac

I can hold one for you if you want. I will send you a message when I get them. I think they should arrive on the 19th.
You got me with this @monopolyjackson. After @D-Rog posted the eBay sales I felt regret at cancelling my orders. So I grabbed 4 this morning when I saw that link. I'll probably end up returning them all after they ship them to me in a plastic bag

Ok…this crow is mighty tasty. Figure arrived in an appropriately sized box and in perfect condition.
(But I still say to hell with em!)


That's effing amazing luck. Appropriately sized box LOL
Most of mine came yesterday. All in boxes with bubble wrap. Only one had damage (dented corner).
Maybe if they get delivered to the house they're boxed…anything shipped to the store I've been handed in bubble mailers.
It seems like they keep cancelling my orders…I think I'm only getting one of the two with the pin I ordered yesterday…I have no idea…I can't make sense of what's being shipped, delayed or cancelled. But I keep getting emails.
WTH?
At least it appears as though they don't suddenly add back shipping…the whole reason I ordered two both times was just to qualify for free shipping…seems like they may still honor that.
Mine was cancelled as well by Walmart. Ordered the ones with the pin though and one already shipped. More than half the time my Walmart seems to just toss stuff in a box with no packing to stop items from banging around so hope these show up ok
Here's the status of my orders.
The item I ordered in October is "delayed"
despite being the same item order yesterday which is being prepared to ship…
So f'd up.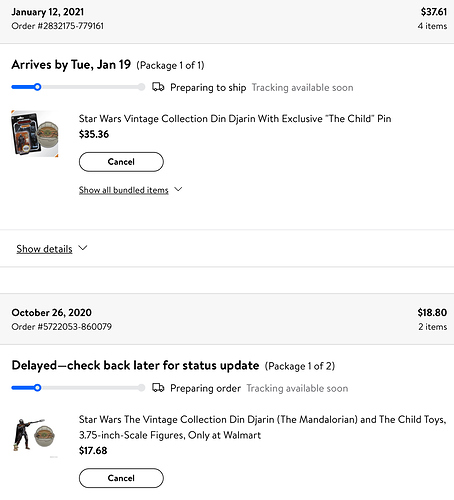 Seems like adding this crappy useless "pin" messed everything up.
I'd be surprised if Wal-Mart actually did pack securely… this comes as no surprise… they're just toys to them that's gonna get ripped open and played with.
Bubble wrap?!? I've never gotten my figures from Walmart in anything better than a box that's too big (at best) but usually it's a plastic envelope. I hope these arrive with bubble wrap. They shipped the same day I ordered them, rather than getting delayed for two months before being canceled like everyone here seems to experience.
3 out of 4 damaged during shipment
Walmart is trying to make a believer of me I guess.
Incinerator troopers are all shipped also/confirmed. Hearing many, many reports of those being cancelled as well.
Ok so an odd thing happened with Walmart. I got my order cancelled for Din Djarin and The Child and then ordered two from the link posted in here where they came with pins and those were delivered the very next day. Then I got a 3rd Din Djarin and The child(no pin) in the mail yesterday so I honestly have no idea what's going on lol
Any Walmart sightings yet?
My area Walmarts all seem to be prepping for inventory or a reset. Absolutely barren shelves.