Mando Monday. New Star Wars figures in today. Hurry before they sell out…
At first i thought the figure was the guy in the blue shirt…
I'm like "wtf is this a joke?"
His eyes…that intense stare…it's what took my attention off what he was holding.
Is that a leather jacket under his shirt?
His hands are not proportional to the rest of his body.
Still talking about the guy in the blue shirt over the leather jacket…who might be holding an action figure…haven't gotten that far yet.
I still only see blue-shirt-over-leather-jacket guy…and his big hands.
it's forever ruined for me…
Its not a leather jacket, its leather panels on the inside of the collar of his shirt.

Yeah, but that's not as funny.
Its probably a cotton shirt that identifies as a leather jacket.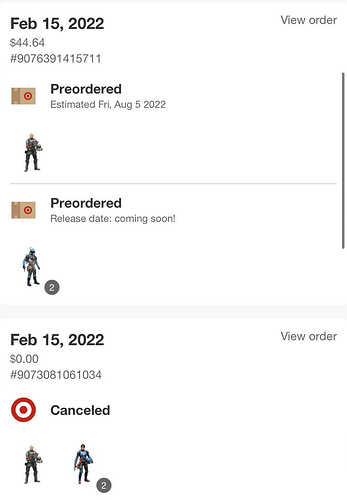 I ordered some of the target Mandalorian exclusives back on February. Placed two not identical orders minutes from each other, but identical in price.
One was recently cancelled (more below). The other remains. Both I charged on a credit card, but through PayPal.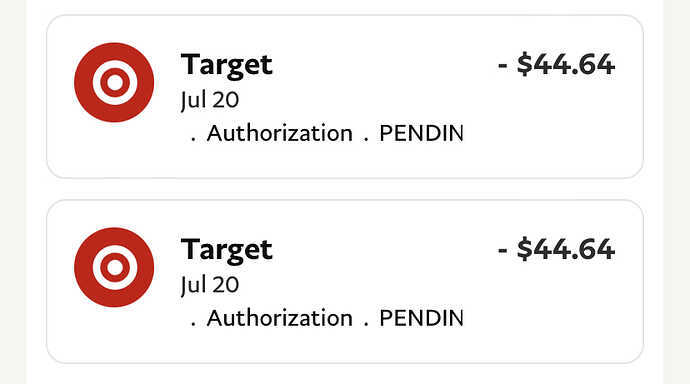 Target doesn't officiall charge me until the figures are shipped. But until that time the charge shows up as "pending" on my credit card.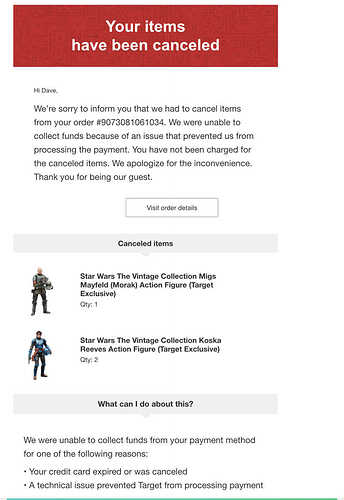 Above is the email from target. Seems despite not having officially charged me yet, there was an issue with payment (??).
I'm wondering if my credit card flagged this as a double transaction? This is bizarre. I've done this with other recent orders without a problem.
Will be pissed of my credit card rejected this 5 months after I submitted the order.
Went looking for DC figures with comics in then, found a bunch of Migs!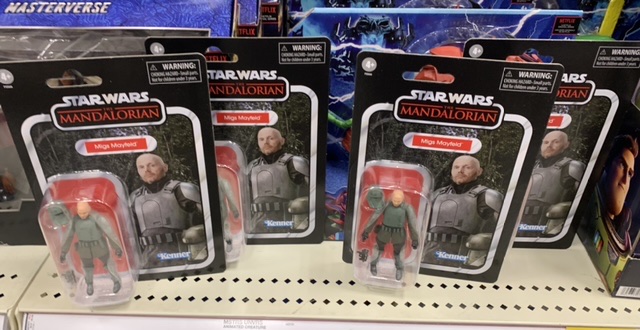 I thought this was August 5th release.
None of the other new Mandalorian figures were there.
I left 2 at my target, but my target still says check back on release date (7/31 now).
I forgot what I had pre-ordered from Target. The same pending payment is being held on PayPal. I have been wondering when those figures will be shipped. I'm done with these exclusives. Especially with Target.