This is where I'll keep the Drunkwooky.com weekly first appearance and key issue analysis posts. Enjoy!
Bounty Hunters #17 is first up and I want to point out a variant before we go any further. The Christopher Sprouse variants for the Lucasfilm 50th Anniversary have been consistently awesome, but some of them stand out beyond the rest. Sometimes, it's just because they feature fan favorite characters with dedicated niche collectors. Thrawn collectors, like Boba Fett collectors, can't get enough Thrawn and he makes an appearance with another fan favorite, the Grand Inquisitor, alongside his Star Destroyer The Chimaera , on the Sprouse variant to Bounty Hunters #17. It's sold out at TFAW and going fast everywhere else. I could be wrong, but I think this cover will be a $50.00 cover a few years from now. If you doubt that, check out Rod Reis' Galactic Icons Thrawn cover.
We have a new Imperial officer, Lieutenant Haydenn. Imperial Officers tend to come and go as Star Destroyers get destroyed, but she's stationed aboard the Executor , which we know survives at least into Return of the Jedi. She's also a cyborg, which might play into Beilert Valance's storyline as he joins the Empire. More on that in a second.
Meanwhile, the leader of the Unbroken Clan, General Vukorah, is offered something mysterious by Qi'ra that she can't refuse. She joins Crimson Dawn. General Vukorah first appeared in Bounty Hunters #3. I guess we'll find out what's in the box during Crimson Reign!
For what it's worth, this is the first time Imperial Jumptroopers appear in canon comic books. They previously appeared in Dark Horse Comics' Rebellion #1:

When we last left Valance, Boba Fett had betrayed him (shocker) and blasted his chest with a detonator. He's in bad shape and his vital systems are shutting down as he fights his way through the Executor. In the end, Zuckuss, T'onga, and crew attempt to extract Valance from the Empire's clutches. They fail as his arm tears from his body against the pull of Vader's Force powers:
In the end, Vader, who knows quite a bit about being more machine than man, refurbishes Valance and presses him into servitude of the Empire once again!

This sets up what we've seen on the Acuna variant to Bounty Hunters 18, where Valance is wearing an Inferno Squad insignia!
With Star Wars #18, there is another great Sprouse cover with another set of fan favorites: The Ghost and crew, Ezra Bridger, Kanan Jarrus, Zeb, Hera Syndulla, Sabine Wren, and Chopper! Like the Bounty Hunters 18 Sprouse variant, this one could heat up.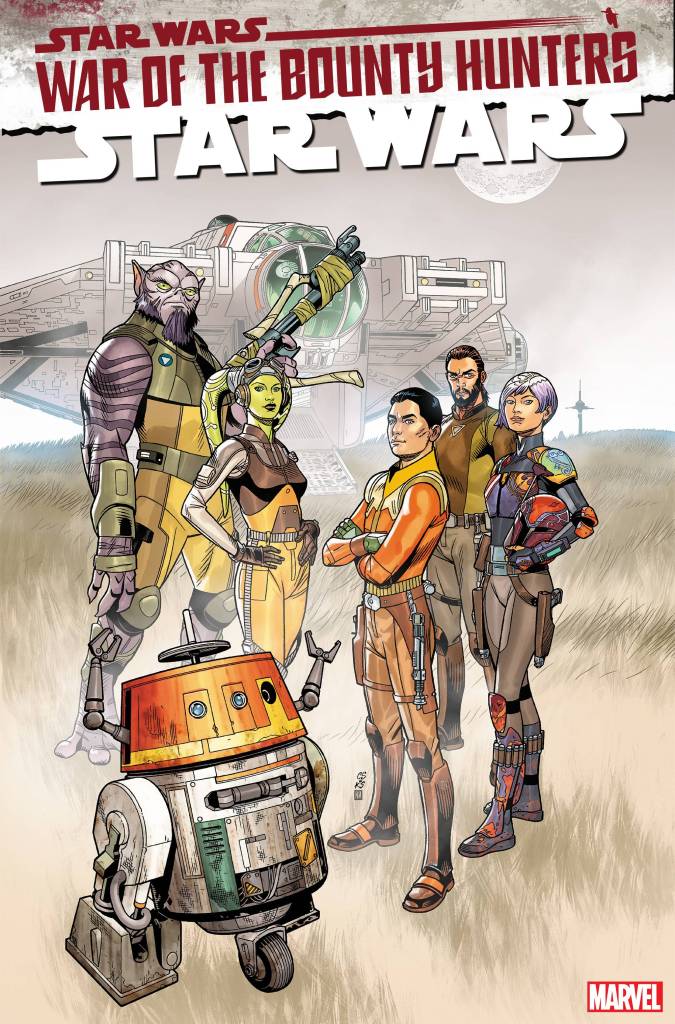 Beyond that, this issue is a little bit of a reprieve and breather after War of the Bounty Hunters. We get Qi'ra explaining her machinations. She reveals how she leaked info of the auction for Solo to Holdo, how she allowed the Falcon to dock with the Executor , and all the other ways in which she helped the Rebels along the way. Never at the expense of her own plans, though. Then she leaves the door open for future cooperation between the Rebels and Crimson Dawn. Intriguing!