Do you end up being charged ratio or "market price?"
At least you weren't charged up front. Nothing more annoying than giving online shops an advance loan… One of the few things I still love about TFAW online ordering.
I requested to cancel an item that had an FOC of nearly a year ago…has been continuously delayed (latest is January of 2023)…now I'm on my last strike after having regular monthly orders for more than 2 years straight with never having cancelled an item prior.
I get that they don't have control over these things….however they can't expect me to wait over a year for something.
I guess I'd better not ask for them to cancel my Venom 25 cates signed 2nd print…which turned 2 a few weeks ago…

I'm sure it's just a few more days from shipping out …right …
1:10s are usually $8, 1:25s are usually $17-25, 1:50s $44-50, 1:100s are $80-90.
My other LCS used to sell me all ratios at cover price. Those were good days. Quesada Force Awakens 1:100 for $3.99? That was a steal.
Oh yes, if it's extra revenue the shop has to decide whether the extra effort/time spent is worth the extra revenue (hopefully profit).
I just found that it wasn't worth my time trying to sort through it all, but my business model was a little different than most shops.
I did like the interface they had at that geek site, and really had high hopes for it…but once I tried it out on the other side I just couldn't get it to work like I wanted. I also think online vs. brick and mortar is different too…as a B&M they might not have a sophisticated online storefront to manage, which would allow more time to manage that system.
Either way, I think someone at some point will bring the two worlds together (retailer and distributors) and make a fortune!
Wasn't that Venom #25 signed by Dynamic Forces? You know that's your fault, you know that's gonna be on pre-order for eternity…
I agree with Alana 100%
QC/Pre Screen of books has been bad for awhile now. Selling books they know are damaged is unacceptable. How can you miss a box cutter cut on the top front cover like that?, and say yeah ship it it's fine?> Waste of time and bad QC…I know they messaged a buddy saying if he sends any book back there is a 10% re stocking fee as well for each book he wanted to send back…
I received an email early yesterday (Only took 5 days, previous was over 2 weeks to get a reply back) from my damages email I sent and was told to keep and do whatever I wanted with the damaged books for missing out. I was refunded for every book. Not one single replacement yet again.
I'm done with them (Gave TFAW more than enough chances over the last 2 years)… I mostly just buy ratios but they all almost come damaged like previously mentioned and they know the book/books are damaged 99.9% of the time. I miss out on ratios I want, and it's easier for TFAW to just refund then to send replacements. 2 of my damaged books are still listed on the website as in stock available to pre order and add to cart?. I got better condition books when I picked no bag/boards lol
I didn't pay anything. So just going to see how long before they take it down.
Another one bites the dust…All but 2 pre orders I made stuck, rest were deleted…
And this makes no sense?.
It hasn't even hit FOC yet (11/6/22) and it's canceled from supplier Penguin/DIAMOND?.
They have the regular issue on the website for pre order?.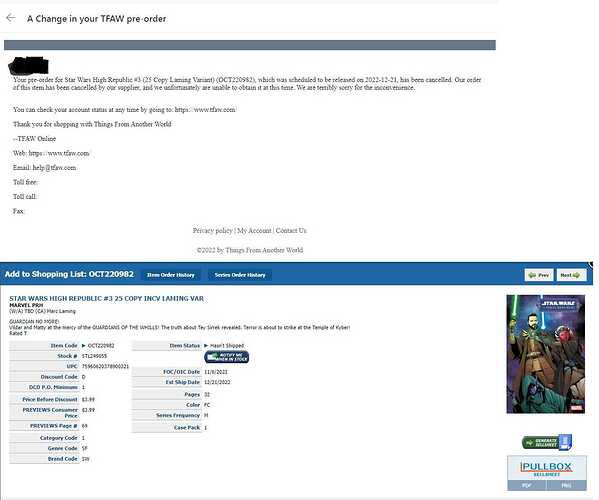 Their system is also not allowing them to charge payment for pre-orders
Wasn't there 2 1:25 showing up on Diamond and such? Perhaps one got canceled and the other isn't after they swapped covers for the ratio?? I have not been keeping up with SW HR new ratios to be honest.
I also moved this to the Status topic, the other is for new ratios coming out, not status changes, gripes, complaints, other updates…

Everyone got high republic 3 1:25 and High Republic Blade 1 1:25 cancelled
Yes, it was updated on the 22nd and I posted a screenshot of the update.
Is it possible TFAW could offer to swap for the updated 1:25 instead of just deleting and saying sorry?.
IDK… I don't get retailers logic at times when it comes to such things.
That sounds like a lot of heavy lifting for them to pull that off effectively…they'd rather just piss people off and say "sorry! Our bad!"
It's not just them. I've seen retailers in general do what I'd call backwards logic when having to return, exchange or update an order. It just doesn't make sense at times.
I can see why them putting in an order that got canceled, they proceed to cancel all orders because I could only imagine it would be a nightmare for them to confirm if consumers want to swap if available, etc. It's less man hours to just cancel than to spend the time to confirm every single buyer if they want to switch or not. Cancel them all is easier than switching to new cover cause we all know there would be a % of those who don't stay intuned with the switcheroo Diamond/PRH update on why the cover changed and now those people are unhappy… etc.
They still haven't figured out how to charge us yet after their update