I am highly intrigued! Looks like a play on Flashpoint with Batman being an older, more seasoned Bruce rather than Thomas.
if there isnt an end credit scene of terry mcguinnis showing up at wayne manor about his dads death im gonna be pissed
Definitely some Flashpoint elements there. But i am rather intrigued who might be the villain or will it ever have one?
Time itself is the villain! Maybe? I dunno.
I found this really confusing. Felt like it was all
Over the place. Maybe someone can translate.
All over the place - sorta like Ezra's head these days.
That guy needs a serious intervention if not more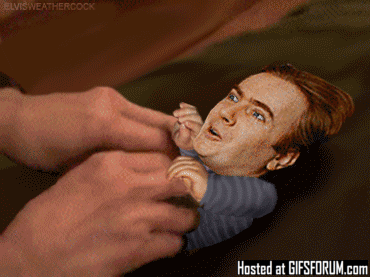 They kill Baby Nicholas Cage Superman
wasn't that guy rumored for nightwing or sum?
Ezra should be the Hulk. They have anger issues, the Hulk has anger issues. It would be great/terrifying!
Just move the actor from the flash tv series, he was great as Barry.
The Hulk has anger issues indeed.
And those anger issues begin and end with those that go after him or cause him harm.
This Ezra Miller has batsh*t crazy lunatic anger issues that start and end in his head
That dude needs some serious help.
I liked his version of Flash but wow, does he have issues.
Hollyweird is a real thing.
Ezra was good in some of his earlier movies, but I didnt like him as Flash or Barry. I didnt like the characterization of Barry as a 'cool' guy, like the Andrew Garfield Spider-man.
WB must be exhausted at this point. They really are a mess.
Yeah…WB either needs to let him go or keep him on a VERY short leash.
He sucked as Flash… get rid of him. Go ahead and delete all his scenes in the existing movies too…