Ha! My order got canceled. Don't feel quite so bad about it anymore.
And Midtown was trying to dump their copies at $100 or so… yeah, no thanks. I wasn't even interested when I learned the art is in Funko POP style… Those covers were cute for about 2 minutes before they got old.
If we ran this as an article on main site, you think we'd see the prices tumble on eBay?

I'm sure some under cutters would try to sell what they got!
I've seen that pic before. CBSI posted this pic to their HOT10 list. I also saw it on their instagram account (link to post below [1]). On the insta post the pic is claimed by Sad Lemon Comics as his and asserts that, while the comic was a 1:6 Funko order in the US, it was open to order in the UK. He claims it was his box and he sold all of them to his customers.
So… TLDR… it was limited in the US while others are claiming it wasn't limited outside of the US.
FWIW, I have all covers for Venom #25 and am just sharing info.
[Ref]
[1] https://www.instagram.com/p/CA0bxDTBos9/
So, if it was an open order to everyone outside of the U.S., that means it is not exclusive or rare. If they got their hands on a short box full of them, how many other retailers did the same? These will make their way back to the states more than likely as they spread from hand to hand.
Kudos to Iron Lion. Picked up a couple Venom 25 store variants from them. Virus first appearance plus cover! Im not a store variant guy anymore, but you know how first cover variants are all the rage these days. And I liked this cover too as an homage to Iron Man 283, One of my fave marvel covers.
Anyway, I have to say it shipped quick and in a very robust package. Thick cardboard and PAINTERS TAPE!!! I mean, what shop does that??? Just tells me they will go the extra mile to ensure a comic gets safely to its destination.
Never heard of this shop before this book.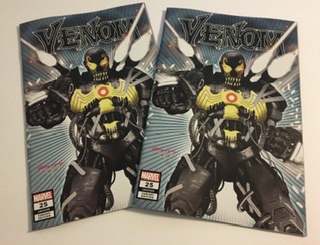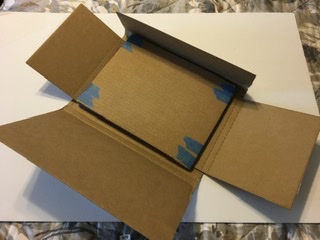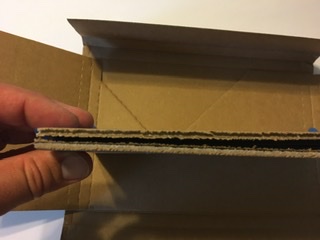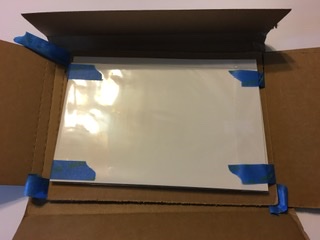 Nice! This is literally how I pack all my comics painters tape and all!
Yup, I love using painters tape. It holds well and makes it easy for the receiver to remove without damaging their books.
Thanks for the posting. I just ordered a couple of the Trade Dress from them. Seeing their packing methods really gave me the confidence in ordering from the shop (given I'd never heard of them either). TY
This one (The SS remarked exclusive) was the one to get…writes "virus" Over top of the Title like "war Machine" writes it over Iron Man on issue 282. Wish they'd offered a raw version…
Sales of it on eBay now are over $1000…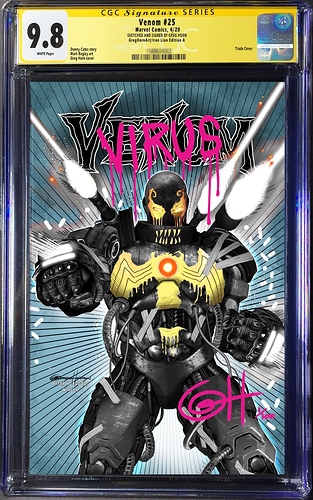 Weird, didn't catch that. I don't like that at all. I like the Iron Lion version better…
Dear Donny Cates someone already created a character named virus in 2002 in Peter Parker vol2 #48. All my friends here say you're infinitive when it comes to creativity but you can't even give your character a unique name why not just call it Immortal Cosmic Venom.
Are those just done over with a paint pen if so won't be hard to make your trade dress look like that
Remember that CHU contest to name the next Symbiote when they were all the rage? I was going to go with Virus, but looked it up and when the name was already in the Marvel Universe passed on it.
So, yeah…two viruses
running around. Did the other Virus retire from a life of crime, though? Cause that name is up for grabs!
No idea…My guess is sketched with paint pen (given its numbered #/100 on the bottom right) but it's not an actual photo so won't know until I see the real thing. $135 was a steal though, for sure…
Outside of being numbered it would just be the trade dress copy painted making the virgin rarer anyways.