We actually ran the spoilers a while ago on the main site. July 20th to be exact.
Ah. I must have missed it.
No worries. Bleeding cool is late to the game again. Pays to not bother with them most of the time
Feel free to delete thread.
NO! Now we can bash on Bleeding Stool! Muawhahahahahahahahahaha!
I stopped reading em late is an understatement.
how is anyone able to read anything on their infected site?! Every time I went there I'd get constant errors.
I honestly stopped Popping in months ago. Nothing of value I couldn't find anywhere else, and their site is a train wreck To navigate…not to mention very biased to CGC and anti CBCS for no legitimate reason (I.e., they will highly publicize a minor mishap by CBCS even after it has been Legitimately resolved or debunked, but Major CGC snafus never get mentioned).
But agree. Change thread title to "Let's all pile on The Bleeding Stool!"
(Now that I read that headline back, it's kind of gross).
So … what do people read for comic news?
For me personally, I primarily stick to this site.
I also utilize instagram and FB but more from a perspective of following the actual artist/creators. I am very selective about my instagram and that way it keeps it nice and clean.
In this media filled world, there is nothing news related to comics that typically won't flood all venues. Time can be of the essence however. If you mess around with too many sources, you just tend to become overwhelmed and may miss something in the shuffle.
I can't tell you how many "Breaking News" Youtube videos, alerts, posts, etc I see that are laughably behind the eight ball. Sometimes I continue to follow them for amusement sake.
I literally saw a "Breaking news:Get this book before it blows up" alert for a youtube video this morning. The book this fellow was talking about was Venom #4! Really buddy, ya think? Now granted, it hasn't seen the heat of #3, but I don't think there is a single comic collector that has somehow passed over copies of #4 because they thought it was unimportant.
I'm pretty confident in the folks running this site and the members who share info.
I use this website the most.
On Twitter I have my favorite artists, writers, creators, and publishers followed. The rest are on instagram.
On Facebook I have a few shops followed and I'm in a few groups.
I check Kickstarter and Indiegogo for new books.
I regularly watch Economics and Comics on Youtube.
Everything that falls through the cracks generally ends up on Bleeding Cool or Key Collector. I can usually get the info before Bleeding Cool and Key Collector which is the goal.
Anyone seen this cover?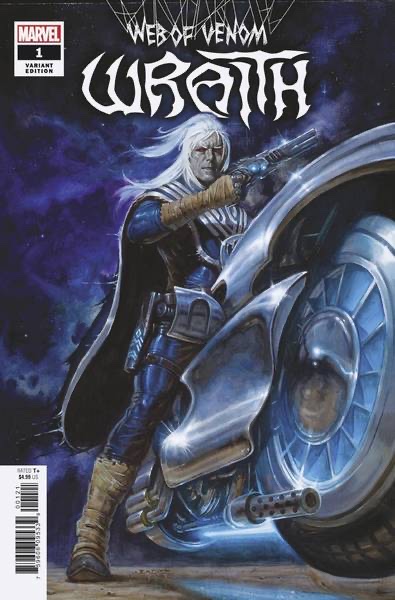 https://comicxposure.com/search?type=product&q=Web+of+Venom+wraith
Avoid comicxposure… they're the debils of the comic book world…
@jimee11 That's been solicited for a very long time. Check and it was actually solicited way back in February Previews as I recall (with the artist at least, and images followed shortly after)
I know it was originally the 1:50 cover. I assume that is still what it is set at. Perhaps one of the comic shop owners knows for certain.
On another note: I just saw something about an upcoming "secret exclusive" by Tyler Kirham relative to this issue. They have released his regular exclusive (Unknown comics) which is pretty cool as well.
I still believe, as of now, that Cover A is the way to go on this book. It has that glowing orb of light on it. I know it's lame, but whatever this "light/being of light" is, it's going to be important down the road.
If a store exclusive that is yet to be shown also has some form of this "being of light", imo, that's the one to buy in on.
Just my rambling as always.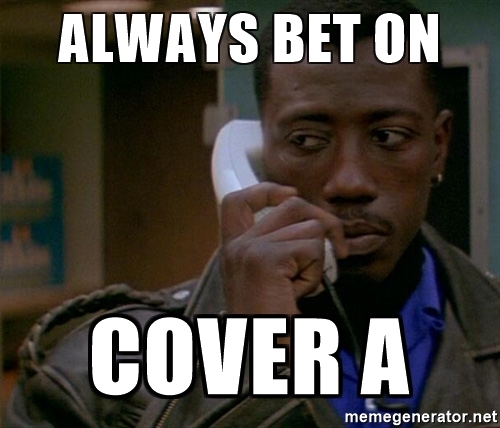 I was just saying this about CGC and their every changing 1st appearances. Someone who runs a site just wrote an Aliens article about Dark Horse Presents and how all his readers should buy it because it is labeled first aliens, not knowing that CGC removed that from the DHP label a couple years ago and added it to Aliens #1 and Heavy Metal May 1979.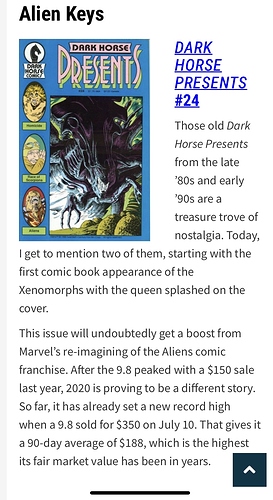 Sadly this website it comes from is a pay for premium website that gives you bad information and charges you. So if you haven't lost enough money just from using the site, CGC's bad labeling topped with speculators bad info is going cost some people big bucks. Don't we all love CGC