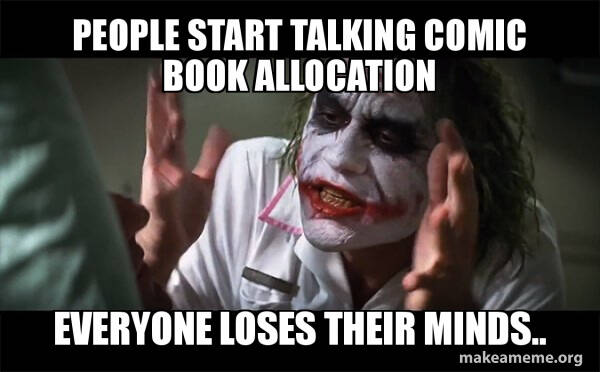 I ordered this cuz I love vinyl and cassettes and other old tech. I hope my order isn't allocated…
Same. I ordered 2 myself but I also ordered like super early so I hope I'm first in line.
Best of luck to all of us who pre-ordered early!
Fingers crossed. I pre-ordered early from a few different locations. Love the vinyl and the bands they have lined up for this collaboration.
I think it is a bit more pricey too. I don't remember the first print costing that much.
That is what happens when you order too many comics, you forget what you ordered and how much it cost.
My CA meetings are every week… addiction is real, there is help available!
will be 1 per a store now, with any extra copies going to stores who ordered more open order copies, according to diamond

@Brendon
is this new exclusive a 2nd print? i assume it is
No it's an exclusive we committed to before the catalog even came out. It's supposed to be the deluxe edition with a red/white vinyl but we aren't sure how the pattern will be.
so it comes out with 1st prints? in a few weeks
It will have the first print deluxe cover. There's a few other exlcusive colors that I think were available but not a ton. I have no idea yet when it will release street date wise because the vinyl printing is being handled by people outside of Image so I only get updates when they get updates.
yea i saw the bankys homage with brown/blue swirl record
I believe that one was kind of like a team variant. But some store COULD have bought them all themselves if they wanted. Our color was one with the highest quantity for a single store to get and it was 200 (and if any are damaged there's no replacements). So there won't be a ton of them out there for any of the exclusives.
yea they have 500, so i guess they bought them all
I have gotten two copies from shops locally. Plus another Store variant with different color vinyl record