It was my CHU Choice Awards nomination for Exclusive of the Year
When Jock is on top form he is really, really good.
Bought this one raw prior to release (just after cover art was revealed) and took a chance by having it sent for a grade directly by the comic shop, I've been lucky!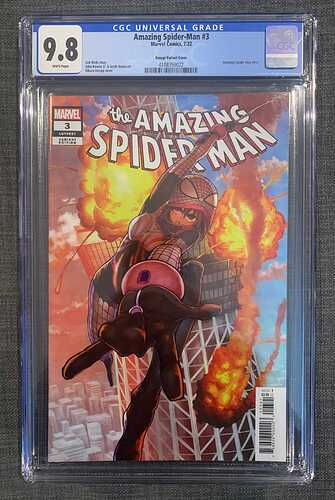 Picked up this marvel tails and edge of spiderverse 2.
Now my set is complete.
Well except for a first appearance of Spiderman that is.
That uf4 and Spiderman noir were bought off the racks for cover price and read by me



That is a very nice "keys" Spider(s) set…those 9.8's are $$$
My youngest had that same spider-ham cover. A good 2.0 grade lol.
Those are going to go for a nice chunk of change! Congrats!
What's your pc Marvel Spotlight #5 grade.
This is my only copy for now, but I'd probably target a lower grade.
Just got these back from CGC for my PC. Unfortunately, 2 books came back restored.
Nike MK negative space variant!
I have a hard time just looking at those. Very, Very, Nice. I had an almost complete run of X-Men that I sold off years ago.